Shares of Xerox Corp (NYSE:XRX) are down 3.9% so far in 2012. XRX has not kept pace with the rally in technology stocks so far in 2012, but there are four reasons to consider XRX.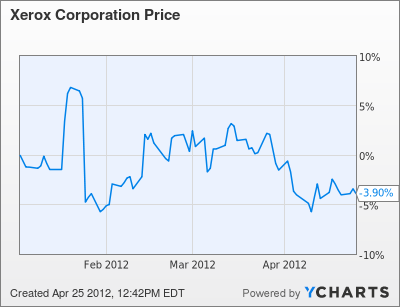 Options Activity
Option Monster reported on the high level of bullish options activity recently. More than 28,000 October 9 calls were purchased against open interest of just 5,065. This strategy will benefit from continued strength in XRX. The large trade likely represents institutional money. Institutional money is usually smarter, thus worth following. In summary, the recent options activity points to more upside ahead for XRX over the short term.
Operational Strength
XRX CEO Ursula M. Burns comments from Q1 earnings:
First, accelerating our Services business, growing it faster by diversifying our offerings; aggressively pursuing opportunities in key growth areas like HR outsourcing, customer care, transportation and health care; and expanding globally. In Q1, revenue from Services grew 10% in constant currency and now represents more than half of our total revenue.

Second, maintaining our leadership in Technology. Our Printing business continues to benefit our bottom line and remains core to our business model. We are focusing investments on innovation that drives down the cost of color printing, and we're expanding distribution to extend our reach to small and midsized businesses. We made good progress in Q1 with installs of Xerox products up 7%. According to recent external market share reports, we remain the leader in equipment revenue share for the ninth straight quarter. In fact, we're taking share from competitors, strengthening our leadership position.
XRX is doing a good job considering the challenges it faces. The printer business is extremely competitive with companies like Hewlett-Packard (NYSE:HPQ) trying to take valuable share away from XRX. XRX's nine straight quarters of market share increases show that the company is doing things right.
Valuation
XRX trades at just 8.8 times past earnings and 6.4 times forward earnings. In addition to the low PE ratio, XRX trades at just 0.89 times book value. All of these metrics support XRX as a value play.
Dividend
XRX currently pays a dividend of 17 cents per share or 2.15%. While this is not a huge dividend, it is certainly more than most technology companies pay. Also, XRX pays out just under 19% of earnings. XRX could easily afford to raise the dividend significantly in the future.
Conclusion
While XRX has not been a top performing stock of far in 2012, it is time to take another look at the company. The bullish options activity, operational strength, valuation, and dividend are all reasons it is time to consider XRX.
Disclosure: I have no positions in any stocks mentioned, and no plans to initiate any positions within the next 72 hours.