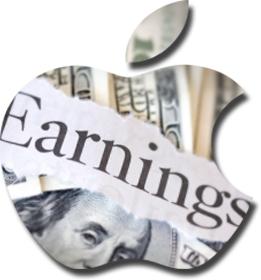 Let me be one of a few thousand commenting on Apple's (NASDAQ:AAPL) earnings as they affect primary technology ETFs where the weighting in the company is extraordinarily high. Depending on any given day where price action may dictate weightings the company's weighting on the SPDR Technology Select Sector (NYSEARCA:XLK) and the Powershares Nasdaq 100 ETF (NASDAQ:QQQ) is somewhere between 15-18%. Therefore, anything positive or negative occurring with the stock will greatly dictate the performance of several technology weighted ETFs.
Apple shares had seen quite a bit of profit-taking over the past few weeks. This was occasioned in our opinion by too many people buying expensive short-term call options on the stock. Many of these options probably expired worthless on options expiration the previous Friday.
Technically, there was a significant DeMark weekly sequential 9 count registered as the stock had gotten substantially overbought. As is often the case such a reading, especially with the security in question being much overbought, can cause a reaction the other way. Such was the case with Apple shares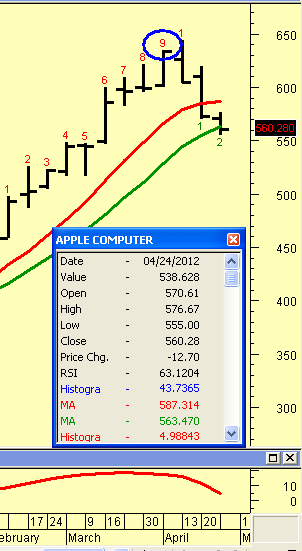 Fundamentally, there were news items regarding ebook publishing disputes. Suggestions were also making the rounds that wireless carriers were showing a decline in new plan sign-ups perhaps negatively affecting sales of Apple products. Finally there were concerns the upcoming earnings report would show some disappointment. But based on the company's report Tuesday night it appears all these concerns were misplaced and the stock roared higher on a blockbuster earnings report.
All things considered, it's primarily a one stock market.