It's quiet out there in Sirius XM (NASDAQ:SIRI) land. Eerily quiet. Like walking outside with the sky dark and feeling a cold wind lifting the leaves mid summer, I can't help but wonder when the rumble of thunder is going to come over the hills. Despite some small bits of news such as Mel Karmazin's pre-announced sale hitting in small part on 4/16 and 4/17, and some additional filings with the FCC regarding the 'de facto' control issue between Sirius XM and Liberty (NASDAQ:LMCA), the stock itself has been relatively flat.
I say relatively, because we have certainly had some volatility introduced by the issues above, as well as the overall market weighing upon the stock, but in general? We've traded in slow downward consolidation surrounding a magical number, $2.20.
Buyers, sellers? There haven't seemed to be too many of those, as volume has been decreasing and pitiful yet again. The most recent volume of 22 million shares traded on 4/22 is not even half the daily average. We've seen this in the past; long periods of consolidation which are typically followed by a jump in the up direction on news. The last jump? When Liberty filed with the FCC at the end of March for the first time. 10% appreciation in 2 days. Of course, those gains have all been given back and we are right back to that same stale price. $2.20. The next pending news? May 1st earnings.
What I'd like to touch on here is the Nasdaq short interest data for Sirius XM. For those who have not read my previous articles on the subject, I think it's important to gather an understanding of what this short data is comprised of. The data which follows is the total number of shares held short in Sirius XM at the end of trading on 4/10, with a settlement date of 4/13. Out of these shares short, are different types of short positions. Not all shorts are "bets against the stock." Some are hedged vs. convertibles and thus neutral positions. Some are short term shorts by market makers to fill demand, and transient in nature and likely covered by the settlement date. Some are part of option plays and again, net neutral positions. And then, some are longer or short term bets against the stock price. It should be noted that this data is also very old, over 2 weeks old now with a trade date of 4/10, and is only generally useful for seeing what happened, not what will happen.
Short interest data may be found at this link here.
I want to stress the following chart which shows Sirius XM's closing price since late January, along with the points the short data in the link above was taken from.
(click to enlarge)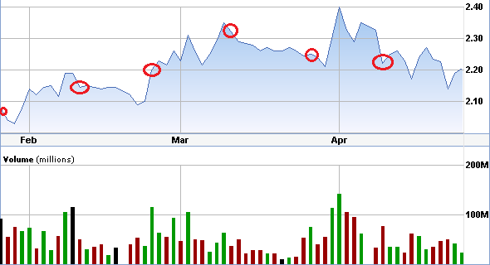 Consider the short interest from the following trade dates (settlement -3 days), and closing prices:
4/10 285,024,747 $2.22 (decrease)
3/27 287,587,035 $2.25 (decrease)
3/12 307,802,184 $2.32 (increase)
2/24 285,847,828 $2.20 (increase)
2/10 273,099,537 $2.14
These are the short data points since Sirius XM's 4th quarter 2011 conference call on 2/9/2012. Stare at the numbers for a moment, and keep $2.20 in your head. Look at each date, short data, and share price. Do you notice something? Past short data tells us a little story about what happened, and in looking at this data it confirms in my head that $2.20 is that magic number. Notice, as the closing share price was higher than around $2.20 since the last conference call, the short data remained roughly stagnant at or around 285 million? Notice at the high data point at $2.32, 12 cents above $2.20, showed an increase in short interest of 22 million? Notice at the low data point at $2.14, 6 cents below $2.20, showed a decrease in short interest of 12 million? Coincidence? Perhaps, but the $2.20 number is familiar to me.
Remember the following two charts ?


Cup and handle formation. Textbook. Typically cup and handle formations end with a handle which has decreasing share price consolidation with decreasing volumes. If you remove the volatility introduced by the Liberty FCC filing drama, and Mel Karmazin's sale, Sirius XM has been trending back down toward consolidation around $2.20 for the better part of 6 weeks now.
And leading into the May 1st conference call, we end yet again, at $2.20 on 4/25. What period is typically marked by a run up into earnings, has simply been a continuation of this consolidation. With three trading days left until earnings are announced, there may still be a pre earnings run but I wouldn't count on one.
What I feel is certain, is that like myself, most investors and traders alike will be watching the May 1st conference call very closely.
Did Mel Karmazin really lowball guidance and conservatively estimate churn on the high side and play it safe?
Are excellent auto numbers year to date and used auto agreements enough to boost new subscribers to exceptional levels?
Was the Lynx radio a flop or did it actually pull in a good number of new retail subscribers?
Or at the very least did it extend the contracts of users who upgraded such as myself, who bought the 1 year all inclusive plan with internet while previously only paying for the monthly Sirius only subscription.
I am sure everyone has their own set of questions and speculation may start to run over the coming weekend. For now, I'm comfortable moving into the conference call at the magic number, $2.20.
Disclosure: I am long SIRI, LMCA.
Additional disclosure: I am long SIRI May and June $2 calls.