As we move through 1Q earnings season, we continue to position our portfolio with stock ideas that we believe will work whether the market goes up, down or sideways. We had hoped to provide 6 new stock picks, but following the recent pull-backs in Apple (NASDAQ:AAPL), ChipMOS (NASDAQ:IMOS), and Exar (NASDAQ:EXAR), 3 of our prior favorites remain on our list. To this list we add MDC Partners (NASDAQ:MDCA), Rubicon (NASDAQ:RBCN) and a short-call on Groupon (NASDAQ:GRPN). Among these stock, ChipMOS remains our favorite, and we expect shares to approach $30, vs. $13 today, by year-end.
Summary table of stocks and targets:
Six for the next six months
Apple - We previously wrote about Apple in the context of what they should do with their cash hoard and will not rehash that topic here. We simply believe Apple 1) is going to continue to execute flawlessly, 2) shares are cheap, and 3) their is still headroom for immense growth. If there was a quarter that was going to cause us worries, it was this one - with tepid data from Qualcomm (NASDAQ:QCOM), AT&T (NYSE:T), ARM (NASDAQ:ARMH) and Sandisk (SNDK), not to mention countless analyst upward estimate revisions, that set the bar high. We were also concerned that with new product (i.e. iPhone 5) likely for the back half of the year, the June quarter guide could be weak. With new product introductions ahead, including the multi-billion dollar TV opportunity, and still meaningful market share to gain, we simply think the growth trajectory will continue for many additional quarters. We noted with interest Apple supplier Cirrus Logic (NASDAQ:CRUS) report that they are establishing a credit line to support a "sharply higher" level of business beginning in the September quarter. We expect excitement to accelerate with the new iPhone launch, and believe in 6 months shares should trade for 12x FY13 our EPS estimate of $60, plus $100 per share of cash. Our price objective represents 34% upside to current prices.
ChipMOS - This stock is ridiculously cheap at just over 3x trailing EV/Free Cash Flow (FCF per share in 2011 was $4.22). In other words, the FCF yield on a trailing basis is currently about 30%, with FCF likely to grow 20% in 2012. We detail the ChipMOS story here, and here, and here, and we will be publishing another lengthy piece on ChipMOS in the near future, so we will keep this brief. ChipMOS has a market cap of approximately $370 million (27.3 million shares outstanding at $13.46 per share), and will be net debt free by the end of 3Q. Almost 40% of it's revenue comes from assembly of LCD driver-ICs, where ChipMOS is one of 2 competitors, and the remainder from NOR and DRAM (both mobile and commodity) assembly and test - Micron (NASDAQ:MU) is the largest DRAM customer. Notably each of these end-markets was terrible last year, has now bottomed and is improving. In 2011, a terrible year for its end-markets, ChipMOS still had FCF of $4.22 per share. Depreciation, which exceeds cap-ex (cap-ex was 5x the current level in 2007), will begin falling dramatically this year and EPS should approach FCF over the next 8 quarters as depreciation declines. Our price objective represents 123% upside to current prices.
Exar - We like Exar because of its significant margin of safety, interesting turnaround story, and highly motivated/incentivized CEO. We detail our thesis here. We noted in our prior article that we think Exar can ultimately be bought out at $16+ and we continue to believe that, however that is a multi-year play - by the end of 2012, we expect shares to be at $10.50. Exar currently has cash, plus property, plus NOLs worth $8+ and the stock is trading at $7.77. Lou DiNardo, who turned around Xicor and solid it to Intersil for 13x revenues in March 2004, has reduced Exar headcount by 30% since joining as CEO in January - representing over $21 million in annual cost savings. We expect that by the September quarter, quarterly revenue will be back at $35 million. In September 2011, Exar achieved pro-forma EPS of $0.03 on $35 million of revenue. With quarterly expenses reduced by over $5 million, Exar should be able to achieve quarterly EPS of $0.12-$0.13 on the same $35 million. We think that EPS of $0.50+ is achievable and likely conservative for Calendar 2013 given all the cost take-outs. At a 12x 2013 EPS multiple, comparable to peers, plus cash of $4.50 per share, the stock should trade at $10.50. Our price objective represents 35% upside to current prices.
Groupon (short) - In our view, Groupon's recent accounting troubles are just a symptom of greater issues; a young, immature company rushed out the door to please early stage investors and the bankers that took them public. Despite the pullback in Groupon's shares, the company still sports a valuation of almost $8 billion. That is $8 billion for a company that may never make money or get it right. In our view, the $6 billion offered by Google (NASDAQ:GOOG) is completely irrelevant and does NOT represent a floor in the stock. We believe Google's offer occurred at a time when Google thought an acquisition was part of a breakaway strategy. We think Groupon has not broken away, and Google would make a far lower offer today. With almost 1,800 domestic competitors, including the recent entrance of Mastercard (NYSE:MA), and close to 10,000 globally, we see far too much risk to warrant an $8 billion valuation.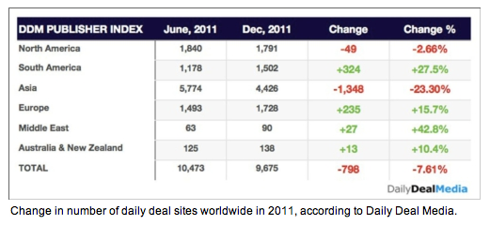 Source: Daily Deal Media
In the months ahead, we expect the growth expectations to be ratcheted down, and believe our 2013 EPS estimate of $0.50 may prove optimistic. In addition, there are hundreds of millions of insider shares that become available for sale in the next 45 days, which should further pressure shares. Despite the stock's significant decline, we expect things to get even uglier. Our price objective represents a 33% return from current prices.
MDC Partners - MDC is a small cap advertising/marketing firm. The company has built aggressively via acquisition over the last few year, and is now parent or partner to more than 50 companies. While we believe deals are both strategic and accretive, they have also increased MDC's debt. We recently established a position in the company based on 5 key points:
The stock is down over 50% from a high of $20.99 last August 1st, largely due to the belief they have taken on too much debt.
The debt load is manageable.
The acquisitions make MDC a better company, are strategic, and position the company for more growth than if they had not been made. In other words, MDC is a better positioned company from a business perspective at $10.19 than they were at $20.99.
Management owns a lot of stock. CEO Miles Nadal owns almost 20% of the shares outstanding. The company will behave in a manner that will enhance shareholder value over time.
The stock yields 5.6%, and the dividend is at no risk of being cut. We conservatively expect EBITDA to grow from about $115 million in 2012 to $130 million in 2013. Keeping the current 6x 2012 EV/EBITDA multiple, and putting it on 2013, we have a target of $14. Our price objective represents a 37% return from current prices.
Rubicon Technology - Rubicon fabricates Sapphire substrates for the LED industry, an industry which has been in oversupply for several quarters. We are extremely bullish on the secular LED growth story and believe this is a cyclical blip. Multiple datapoints suggest improvement later this year, and the multi-year picture is even brighter. Rubicon traded at $20+ from March 2010 through June 2011, and had quarterly EPS of $0.80 in March 2011. We think investors probably can't go wrong in this space, whether they buy Veeco (NASDAQ:VECO), Aixtron (NASDAQ:AIXG), or Cree (NASDAQ:CREE). We happen to favor RBCN because we expect that as capacity tightens (eventually), there is more room for price increases and margin expansion than in equipment or devices. In addition, Rubicon has continued to invest aggressively in new capacity while the industry has been in a downdraft, positioning it to come out of the downturn as a larger, more profitable company. We expect 2013 to be a recovery year and are modeling EPS of $0.90. We would suspect that as datapoints improve in coming quarters this stock (and the LED group) could move sharply higher. We are setting a 6-month target of $13.50, based on 15x our 2013 estimate, but believe that over the next 12-18 months, shares should return to the $20+ level. Our price objective represents a 41% return from current prices.
Disclosure: I am long AAPL, EXAR, IMOS, MDCA, RBCN.
Additional disclosure: We conduct thorough research on our ideas, but our views are our own. Please do your own research. We are long puts on GRPN