Endogenous Cushing's syndrome is a rare and life-threatening endocrine disorder. It results from long-term exposure to surplus levels of the hormone cortisol. This excess cortisol is caused by tumors that usually occur in the pituitary or adrenal glands. Too much cortisol causes a variety of problems, including glucose intolerance and diabetes and many other complications.
On April 10, 2012, Corcept Therapeutics Incorporated (NASDAQ:CORT) announced that Korlym (mifepristone), in 300 mg tablets, is now available nationwide by prescription. Korlym is a once daily oral medication to control endogenous Cushing's syndrome. The recently published SEISMIC study showed that Korlym significantly improves diabetes control, promoted weight loss and decrease in waist circumference. It also improved body composition, mood, and cognition in patients with Cushing's syndrome.
According to Joseph K. Belanoff, MD the company's Chief Executive Officer, Corcept Therapeutics, will be the sole marketer of Korlym. A relatively small number of endocrinologists treat these patients and the company has begun hiring Medical Science Liaisons to inform these physicians about the drug. It will be dispensed by the specialty pharmacy company CuraScript. The company estimates that the number of patients with Cushing's syndrome is 20,000, which can be managed by a small sales force funded by the 39.6 million the company has on its balance sheet.
Expanding into Other Countries
Korlym has received "Orphan Drug" Designation in the European Union. Expanding the drug's sales into Europe would be the first step towards gaining global coverage. But they now need to file for European approval using the same data they used in the U.S. The company will probably need a global marketing partner because of its small size.
Expanding Korlym's Uses

Corcept has enrolled patients in a double-blind, Phase 3 trial of the effects of mifepristone on psychotic depression. Currently, there is no FDA approved treatment for psychotic depression and the FDA has granted Corcept "Fast Track" status for this application. There are three million cases of psychotic depression in the U.S., and expanding Korlyn (mifepristone) as a treatment could result in enormous sales.
Other Drugs -- Selective GR-II Antagonists
Corcept believes that its GR-II Antagonists could be useful in preventing the weight gain associated with the use of many antipsychotic drugs. Zyprexa (olanzapine), Risperdal (risperidone), and other similar drugs are atypical antipyschotics. They are used in the treatment of schizophrenia and bipolar disorder. A number of compounds have been tested in clinical and pre-clinical studies to determine if they would reduce the weight gain associated with olanzapine use. Of them, one has produced significant results in preventing weight gain and reducing insulin insensitivity, at least in mice fed a high fat, high sucrose diet.
Chart of Corcept Therapeutics Incorporated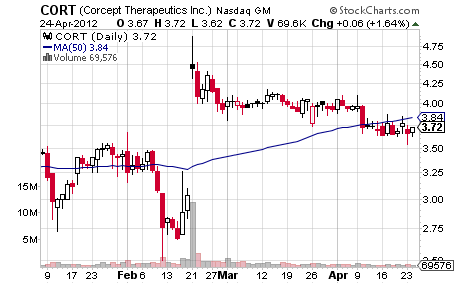 This chart of Corcept Therapeutics shows a sell-off immediately before the approval of Korlym, around February 20. The price of the stock then jumps to above $4.75 a share upon Korlym's approval. Since then the stock has sold off to around $3.70. Once sales of Korlym pick up, one may expect to see the stock trade higher.
Disclosure: I have no positions in any stocks mentioned, and no plans to initiate any positions within the next 72 hours.