More than perhaps any other field of mainstream investment, biotechnology has a very binary risk:reward profile. This is no less true in a sub-sector which attracts widespread attention from investors, regenerative medicine, otherwise known as stem cell research and development.
In our previous article, we discussed how BioTime, Inc. (NYSEMKT:BTX) has used press releases, particularly regarding the creation and acquisition of numerous subsidiaries, to boost the company's share price. In addition to its in-house promotional efforts, BioTime has also benefited from the presence of numerous promotional articles. The most prodigious promoter, by far, has been Patrick Cox of Agora Financial's Breakthrough Technology Alert. He has written more than half a dozen articles, by our count (and this could be understated, since much of his work is only available to subscribers behind a paywall), touting shares of BioTime.
Cox has been promoting shares of BioTime since as early as 2009, and continues to this day, with him writing again to promote BioTime's shares as recently as mid-February. And Cox doesn't merely suggest that BioTime may be a good investment. He uses outlandish language to inspire fervent buying among his more impressionable readers. Among the works he has penned: Biotime Cracks The DNA Cell Command Code, One CEO's News Release Just Changed The World, and Want A New Cardiovascular System? In these, and numerous other articles targeted at BioTime, Cox waxes eloquently about the scientific achievements of CEO Michael West and strongly urges investors to buy shares in BioTime stock.
But investors would be wise to take Mr. Cox's opinion with a healthy dose of skepticism. Frankly, Mr. Cox's stock picks have left much to be desired, as his hunt for cutting-edge technology has led him to promote the shares of many speculative companies that have not been able to generate revenue or sustainable businesses from their technology.
For example, take Mr. Cox's special report for 2010 titled "6 Companies Ready to Change the World and Deliver Your Unending Wealth in 2010." Subscribers would have to be greatly disappointed; the recommended stocks have failed to generate unending wealth - in fact, they were by and large massive losers. While the market has risen strongly since the publication of his report - with the S&P 500 up 24% Mr. Cox's world-changing companies have been collapsing. Marina Biotech (NASDAQ:MRNA) has led the way with an eye-popping 98% decline. Lightbridge (NASDAQ:LTBR) has fallen 53%, Geron (NASDAQ:GERN) has dove 70%, and Nanovirocides (NYSEMKT:NNVC) is down 27%. International Stem Cell has suffered a 24% decline, and finally BioTime is the best performer among the bunch, down only 7%. Needless to say, having 3 out of 6 stocks that were supposed to "deliver unending wealth" instead suffer greater than 50% declines during a strong bull market makes one question Mr. Cox's abilities as a stock picker. It bears noting that although the original article implied long-term wealth generation, he recommended closing out his GERN position in 2010.
Stock Recommended
by Cox in 2010 Report
Gain / Loss Since
Publication
MRNA
-98%
LTBR
-53%
GERN
-70%
NNVC
-27%
ISCO
-24%
BTX
-7%
Below are the relevant stock graphs: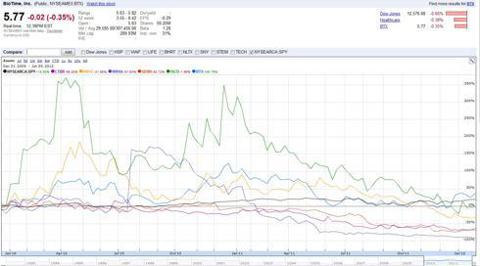 Cox predicted that clinical testing of Geron's spinal cord injury treatment "should buoy investors in the next few years." Instead, Geron's trials met with little success, and the company admitted defeat, exiting the stem cell field altogether. The company's shares have fallen 70% since Cox's recommendation. Similarly, Cox claimed that "RNA interference will flip on 'wealth activation' switch" for Marina shareholders. This claim was proven to be wildly mistaken, as RNA technologies have shown little value thus far, and Marina's shareholders have been devastated since Cox's recommendation, as shares have plunged 98%. Similarly, Cox clearly misread the sky when he claimed that "the stars have lined up to push [Lightbridge] to the forefront of the rapidly growing nuclear power industry." Instead, Lightbridge shares have crashed 53% from the time of his pick.
At the end of Cox's report, he writes: "In the previous pages I've listed six of your best opportunities to grab transformational profits." If these are his best picks, one really must question his expertise. Even in the case of BioTime, his least losing pick of the six stock lot, he's merely been lucky rather than accurate; his predictions of BioTime's future have not played out as he wrote.
For example, Cox claimed that near-term revenue was right around the corner for BioTime. Cox wrote, "The market for [BioTime's] purified stem cells is large and growing. This translates into near-term revenues since no FDA approval is required for the research markets. Pharmaceuticals buy stem cells for drug testing and other purposes. There is also increasing current demand from researchers working on new therapies and basic sciences." Unfortunately for Cox, BioTime's latest 10-K proves this prediction to be wrong.

When investors purchased shares of BioTime on Cox's recommendation, we imagine they expected this "large and growing" market for stem cells to bring meaningful revenue to the company. Instead, as you can see, the company is generating half a million dollars a year of revenue from its product sales. Compared to BioTime's burn rate, this is peanuts.
Cox is not the only one to tout BioTime's then-nascent research products division. The White Cap Report, another investment advisory service, touted BioTime in 2010 on the idea that BioTime would be a "picks and shovels" play within the stem cell industry. According to White Cap, BioTime's "'Bio Seeds' could cure eight diseases, including cancer and diabetes [… a] breakthrough set to storm 64 world markets, sparking [a] cash windfall worth $498.2 billion." White Cap was quick to note that "Instead of introducing 'Bio Seeds' to the patient market first, the company will employ a unique 'launch strategy.' 'Bio Seeds' will initially be available only to the global research market, which isn't regulated by the FDA at all […] And that's how the company will bypass the FDA as soon as next month, making some investors very rich."
Well, 18 months after that ebullient prose was written, BioTime's research products' division continues to produce a microscopic amount of revenue and the company continues to bleed red ink. The $498.2 billion cash windfall that investors were hoping for remains a pipe dream.
Fortunately, in case research products didn't work out, Patrick Cox offered another reason to be bullish on BioTime. Cox stated, "Life extension advocates have offered grants simply because of their confidence in West and his work. In fact, recently they received a grant from the California Institute for Regenerative Medicine - the largest of its kind. This grant effectively doubles BioTime's operating budget."
Wow, this grant doubles BioTime's operating budget! That sounds fantastic. However, upon closer look, it appears Cox's commentary is at best disingenuous. Let's look at the latest 10-K again along with the 2010 annual report:

BioTime's grant income for 2009 was $552,385, so BioTime's grant income did in fact more than double from '09 to '10, but its overall revenues did not double. And, normally, a budget implies a balance between revenues and expenses. As you can see, BioTime's expenses have been exploding, and the grant income that Cox speaks of only covers a small fraction of BioTime's burgeoning costs. In fact, BioTime's burn rate has risen so much that even a single quarter's loss consumes approximately the entire 4-year grant. From that 10-K, we find that the full balance of the grant highlighted by Cox is only $4,721,706. So much for doubling the company's operating budget.

Also, note that this grant is set to expire August 31, 2012. So, BioTime only has a couple quarters of grant revenue left, and then revenues will drop sharply. Since the company's revenues from its only FDA-approved product, Hextend, continue to decline and that the research products division has failed to make inroads as expected, BioTime's revenue totals may hit a new low over the next year if it cannot find a replacement for the California Institute of Regenerative Medicine grant.
Disclosure: The author is short BTX. The author wrote this article themselves, and it expresses their own opinions. The author is not receiving compensation for it. The author has no business relationship with any company whose stock is mentioned in this article.
Additional disclosure: Read our disclaimer at www.apsarabiotech.com/legal-disclaimer.