As an investment banker focused on the web-only retail sector, speaker at the world's largest e-commerce event and creator of the FOCUS Web-Only Retail Index, a diverse group of constituents have asked me to keep them abreast of significant developments in the effort to end tax-free Internet sales.

This week's announcement that Amazon (NASDAQ:AMZN) has agreed to collect sales tax on items sold in Nevada beginning in 2014 comes seven months after Amazon agreed to collect taxes on its sales to California residents beginning in 2013.
As you may remember, at the end of last year, ten Senators, led by Dick Durbin (D-IL), Mike Enzi (R-WY), and Lamar Alexander (R-TN), introduced an Internet sales tax bill called the Marketplace Fairness Act, or "Make Amazon Money Act," as it has been referred to.
The bill gives states broad authority to require that online sellers like Amazon collect and remit state sales taxes so that online and offline retailers all operate under the same rules. The Computer and Communications Industry Association (CCIA), a D.C. trade group which counts eBay (NASDAQ:EBAY), Google (NASDAQ:GOOG), Microsoft (NASDAQ:MSFT), and Yahoo (NASDAQ:YHOO) among its members, has blasted the bill.
Actionable Investment Commentary
Based on ongoing conversations with lobbyists, trade groups, CEOs, private equity firms as well as strategic buyers and sellers, I believe that there is very little opposition to the Marketplace Fairness Act (MFA) and that it will become law in the next 12 months.
One new force against the tide is a 501(c)(6) non-profit coalition of associations and businesses in the e-commerce and catalog space known as CiTFAF (Coalition for Internet Tax Freedom and Fairness).
In my opinion, the largest Internet retailer stands to gain the most from a valuation perspective at enactment. Whether you're invested in a public or private Internet retailer, I believe a good starting place to determine the financial impact to your investments is below:
Near Term Revenue Dip - Revenue in the sector is expected to fall between 10.0% and 13.0% in the short run based on detailed data from one retailer and three earlier studies.
High Ticket Items Hit Hardest - Revenue may decline more than 13% for Internet Retailers with high average ticket orders where the online tax savings have been substantial, and more than offset by freight costs and delivery time (e.g. top-tier consumer electronics and jewelry).
Collection Cost is Real - The cost of collecting tax (as a % of collected tax) will range between 13.5% for small retailers to 1.5% for large retailers.
Consolidation of Healthy Channel Players - Large strategics will likely accelerate their acquisition of smaller retailers whose margins are the most negatively impacted by the cost of collecting state and local sales taxes.
Thin and Getting Thinner - Many smaller internet retailers will find it difficult to compete if the new rules are enacted due to their already thin operating margins.
Valuations Falling - Depending on a host of factors (e.g. magnitude of revenue declines and increased collection costs), we expect valuations of Internet retailers to fall by as little as 5% and as much as 25%.
How does the Marketplace Fairness Act help Amazon?
U.S. Internet retail sales topped $176 billion last year and are expected to reach $279 billion by 2015, according to Forrester Research Inc.
According to Internet Retailer magazine, Amazon will offer to handle the sales tax collection process for its third-party merchants in exchange for 2.9% of the tax collected. This means that Amazon has created a money printing machine. Amazon's new offer is aimed at hundreds of thousands of independent U.S. businesses, ranging in size from tiny used-book sellers to major manufacturers that sell their products through the Amazon.com site.
Over the past twelve months Amazon has posted revenue of $48.1 billion. Nearly 40% of the merchandise sold worldwide by Amazon is by third parties that use the company's Internet platform. It has been estimated that about half of those sales required Amazon to collect sales taxes or value-added taxes from U.S. and foreign buyers. Under the Marketplace Fairness Act that percentage would grow significantly.
Assuming $279 billion of U.S. Internet retail sales in 2015, Amazon could have $70 billion in revenue running through its platform. Let's assume 75% of that ($52.5 billion) is a target for third-party merchant tax collection fees. Let's further assume that sales tax is 7.5%.
That means by 2015, $116 million of annual revenue (2.9% of $4 billion) could end up in Amazon's checking account as a result of the Marketplace Fairness Act. By 2025 the aggregate amount could exceed $1 billion.
FOCUS Web-only Retail Index
Web-only Retail Index companies include Amazon, eBay, O.co (also known as Overstock.com) (NASDAQ:OSTK), United Online (NASDAQ:UNTD), Vistaprint (VPRT), 1-800-Flowers.com (NASDAQ:FLWS), Nutrisystem (NASDAQ:NTRI), Blue Nile (NASDAQ:NILE), U.S. Auto Parts (NASDAQ:PRTS), Vitacost (NASDAQ:VITC), PedMed Express (NASDAQ:PETS), Coastal Contacts (CSOAF.PK), Bluefly (NASDAQ:BFLY) and Stamps.com (NASDAQ:STMP).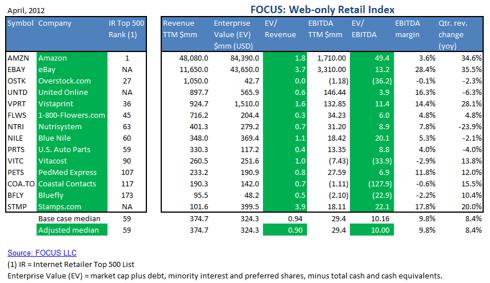 Click to enlarge
Disclosure: I have no positions in any stocks mentioned, and no plans to initiate any positions within the next 72 hours.