There are articles everywhere questioning why executive insiders are selling their stock in big companies like Apple (AAPL) and Sirius XM (SIRI). Both of these companies are doing well in spite of correctional dips and heading upward. Why would someone like Tim Cook sell his Apple shares at $500 to $600 a share when the stock is supposed to be heading for $1000 a share? These are Apple insider sales for March of 2012:
(click to enlarge)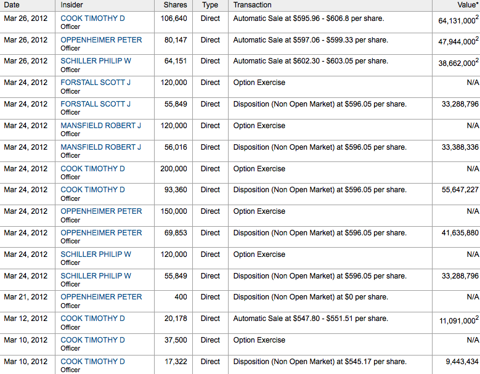 Several Sirius corporate leaders sold shares this year, including CEO Mel Karmazin. Analysts speculated that Sirius either had problems or anticipated problems with a possible Liberty Media (LMCA) hostile takeover. The Apple sales were just swept under the carpet. If you are following these stocks this is not news to you, and you probably don't want to hear anything more about it.
But when someone said they are probably selling for tax reasons because the tax laws might change next year, I agreed. The capital gains might be higher next year. But then I remembered an article in the New York Times last December that exposed a loophole in the tax laws that saves some companies millions of dollars a year in taxes:
Thanks to a quirk in tax law, companies can claim a tax deduction in future years that is much bigger than the value of the stock options when they were granted to executives. This tax break will deprive the federal government of tens of billions of dollars in revenue over the next decade. And it is one of the many obscure provisions buried in the tax code that together enable most American companies to pay far less than the top corporate tax rate of 35 percent - in some cases, virtually nothing even in very profitable years.
For instance Sirius XM reportedly paid $35 million for 43 cent stock options to pay a huge "bonus" to CEO Mel Karmazin. Those options can now be traded for Sirius shares that can be sold for the current share price of $2.19 or more. The loophole allows companies to deduct the exact amount that the shares are sold for (as an expense), rather than what the company actually paid, which in this case is 43 cents a share. Many members of Congress want to close this billion dollar loophole. And according to the same New York Times article, Carl Levin, a senator from Michigan has been trying to close this loophole for years:
He has introduced a bill that would limit a company's tax deduction for options to the same amount declared on its financial books. His proposal would also count options toward the maximum of $1 million that companies can deduct for an executive's pay each year (outside of performance-based bonuses). The bipartisan Joint Committee on Taxation has estimated that if the senator's proposal were enacted, it would add $25 billion to the Treasury over the next decade.
In an article that I wrote several months ago, I commented that this is not really a loophole. For one reason there would be double taxation if the executive and the company both paid taxes on the gain. And the company really is losing the amount that the stock is sold for. For instance with Mel's shares the company paid 43 cents a share. He sells them and the company writes off the expense at today's price of $2.19. This is because Sirius could have kept the shares and sold them for $2.19. So that is the real value to the company.
But there is a very good chance that Carl Levin will get this law changed. Right now there is an "anti-wealth" virus spreading through Washington. Excessive executive pay combined with corporate tax loopholes is sure to come to the chopping block. So this makes the conversion of any employee options eminent this year if they have matured. Especially if the company is expecting a large amount of taxable income in 2012. Sirius as opposed to Apple has billions in NOLS that can be used to offset taxable income. However why use them if you don't need to. If the government were to limit the write-off for executive's pay to $1 million, Sirius and Apple would lose millions of dollars in potential write-offs.
Mel's case alone would offer over 200 million dollars, which will offset that same amount of earnings. Next year that deduction might be limited to $1 million. At the top tax rate of 35% that is a savings of $70 million for Sirius XM. Again the company has billions in NOLS, but why waste them.
As I have said many times both of these stocks are potential winners for the long run. They have both been on an upward climb for the last couple of years. And percentage wise the two seem to be traveling in tandem. Apple just turned in record earnings, and I think that Sirius will do the same thing next week. But if you got out of either of these stocks due to insider sales speculation, then it is time to get back in. Because a company does not need these tax write-offs unless they have exceptional earnings to report.