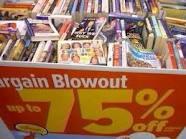 Just the other day I noticed that Apple (NASDAQ:AAPL) was in the bargain bin, selling for about $560 per share on a major pullback from its all time high of $644. Sure enough, Apple reported a killer quarter on Tuesday (like they always seem to do lately) and soared back well over $600. I am pretty sure it will see new highs in the week to come.
While comparing companies that have similar growth prospects, I found another stock that may well be on sale for a limited time. Baidu (NASDAQ:BIDU), the dominant search advertising leader in China, reported an excellent quarter. They boasted 76% profit growth for the quarter, making $299 million or $0.85 per share. I expect them to continue to grow their profits.
Baidu has basically become a monopoly in China since Google (NASDAQ:GOOG) decided to pull out of the search advertising struggle with the country two years ago. They have really picked up steam heading into 2012, and I think that their growth is sustainable. Let's look past the huge number of people living in China (estimated 1.35 billion), and look at the future of Baidu's business.
They have a secure hold on search advertising in China. Most of their revenue growth is coming from increased sales of advertising. With their dominance, any growth in China's economy is going to benefit Baidu. They have also made it clear that they are working hard to increase revenue streams through new products that they offer.
They are working on mobile application platforms and other potential streams of revenue. They are also trying to monetize the search that is being generated by Baidu via mobile smartphones. They are also developing cloud services, and that should hugely benefit Baidu in the future, if they can be in the forefront when cloud catches on in China.
Concern for Baidu came from the forward-looking statements and guidance for the future. There really should be no concern. Tech companies have been known to downplay future guidance and blow away the expected numbers. They got this from the "Steve Jobs Playbook." Tech companies tend to do this because their business can be unpredictable at times. I think this concern will be met in July with more solid numbers.
Click to enlarge.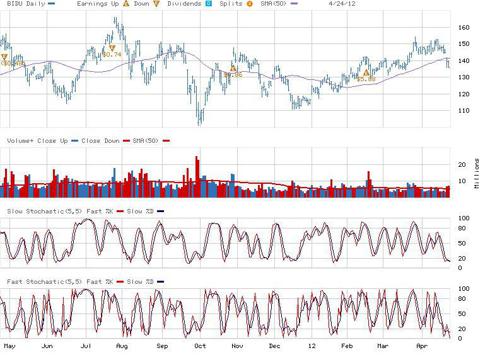 Click to enlarge
Because of their guidance for the future being in line with analysts expectations (is that so bad?), Baidu's stock sank into the low $120s and $130s. This gives you an opportunity to buy a great growth company for a fraction of what it should be selling for. Sounds like a buy to me.
Just consider yourself lucky for the price to come down as much as it did. You were able to find Baidu at this level, and able to invest with a good basis.