Embraer SA (NYSE:ERJ) designs, manufactures, and sells aircraft and aviation parts to the commercial aviation, executive aviation, and defense markets. It has had a great run up since last December's low at $23.30 to a recent closing high of $35.29. It closedWednesday April 25, 2012, at $34.94. It now trades at a somewhat outrageous PE multiple of 75.65. The FPE is only 11.73. However, this FPE is not overly believable.
ERJ missed badly the last two quarters of 2011 (by -97.70% in Q3 and by -168.00% in Q4). Airplane manufacturers are cyclical companies, and the world economy is starting to look worse by the minute. The shallow EU recession foreseen by many is threatening to become a severe recession. If it does, the US will almost certainly follow the EU into recession. Then those two recessions would likely combine to ensure a Chinese hard landing. Even if actuality turns out to be less bad than this scenario, the world economy is definitely slowing. This will have a negative effect on ERJ's business in 2012.
We have already seen ERJ hurt substantially by the AMR Corp. (AAMRQ.PK) bankruptcy. ERJ took a $360.7 million loss provision in Q4 due to the American Airlines bankruptcy. While I don't think all airlines will go into bankruptcy this year, I do think it will be a tough year for the airline industry. Oil prices are still high; and if the world economy were to go higher, oil prices would surely rise considerably. Even with the world economy in trouble, oil prices have remained stubbornly high. If the world economy falls significantly (likely), oil prices might go down; but total passenger miles on most if not all airlines would also go down. This is an environment in which new purchases of aircraft will be restricted. The major airlines will be affected, but it is the minor airlines and the executive aviation business that will likely be most affected.
I have worked in small and medium business marketing, and I can tell you from experience that that small and medium businesses severely cut back their buying during a recession. This is ERJ's niche market. It may see orders cancelled. It may see far fewer orders. The firm order backlog is already starting to shrink. At the end of Q4 2011, it was $15.4 billion versus $16 billion at the end of Q3 2011. I would expect this trend to continue. I would not be surprised to see a further bankruptcy by an ERJ customer this year. We might even see several. The executive aviation business is squarely in the small and medium business category. It will almost certainly turn down considerably during the tougher economic times ahead.
The defense industry may be similarly hit. Too many governments are talking about austerity. This means cuts to any non-essential programs. On top of this the USAF has cancelled it order for Super Tucano planes. Due to legal issues, it apparently intends to restart the selection/bidding process over from scratch. Already the average analysts' EPS estimates for the next two quarters have been reduced. In the last 3 months the March quarter's estimate has gone from $0.51 to $0.44, and the June quarter's estimate has gone from $0.62 to $0.56. This is likely just the beginning of a much longer negative trend.
Yes, the company is expecting to make a lot of deliveries in Q4 2012. However, it is unclear at this time that all of that will come to fruition. Too many are underestimating the negative aspects of the world economy on ERJ's business. On top of this Boeing's (NYSE:BA) continuing remaking of the 737 and Airbus' further development of the A320 is making it nearly impossible for ERJ to enter that market. ERJ has also had some Forex exchange rate losses recently. In the current volatile exchange rate environment, ERJ seems more likely to have further problems in this area than not.
The two year chart of ERJ lends some direction to this trade.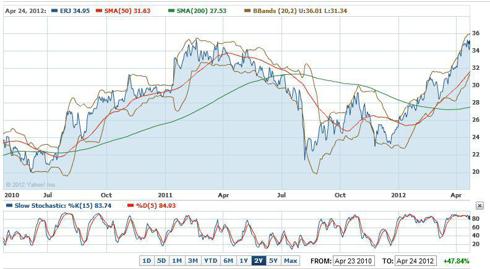 The slow stochastic sub chart shows that ERJ is over bought, and it has been for a long time. The main chart shows that ERJ has been rising sharply in spite of the American Airlines bankruptcy and in spite of the world economic problems.
To me it looks like ERJ has ridden the overall market rise upward with not much attention being paid to its likely coming problems (or even to its current ones). It is now 27% above its 200-day SMA. It is even far above its 50-day SMA. This is as high above its 200-day SMA as it has gotten in the last two years. It is far more likely to retrace significantly from here than it is to continue upward. It is also at approximately the level of last year's top (forming a double top). It does not appear to want to go higher.
Plus the overall market may be in for a retracement. Goldman Sachs' (NYSE:GS) Chief Forecaster, David Kostin, has a three month target for the S&P 500 of 1275 and an end of year target of 1250. This makes one think that the overall market is going to go downward in the near future. The negative news from the EU substantiates this. The lately rising US Initial Claims numbers (388K today vs. an expected 373K) and the falling Durable Goods numbers (-4.2% for March) substantiate this. All this makes ERJ a sell. It means ERJ may be a good short. When the technicals and the fundamentals align, you can usually make money following them.
Disclosure: I have no positions in any stocks mentioned, but may initiate a short position in ERJ over the next 72 hours.