By Brendan Gilmartin
Starbucks (SBUX) is scheduled to report 2Q 2012 earnings after the close of trading on Thursday, April 26. Results are typically available several minutes after the closing bell and will follow with a conference call at 5:00 p.m. EST.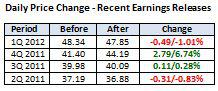 Key measures:
Earnings Per Share: The estimate is $0.39. (Source: Yahoo! Finance)
Revenue: Revenue is seen growing 14.3% to $3.18 bln.
Earnings Per Share Guidance (FY2012): Back in February, Starbucks raised its expectation for EPS to a range of $1.78 to $1.82, representing 17% to 20% growth over the $1.52 EPS in FY11, excluding non-routine gains.
Sympathy Plays: Peet's Coffee & Tea (PEET), Green Mountain Coffee Roasters (GMCR), Dunkin' Brands Group, Inc. (DNKN), Coffee Holding Co. Inc. (JVA), and Caribou Coffee Company (CBOU).
With Coffee Futures at the lowest level in close to two years (see chart below), analysts have been ratcheting up estimates for Starbucks on lower input costs, while the stock is now at an all-time peak.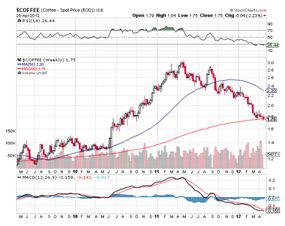 Recent News
04/18: Credit Suisse raised its price target on Starbucks from $56 to $67, according to a report on Benzinga.com. The firm cited declining coffee prices and maintained an Outperform rating.
04/04: Goldman Sachs raised its rating on Starbucks from Neutral to Conviction Buy according to a post on StreetInsider.com. The firm also raised its price target from $49 to $66, citing emerging market expansion, lower coffee prices, strength in single-serve K-cups, and growth in the U.S. The firm also sees EPS doubling by 2015.
03/20: UBS raised its price target on Starbucks to $61, according to Barrons.com. The firm sees improving margins in Europe and expansion in the single-serve market, as well as lower coffee prices as potential catalysts.
Technical Review
Starbucks shares are up 30% year to date and more than 65% over the past year after recently touching an all-time high of $62.00 (4/16). Should earnings surprise to the upside, $62.00 will be a level to watch near term. But with underlying expectations and sentiment at such lofty levels, the shares are more apt to sell off on even a modest beat on analyst estimates. Near-term support is at the 20-Day SMA at $58.00, with downside risk to $56.00, followed by the 50-day SMA near $54.00.
(Chart courtesy of StockCharts.com)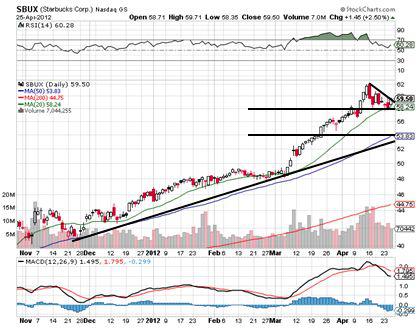 Summary
Starbucks shares are trading near all-time highs thanks to growth in international and emerging economies, increased sales in the single-serve market, and the recent decline in coffee futures to the lowest level in close to two years. Against this bullish backdrop, expectations are quite high headed into the 2-Q earnings release with investors looking for a solid beat on both the top and bottom line, along with a more robust outlook for the balance of the year. Anything less may be seen as a disappointment, given the magnitude of the recent run-up and overwhelmingly positive sell-side chatter.
Disclaimer: By using this report, you acknowledge that Selerity, Inc. is in no way liable for losses or gains arising out of commentary, analysis, and or data in this report. Your investment decisions and recommendations are made entirely at your discretion. Selerity does not own securities in companies that they write about, is not an investment adviser, and the content contained herein is not an endorsement to buy or sell any securities. No content published as part of this report constitutes a recommendation that any particular investment, security, portfolio of securities, transaction or investment strategy is suitable for any specific person.