Stocks making new 52-week lows can sometimes be a good starting point when looking for firms about to make a turnaround. While low share prices say nothing about the company's fundamental health, hitting this threshold does give the firm a boost in attention as stock market portals all over the Internet broadcast shares making annual lows.
If the company has been making the necessary changes from the inside out, this technical level can at times draw enough notice for a bounce with a price reversal. That is a big if though. Most often we find firms sliding down, hitting successive 52-week lows for a prolonged period of time. Below are two firms making the list right now. Is it time to buy?
Electronic Arts (NASDAQ: EA)
Sentiment can't get much worse than this as Electronic Arts was voted the "Worst Company in America." Its issues range from price gouging, bad game endings, unwanted scans of your computer, and more. While consumers are upset, are investors getting their money's worth at these bargain bin prices?
Analysts seem to think so as the recommendation trend since last month is up, with an added buy and strong buy recommendation, while one underperform was removed. The average price target gives this a 57% upside over the next 12 months. A forward PE ratio of 13 is decent as well. On the downside, the forecast earnings have been dropping over the past 3 months. The video game industry is also not my favorite due to its highly competitive and cyclical nature.
As for price action, there is strong support around $14.25. I would recommend buying a small speculative position if the following happened:
A bounce off $14 support

Prices significantly exceed the downward trend line (red)
My guess is that this one needs another two or three weeks to firm up enough before making a definitive call either way.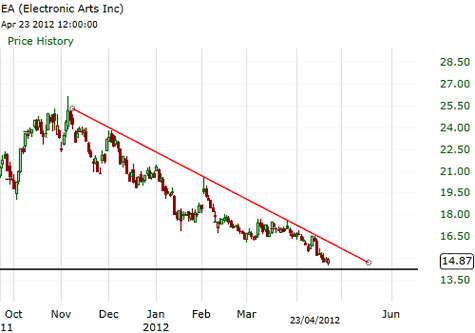 Newmont Mining Corporation (NYSE: NEM)
Some investors are playing the valuation game by trying to compare the proven and probable reserves (gold and copper) with share prices (see Newmont's Assets Value It at $94 Per Share). Yet, valuation is a tricky process - especially in light of gold price volatility.
Over the past 3 months, the earnings forecast for the current year dropped by 14% and 7.5% for next year. While annual earnings over the next 5 years are guessed at a whopping 43% with a forward PE of only 8.22, the price of gold will be the key factor in the future of Newmont's share price.
What can we say about the current gold trend? By charting the SPDR Gold Trust (NYSEARCA:GLD) with weekly bars and price channels, we can see that gold is at the 'make or break it' point if it wants to continue the long-term upwards trend. A bounce upwards over the next couple of weeks would have me buying into deep value gold stocks such as Newmont Mining. As a side note, if history repeats itself (and no assurances that it will), we are currently at a good region for a bounce based on former trend slopes in Newmont's share price (see second chart below). Again, the price of gold is everything here.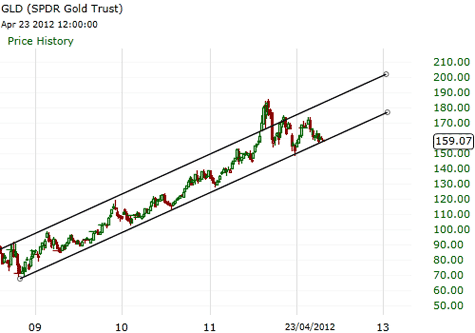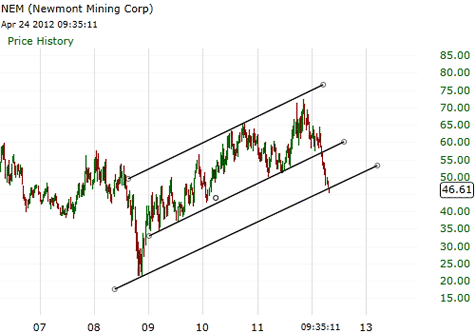 52-Week Low Roundup
So on final analysis, there are two stocks to put on your radar that are making new 52-week lows that could be timely buys over the coming weeks. While the fundamentals look strong and they appear to be cheap stocks, it would be prudent to wait for a technical signal before jumping into the fray. To use a worn-out cliché, "never catch a falling knife or you will get cut badly."
Disclosure: I have no positions in any stocks mentioned, and no plans to initiate any positions within the next 72 hours.