It has been known for a while that China's (NYSEARCA:FXI) demand for a number of basic commodities overwhelms the rest of the world in significance. If China's demand for these commodities expands, they and their producers can do well. If it doesn't, they can't. Paul Kedrosky put together a table a while ago, which illustrates this point perfectly: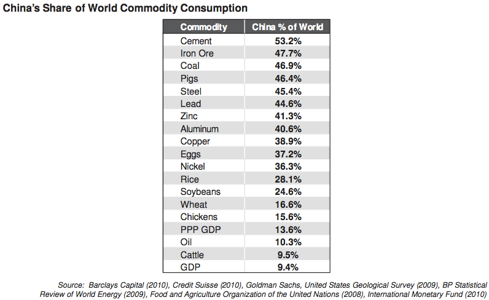 In a way, this huge China significance came from the model its economy is based on, heavily reliant on investment, with investment making up around 50% of GDP versus around 20% or less in more developed economies. China turned into the factory of the world, and thus eats up commodities like no other country. This model, however, has seemed somewhat close to saturation recently. China's real estate investment, for instance, has exceeded what its society seems able to absorb, and that should mean a reduction of activity lies ahead. So China has been trying to refocus growth a bit more into consumption.
It is that new focus which brings us here. Suddenly, China is becoming a huge factor for companies selling into the consumer market. So much so, that I even blundered when trying to predict Apple's (NASDAQ:AAPL) latest earnings. The examples are piling up:
Apple
Running into the latest earnings release, Apple was showing weakness. Verizon (NYSE:VZ) and AT&T (NYSE:T) had already reported their own iPhone sales, and these were running so weak that if the rest of the sales universe behaved the same way, the iPhone run rate was around 23.5 million units, against 30.5 million expected by the market. Sure, there were a few new operators and markets being serviced in the quarter so the ultimate number would be higher, but it seemed quite unlikely that the gap to expectations could be bridged.
Enter China. According to Apple, China saw iPhone sales shoot up to 5 times what they sold in the same quarter last year. And this was without the iPhone being available in China's largest mobile operator by far, China Mobile (NYSE:CHL). China Mobile has around 2/3rds of China's market, so whatever Apple sold in China, it could have sold 2 times more just by being in China Mobile's network. This means that instead of Apple selling 5 times more than they sold in the same quarter last year, we could be reading that it had sold 15 times more …
And yet, just selling 5 times more iPhones in China came to represent $7.9 billion in revenues or 20.1% of Apple's revenues in the quarter. So this, too, could have been 50% of Apple's revenues if China Mobile was on board. A number that, suddenly, seems similar to what China represents for all those commodities.
Intel (NASDAQ:INTC)
It's not just Apple. For Intel Asia-Pacific excluding Japan represented 57% of its 2011 revenues (source: 10-K). And during 2011, China produced in excess of 320 million micro-computers (PCS), growing 30% from the year before. Here China is not only a factor, but seemingly it will become even more relevant over time.
General Motors (NYSE:GM)
And it's not just tech. It's anything to do with consumption where western brands somehow managed to enter the market. Take General Motors. One would think that General Motors was overwhelmingly selling its cars and trucks in the U.S. One would think wrong. During 2011 GM sold 2.5 million cars in the U.S.; It sold 2.55 million in China (source: 10-K).
And the car industry as a whole was even more lopsided, with 13 million units sold in the U.S. to 18.7 million in China. Granted, as of late China's auto market has stagnated. But it isn't far-fetched to expect it to resume its growth soon enough, given how much less intensively cars are still being sold there.
Conclusion
As of late, one can no longer take his clues about strength or weakness in a given consumer product just by looking at leading indicators in the U.S. markets, or indeed, in the developed world. China has grown to be not only a huge factor in commodities, but also for many of those consumer products.
I'll be sure to remember that the next time I try my hand at predicting something in the consumer space (I was already doing it for most worldwide-traded commodities).
Disclosure: I have no positions in any stocks mentioned, and no plans to initiate any positions within the next 72 hours.