Allied Nevada Gold (NYSEMKT:ANV)
Share Price, 4/25/2012: $28.55
Shares Outstanding, 12/31/2011: 89,650,988
Market Cap: $2.56B
Company Overview:
Allied Nevada Gold is engaged in the mining, development, and exploration of gold and silver in the state of Nevada. The company has one operating mine project (Hycroft) as well as six advanced exploration projects, including: Hasbrouck, Three Hills, Mountain View, Wildcat, and Pony Creek. In addition, ANV also has a joint venture in Maverick Springs and 100 other exploration properties.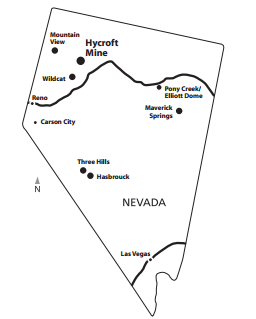 2011 Key Points
104,002 Oz of Au (gold) mined
479,440 Oz of Ag (silver) mined
Revenue: $152mm
Net Income: $36.7mm ($.41 per share)
Cash Margin: $1,100 Oz
Cash: $275mm ($3.07 per share)
Debt: $34.2mm
Liquidity: Cash + $30mm undrawn revolver
Employees: 291
Hycroft Project Proven and Probable Reserves:
12.7mm Oz Au
488.9mm Oz Ag
| | |
| --- | --- |
| 2011 Ratio Analysis: ANV | |
| P/E | 69.6 |
| Forward P/E | 19.0 |
| P/EBITDA | 55.5 |
| Price to Sales | 16.8 |
| Price to Book | 4.5 |
| Debt to Equity | 0.1 |
| Current Ratio | 9.4 |
| Gross Margin | 63.1% |
| Operating Profit Margin | 27.5% |
| Net Profit Margin | 24.1% |
| ROA | 5.6% |
| ROE | 6.5% |
Analyst Estimates:
Click to enlarge.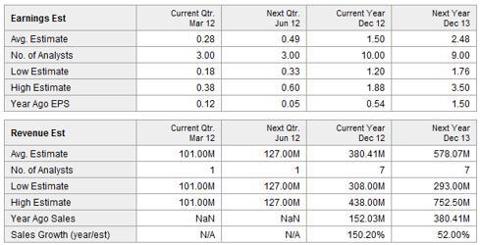 Click to enlarge
Source: Yahoo Finance
Hycroft Mine:
The Hycroft mine Is an open pit gold and silver heap leach operation with large staged increases in production through 2015 which are expected to increase annual production to 582,260 oz of Au and 29,133,922 oz of Ag beginning 2015. Hycroft has proven reserves of $12.7mm Oz of Au and 488.9mm Oz of Ag. The Hycroft project is expected to be one of the largest gold producers in the United States and the largest silver producer in the world once the two stage expansion project is completed by 2015.
The mine is currently undergoing a two-stage expansion project to produce a six-fold increase in mine production by 2015. The expansion is expected to cost $1.2B of which $354.9mm has already been spent by February 24th 2012. The expansion project is as follows: 1) larger capacity mining equipment and expansion of the processing facility which started in 2010, and 2) Building a mill and flotation plant to improve the ore recovery rate expected to be operational by 2015.

Click to enlarge
Metal Price Sensitized Analysis of P&P Reserves at December 31, 2011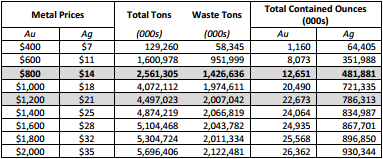 Source: Hycroft Technical Report, April 9, 2012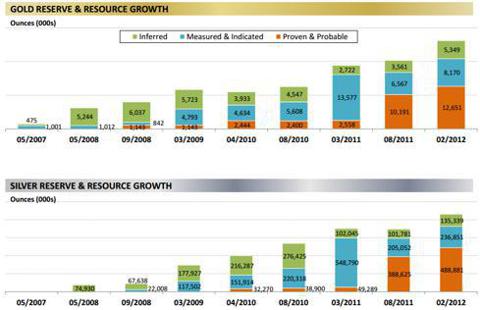 Click to enlarge

Click to enlarge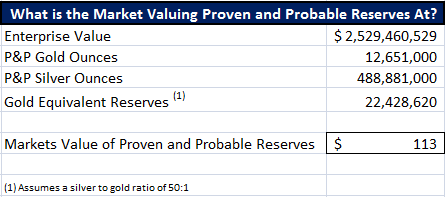 Comparable Company Analysis:

Click to enlarge
Allied Nevada Gold is the most undervalued gold miner in an undervalued sector, as depicted by the Gold/XAU ratio, which is currently at 9.9:1.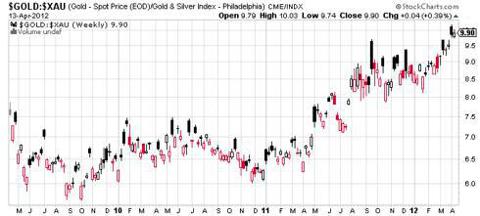 Click to enlarge

Click to enlarge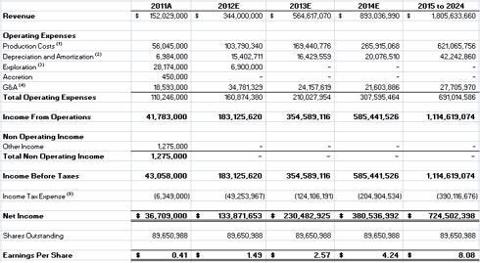 Click to enlarge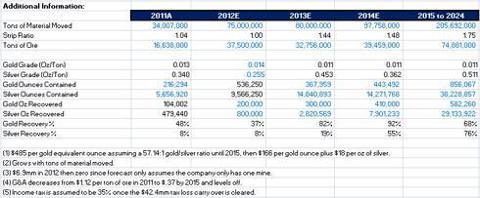 Click to enlarge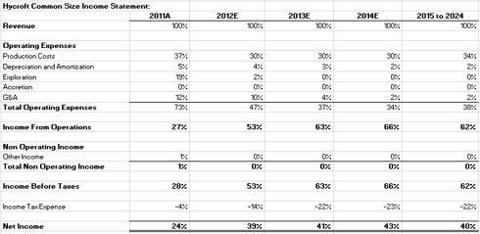 Click to enlarge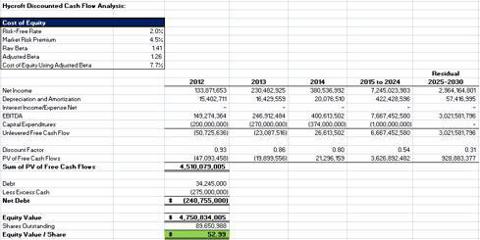 Click to enlarge
Commentary: The discounted cash flow only accounts for proven and probable reserves at the Hycroft mine, which are based on $800 oz gold and $14 oz silver. At current prices the proven and probable reserves of the Hycroft mine would be much higher. Measured and indicated, as well as inferred reserves at Hycroft and Allied Nevada's six other advanced exploratory properties are excluded. Since the Hycroft mine is scheduled to be exhausted by 2030, there is no terminal value calculation.
Exploration Properties Overview: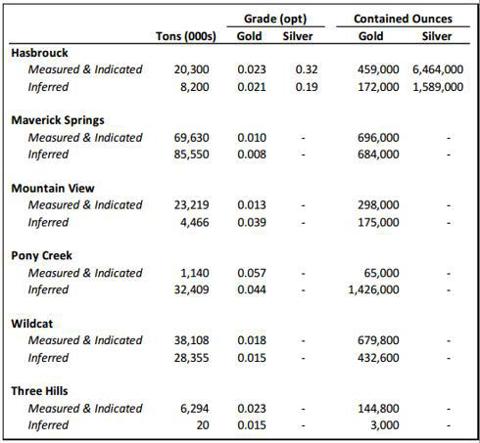 Click to enlarge

Click to enlarge
Risks:
Since ANV doesn't hedge, their revenue is exposed to the volatile price swings of gold and silver.
The Hycroft expansion project could be delayed, which would hurt future earnings.
Natural disasters or poor weather conditions could damage or prevent continued operations for an extended period of time.
Potential government or environmental regulation could impair profitability.
Reserves are estimated and subject to change.
An inability to find new productive projects would significantly hurt the company's future prospects.
Investment Thesis:
A conservative discounted cash flow valuation estimates the company's equity at $52.99 per share using only the Hycroft mines proven and probable reserves with assumptions of $800 oz gold and $14 oz silver. Without giving any credit to measured and indicated or inferred reserves at Hycroft or any of Allied Nevada's other advanced exploratory projects the company is currently undervalued by 71%.
The Hycroft mine alone is expected to increase their production from 104,002 Oz of gold and 479,440 Oz of silver in 2011 to 582,260 Oz of gold and 29,133,922 Oz of silver in 2015. This represents a 460% increase in gold production by 2015, and a 5,977% increase in silver production which is expected to be maintained from 2015 to 2024.
The Hycroft projects NPV is approximately $2.5B using extremely conservative assumptions of $1,200 gold and $21 Silver. With a current enterprise value of only $2.5B, this gives the investor a large margin of safety and a free call option on the company's other advanced exploratory projects.
The analysis shown is a conservative estimate, as it only gives credit for proven and probable reserves which account for 40.3% of their total gold reserves and 56.2% of their total silver reserves.
Analysts are currently forecasting YOY Sales growth of 150% in 2012 and 52% in 2013.
Being well capitalized with very little debt, having $275mm in cash, and a $30mm undrawn revolver allows the company to allocate capital to investments with the highest returns to shareholders. A strong balance sheet also reduces the possibility of future share dilution, and helps them weather any downturn in the credit markets.
Being unhedged allows to ANV to take advantage of the historical trend in precious metal price appreciation as real interest rates continue to be negative for the foreseeable future, and the Fed planning to keep interest rates at historic lows until at least late 2014.
Central banks around the world have become net buyers of gold over the last few years, while strong demand from China and India create a bullish case for precious metals.
Having all their projects in Nevada significantly reduces the political risk that many other gold miners face in more politically unstable parts of the globe.
With mining industry profitability at all time highs and ANV's proven reserves it is a prime takeover candidate for a number of the major mining companies.
Gold miners are incredibly cheap relative to the price of gold.
Disclosure: I am long ANV.