Gold prices topped $700 per ounce in early September and reached a 16-month high last week, spurring the iShares COMEX Gold Trust's (NYSEARCA:IAU) NAV to within a whisker of its all-time high.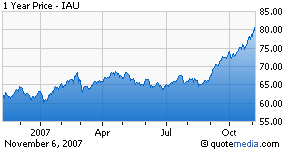 Some observers called recent events a perfect storm for gold prices, which have been largely on the rise over the past six years, since the early 21st-century bear market sent investors to the metal in search of its diversifying properties. Gold is seen as a safe haven in times of crisis, as a hedge against inflation and as an alternative currency to a weak U.S. dollar.
With all three issues at the forefront of the news in the last week, gold was in focus again. The COMEX spot price topped $712 on Sept. 11 and neared last spring's 25-year high, just below $720. The metal gained 7.6% in the month ending Sept. 14 according to Bloomberg.
IAU posted a NAV gain of 2% for the week ended Sept. 14, a one-month gain of 5.9% and a three-month return of 9.4%, the latter representing a 10.6% edge on the MSCI EAFE Index.
The ETF also climbed the Sector Momentum Table over the last three months, from No. 38 as late as mid-July to No. 28 in early August to No. 19 last week.
As regular readers know, IAU differs from most gold funds, which invest in the stocks of miners and metal firms. This fund buys bullion directly and, according to iShares, holds it in a trust backed by actual gold bars held by the Bank of Nova Scotia.
The fund's NAV directly reflects gold prices, as it is set by the closing price of COMEX spot gold. Each share represents one-tenth of an ounce of gold, less IAU's 0.4% expense ratio.
When IAU debuted in January 2005, gold stood at $425.80 an ounce, in the middle of what's become a six-year rally built on the market's jitters. The rally got a boost from recent events, including:
•Signs of a slowdown for U.S. consumers, as retail sales excluding motor vehicles fell 0.4% in August.

•More concerns about the effect of the subprime- induced credit crunch on the U.S. and world economies, as customers of troubled U.K. lender Northern Rock lined up to withdraw their savings after it needed emergency funds from the Bank of England. For gold bugs, the reaction looked like a 1930s run on banks.

•The dollar hit an all-time low vs. the euro. When the dollar is weak, gold becomes A) cheaper to buy with other currencies, and B) an alternative currency, with a reputation for holding its value.

•The expected interest-rate cut by the Federal Reserve on Tuesday, which many viewed as a potential catalyst for inflation and a further weakening of the dollar.
Inflows into mutual funds such as IAU also received credit for the rise. In less than three years on the market, IAU has attracted more than $1 billion in net assets. Some argue that IAU and a similar fund, StreetTRACKS Gold Shares, have helped push the price higher by pulling more than $10 billion in assets into the metal. Prior to the creation of these two funds, U.S. investors had little opportunity to invest directly in gold.
Investors in IAU have certainly done well, as the fund's NAV gained 64.4% since inception (through Sept. 14).
IAU isn't generally as volatile as funds that buy stocks of gold producers, whose stocks tend to rise and fall further than spot prices. Still, it remains a risky fund, best suited—much like gold itself—as a diversifying force rather than at the top of a portfolio. Despite its long run-up, chances are that IAU will be a volatile investment.
Investors enamored with gold's rally should remember that the metal's price can gyrate wildly. Back in 1980, prices rose to an all-time high of better than $850, jumping from the $300 range in approximately one year. But three years later prices dipped below $300. Before the current bull run gold bottomed out at $253 in 1999.
Last year's gyrations also offer evidence. From March 10 to May 12, IAU shot up 32% as investors fled risk. But from its May 12 all-time high IAU had fallen 19% by June 16 and hasn't quite reached that high again. Investors who jumped in near the peak would still be trying to claw back to even.
Even last week, analysts speculated that a rate cut was already priced into gold and that if the Fed failed to cut rates or cut less than expected, prices could fall. In the end, yesterday's 50-basis point reduction in the Federal Funds rate supported gold prices, which were up after the announcement.
Still, the drivers of gold's bull run remain in place, especially given longer-term worries about the credit crunch and a U.S. slowdown. And a little slice of IAU can provide a big boost at the right time.