India ETF investors had another piece of baggage dumped on them as S&P downgraded their outlook on India from stable to negative yesterday. India currently is clinging to a credit rating of BBB-, the lowest investment grade rating from S&P. Wednesday's change in outlook means there is now a 33% chance India will lose its investment grade rating from S&P. This would significantly increase borrowing costs for the Indian government and state owned enterprises hampering economic growth.
S&P cited concerns about India's fiscal deficit, slowing GDP and lack of progress in reforms to the many issues - including taxation, subsidies and foreign investment restrictions - by the government. On this news the India Rupee continued its downward slide against the U.S. Dollar. This slide is now likely to reach the late 2011 lows which caused considerable economic pain within India. Here's the six month chart of the Indian Rupee in U.S. Dollars.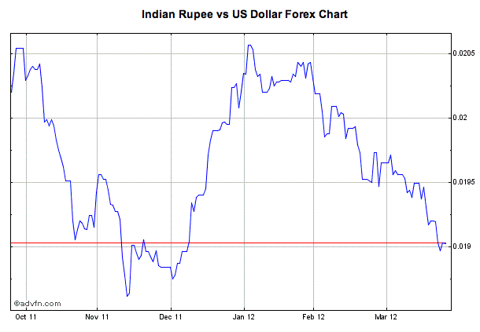 Click to enlarge
For India ETF investors, the continued devaluation of the Indian Rupee in response to the downgrade is a double whammy. The downgrade fans negative investor sentiment, which is a bad omen for the foreign investment flows India depends on. In addition the rupee's slide makes it harder for the India economy to grow. For example, India's GDP growth rate has averaged 6% over the last five years and now S&P is forecasting a decline to 5.3% for the next Indian fiscal year. A robust economic growth rates has historically attracted investors to India and helped the country sweep other issues under the rug. Now that the growth rate is slowing, investor flows will likely decrease at the same time scrutiny of India's economic and political issues grows. This is not a favorable combination for investors in India.
India ETF products began the year strong but now seem to be succumbing to the economic and political baggage piling up in India. Here's a chart of the largest India ETF, EPI, the best performing India ETF in 2012 year to date, SCIF, and a broad based India ETF, INDY. Notice the declines from late February highs this year as economic data, election results and the new India budget began to drag down market sentiment.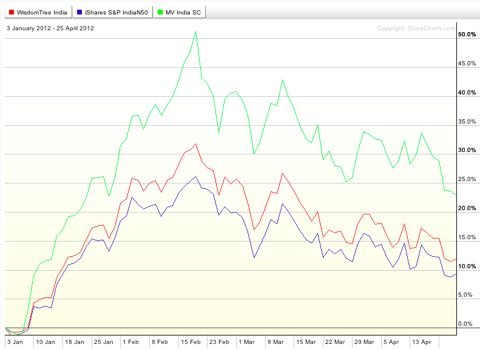 Click to enlarge
Specifically, the decline since late February has pushed these India ETF products, a solid representation of the peer group, downward by more than 10%. This correction continues appears on track to move to a bear market unless a catalyst emerges. Below is the current performance since the February 21st descent.
Click to enlarge
Investors in India ETFs may have seen their best days of 2012 already. The momentum in Indian markets appears to be negative in the near term. Like 2011 markets set up for early 2012, valuations will eventually over correct and set up an opportunity for significant upside. Indeed the lowest performing non leveraged India ETF, PIN, has still gained 9.5% this year. Here's the India ETF performance grid from IndiaETFs.com below.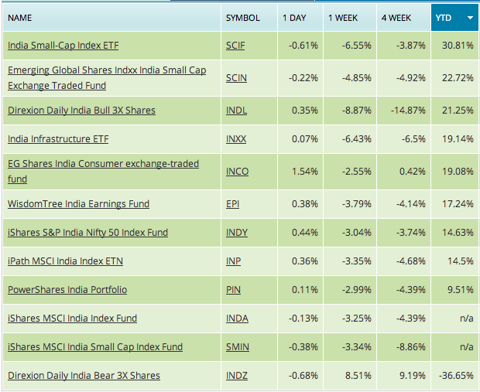 Click to enlarge
For now however, it appears S&P's downgrade is just another reason to underweight exposure to India ETF products. Hopefully for Indian markets, the Indian government uses this warning from S&P to execute on needed reforms and return India to the growth engine it has been in the past.
Disclosure: I have no positions in any stocks mentioned, and no plans to initiate any positions within the next 72 hours.
Additional disclosure: Christian Magoon publishes IndiaETFs.com.