"Basic financial principles require that long-term investment portfolios exhibit diversification and equity orientation." So writes David Swensen in his book, Unconventional Success: A Fundamental Approach to Personal Investment. Swensen references a six asset class portfolio that includes: domestic equities, foreign developed equities, emerging market equities, real estate, U.S. Treasury bonds, and U.S. TIPS.
These six asset classes, and the percentage allocated to each, are built around several logical points. 1) No asset class holds less than 5% and none are exposed to more than 30% of the portfolio. Swensen considers 5% a minimum one should hold in an asset class if that holding is to have a significant impact on portfolio performance. The maximum of 30% limits the exposure to potential risk in a single asset class. 2) The equity orientation to the portfolio is 70% providing a high-expected-return from these asset classes. The remaining 30% is allocated to high quality U.S. backed securities. 3) With 20% allocated to REITs and 15% to TIPS, the portfolio provides significant protection against inflation.
Swensen's well-diversified, equity-oriented portfolio includes the following asset classes. The percentages are the recommended policy targets:
Domestic Equities (30%)
Foreign developed equities (15%)
Emerging market equities (5%)
Real estate (20%)
U.S. Treasury bonds (15%)
U.S. Treasury Inflation-Protected Securities (15%)
The index equities used to populate the six asset classes, though not specified by Swensen, are the following:
Running a Quantext Portfolio Planner (QPP) analysis (software developed by Geoff Considine) and using Swensen's percentages and ETFs I selected to represent each of the six asset classes, I found the following projections. Using five years of historical data, the projected return is 7.8% or or nearly one percentage point above that projected for the S&P 500. The projected standard deviation is 14.1%. The Diversification Metric (NYSE:DM) and Portfolio Autocorrelation (PA) are 33% and 17.8% respectively. To learn more about DM and PA, go to this site.
As mentioned in an earlier article, I expect emerging markets to outperform foreign developed equities over the next three to five years. What does the QPP analysis project if the percentages are reversed and 5% is allocated to foreign developed markets and 15% to emerging markets? Another percentage switch makes sense as TLT has a lower correlation with this portfolio as a whole compared to TIP. It also has a higher projected return. If we allocate 25% to TLT instead of 15% and decrease the allocation to TIP from 15% to 5%, how are the four critical metrics impacted?
Here is the QPP analysis with the new percentage allocations. The projected return increases from 7.8% to 8.4%, a significant boost. We see a slight increase in the standard deviation from 14.1% to 14.15%. This is insignificant. Diversification is one of Swensen's desired goals and DM moves up five percentage points to 38%. Perhaps the least important metric, Portfolio Autocorrelation, moves down from 17.8% to 16%.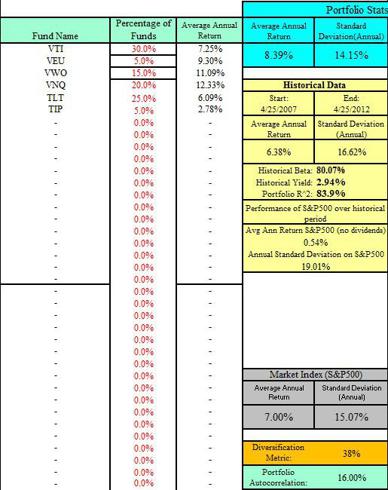 The beauty of this portfolio is its simplicity as only six ETFs are required to provide global diversity. With 70% of the portfolio allocated to VTI, VEU, VWO, VNQ, the portfolio passes the equity oriented test. With 30% allocated to VNQ and TIP, there is adequate inflation protection, but less than the 35% recommended by Swensen in the original asset allocation plan. In both plans, 30% is allocated to high quality U.S. Treasury securities.
Investors looking for a simple portfolio plan, yet global in outlook with inflation protection, will find this combination of ETFs of interest.