It's not the Wild West anymore; it's the Arid West, as in the well is getting low and what's left in it is pure poison. Basin Water, Inc. (Nasdaq: BWTR) is out to fix all that, stripping toxins from groundwater and making drinking water safe. Cleaning up the Old West was never like this.
Basin Water and its many competitors have the law on their side. The Environmental Protection Agency and state authorities have established maximum contaminant levels, or MCLs, to meet safety standards. Responsible drinking doesn't include arsenic, nitrate and perchlorate, found more and more in underground aquifers as the U.S. population and industries grow.
Basin, though, has a treatment others don't: an ion-exchange technology that cleanly and cost-effectively reduces groundwater contaminant levels. The company sells its system to water suppliers that include utilities, cities, municipalities, special districts, real estate developers and others. Customers include American Water, Aqua America, Inc. (NYSE: WTR), California Water Service Group and American States Water Co. (NYSE: AWR).
Rancho Cucamonga, Calif.-based Basin wants to expand nationally—contaminated groundwater is most everywhere—but its key target is the southwestern United States, which Basin calls the Arid West. It's the region with the highest population growth and a chronic water shortage. The population of California and Arizona grew by about 5.6 million between 1990 and 2000, and is expected to increase by another 12 million in the next 20 years, the company says in its annual report.
The Arid West gets most of its drinking water from surface and groundwater, but surface water has little room for expansion, due to expense of procurement; it often must travel miles before reaching markets. Desalination carries a lot of energy costs, and other factors also make it unattractive, according to Basin. Instead, groundwater serves as the primary drinking water source for more than half of the United States. It is dependable for water providers, and cleaning it up is a market area of big growth.
But don't drink the groundwater before it's been treated. It's got arsenic, nitrate and perchlorate—toxins, certainly, but to Basin a chance to outduel opponents with its leading ion-exchange technology. Other methods include coagulation microfiltration, media absorption, reverse osmosis and electrodialysis reversal. But many of these are costly or waste-producing, and they are generally designed for large industrial installations rather than wellhead treatment.
For such a young company, Basin—with a market cap of $234 million—is proving a sharpshooter. Developing its systems over the past few years, the company just went public in 2006. Sales have quadrupled the past three years to $17.1 million through December of fiscal 2006, from $4.3 million at the end of 2004. In 2007, sales are expected at $22.3 million and in 2008 at $36.1 million, according to the average of analyst estimates.
Basin turned a corner to profitability in 2005, but backed off in 2006, losing $0.70 per share. In 2007, the company is expected to lose $0.21 but will be profitable in 2008, earning $0.11. Its third-quarter results through September are scheduled for Nov. 14, and analysts expect a loss of $0.02 and revenue of $6.1 million.
Analysts like Basin's technology and opportunities but largely remain neutral. According to Standard & Poors, six out of seven analysts have "hold" recommendations, and one has Basin as a "buy." Valuation appears to be the stumper, particularly since the company has no earnings and has already rallied 74% this year. Shares settled at $11.77 on Monday, at the high end of the 52-week range of $6 to $13.20.
Brean Murray Carret and Co. initiated coverage in late August with a "hold" rating, noting a slew of positive factors but balking on valuation. Citing the challenges of valuing Basin because of its lack of profitability, analyst Michael Gaugler settled on $11. He used an enterprise value to sales multiple of 5, based on 2008 sales forecasts and the market worth of competitors.
Gaugler wrote that Basin Water is a leader in contaminant removal solutions for groundwater, that there is a large market opportunity capable of supporting many players and that the company's strong balance sheet will support its move to profitability; Basin is virtually debt-free and has $48 million in cash. He expects earnings to begin in the fourth quarter.
"We expect the Basin Water growth story to continue" Gaugler wrote. "Although the company has not been generating net profits consistently, we expect its performance to improve due to its highly effective, cost-efficient technology, the favorable outlook for the groundwater treatment industry, and recent changes in operating personnel."
Basin has a competitive technological edge and its systems also offer cost savings to customers. Waste rates of Basin's systems are about one-tenth of those generated by conventional ion exchange technology, wrote Gaugler. He expects Basin to show double-digit top- and bottom-line growth over the next three years, and the company's expansion to a national presence should allow it to maintain strong revenue growth in coming years.
Analyst John Quealy at Canaccord Adams also has a "hold" rating. He raised his price target to $10 from $7 in August. In a research note, he said Basin's management is creating momentum heading into the second half of 2007, and sees a positive bidding environment for Basin Water in the near-term. Still, the company remains in the "show-me" mode with investors, although it has earned a better valuation multiple, wrote Quealy.
Transitions can be painful, and Basin's (BWTR) move to a national level puts some risk into the investment, as does competition from competitors, such as Calgon Carbon Corporation (NYSE: CCC), up 117% year to date, and Consolidated Water Co. Ltd. (Nasdaq: CWCO), up 29%.
But the key consideration now is not market opportunity or competition; it is valuation. Watch the quarterly report, and on a break in shares be ready to pull the trigger.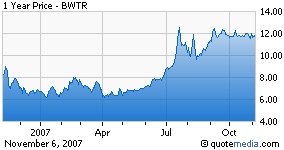 Disclosure: none