When iShares S&P Latin America 40 (NYSEARCA:ILF) fell 22.3% from July 23 to Aug. 16 on concerns about the credit crunch and the U.S. subprime mess, the drop brought to mind the long-running pattern of boom and bust in the region.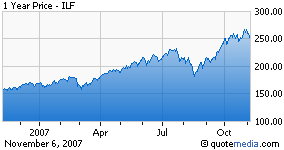 By Monday, however, Brazil's broad market index, the Bovespa—which itself fell 17% over the aforementioned period—hit a record high, pushed by another boost from the metals, mining, and commodities sectors that made Latin American stocks, and ILF, among the strongest worldwide over the past few years.
ILF's 34.5% year-to-date return (through Sept. 21) ranks 12th among those of all ETFs tracked by Morningstar. Over the longer haul, returns are even more impressive: Through Sept. 21, 60 ETFs had a year-to-date return of better than 20%. Of those, ILF ranks second for both three-year (53%) and five-year (45.9%) annualized returns. In short, ILF starred over the last few years and even the last month, when it gained 19.9%.
We added ILF to the ETF Momentum Tracker International Portfolio on May 16. The fund's been in the top eight on the International Momentum Table for all of 2007, but its slow decline to the No. 5 spot two weeks ago may indicate that some investors wonder whether the emerging economies supporting this fund have the stamina to keep rallying.
The answer will come largely in two countries, stocks of which compose nearly 90% of the fund's assets: Brazil (59.3%) and Mexico (30%). Nearly half the region's population lives in those two countries, each of which has implemented major economic and political reforms in recent years. That's one reason some investors see them as capable of breaking the region's pattern, typically marked by periods of rampant inflation, political instability, and general economic hardship. Chile, third with 7.4% of assets, has also showed positive signs.
"Risks are melting away as investors realize this is a different time in Latin America, with real structural change and the likelihood valuations will go higher," S&P analyst Alec Young recently told the Chicago Tribune. "Natural resources are a big part of the story, leading to budget surpluses that allow countries to retire debt and improve their fiscal positions and credit ratings."
Both Brazil and Mexico are fast developing a middle class, which tends to increase consumption across the economy and to build the education and productivity levels that sustain growth and stability.
The International Monetary Fund expects Latin America to see economic growth of 4.9% this year, in line with the last four years or so.
In Brazil, the central bank made deep cuts to interest rates over the last year, feeding a housing boom, while Mexico recently undertook a so-far-underwhelming reform of its antiquated tax system, aimed at reducing poverty, as the country's oil revenues are expected to decline. Both countries are expected to generally maintain the economic policies that aided recent growth spurts.
Strength for the Brazilian real and the Mexican peso vs. the dollar this year has also been a boon. For example, iShares Brazil, another member of the Portfolio (and one that recently shared six of its top ten holdings with ILF), owes one-third of its one- year gains to that "currency tailwind," according to Morningstar.
ILF invests in a mix of the region's most-liquid stocks, largely big companies, with a market cap of nearly $37 billion and 65% of holdings classified as giant-cap by Morningstar. It invests largely through American Depositary Receipts, held by U.S. banks.
The big gains have come from materials stocks, which account for 31.8% of the fund's portfolio, topped by a nearly 20% stake in two ADRs for the world's largest iron-ore producer, Vale do Rio Doce (NYSE:RIO), which has seen share prices jump nearly 215% in the last year and 39.5% in the last three months.
Insatiable demand from China and other emerging markets and strong global growth have helped CVRD and other Latin American commodity stocks to appreciate faster than their category averages, most recently on rising oil and nickel prices. The U.S. interest-rate cut, viewed as a potential catalyst for worldwide growth and raw-material demand, also helped ILF recover the summer's losses.
Investors here should remember the fund's volatility (three-year standard deviation of 21.49) and high risk level (from single stocks, heavy investments in two countries from an emerging market, and the region's history). Even recently the fund has taken a beating when investors shy away from risk, as they did this summer.
No matter how long the party in Latin American stocks continues, ILF is likely best used as a niche holding for all but the most risk-hungry investors.