With the recent appearance of a long-awaited dip in the markets, I thought it might be an opportune time to examine some possible long-term ETF plays. These selected ETFs may have some attractive features with global, contrarian, and even a bit of Warren Buffett style investing qualities. They may make a nice long-term addition to a diversified portfolio.
1. EGShares Emerging Markets Consumer ETF (NYSEARCA:ECON)
This ETF gives you access to the emerging middle class in the emerging markets. Everybody needs and wants the same things -- e.g., consumer goods/staples -- and as the emerging market economies prosper, the people of these countries will seek the basic consumer goods that we in the West often take for granted. The holdings in this ETF are large, dominant consumer goods companies that are leveraged to grow and expand as their respective customer bases prosper. Top emerging regional holdings include companies from Latin America, Greater Europe and Middle East/Asia.
This ETF performance has held up nicely and has outperformed broad emerging ETFs, such as the iShares MSCI Emerging Markets Index (NYSEARCA:EEM). This ETF has delivered around 20% since it's September 2010 inception. ECON is not as volatile as most emerging markets funds because its holdings are large-size companies that are defensive in nature. ECON sports an expense ratio of 0.85%, yields about 0.5%, and has gathered healthy assets of around $400 million. This ETF would complement almost any long-term portfolio. Here is a chart of ECON vs. EEM, since inception.
Click to enlarge all images.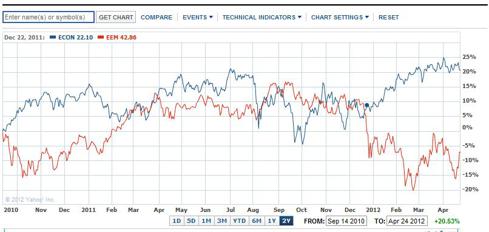 2. PowerShares Emerging Markets Sovereign Debt ETF (NYSEARCA:PCY)
Dovetailing nicely with the emerging markets consumer demand is the PowerShares Emerging Markets Sovereign Debt ETF. As these emerging economies grow, so will the strength of their currency and debt markets. From PowerShares:
The PowerShares Emerging Markets Sovereign Debt Portfolio fund is based on the DB Emerging Market USD Liquid Balanced Index. The Fund will normally invest at least 90% of its total assets in securities that comprise the Index. The Index tracks the potential returns of a theoretical portfolio of liquid emerging markets U.S. dollar-denominated government bonds issued by approximately 22 emerging-market countries.
The portfolio has a healthy diversified mix of debt, with issues from Romania, Brazil, the Philippines, Vietnam, etc. The fund has delivered equity-like performance with a three-year NAV return of about 17%, according to PowerShares. PCY has a reasonable expense ratio of 0.50%, a 12-month yield of around 5.2%, and assets of about 1.6 billion. An honorable mention goes to iShares JPMorgan USD Emerging Markets Bond (NYSEARCA:EMB) ETF, as both delivered very similar performance. But the PowerShares offering has a slightly cheaper expense ratio and has been around a bit longer.
3. First Trust ISE-Revere Natural Gas Index ETF (NYSEARCA:FCG)
This is a contrarian play, with the price of natural gas now hovering at 10-year lows. The fund holdings consist of companies engaged in the production and exploration of natural gas. Some top holdings include Devon Energy, Noble Energy, Comstock Resources, and PetroQuest Energy. According to First Trust, the index utilizes quantitative metrics and rankings such as a company's proven natural gas reserves and correlation to natural gas prices. It also takes into account traditional metrics such as P/E ratio, ROE, and P/B ratio. With the oil to natural gas price ratio now well over 50 to 1 (see image below), this may make a nice long-term play and is worthy of at least a tire kick.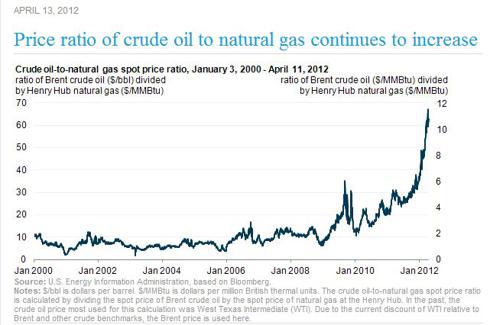 4. PowerShares Global Listed Private Equity Portfolio ETF (NYSEARCA:PSP)
This ETF's index is the Global Listed Private Equity Index. This is a Global ETF that holds listed private equity, ADRs and BDCs (Business Development Companies) in its portfolio. These companies in the portfolio lend to distressed or capital-challenged, mostly private companies with the plan to turn a profit later on as the private companies' businesses improve/grow. The financial meltdown from 2008 to early 2009 proved devastating to this space, but the healing is slowly improving. Top holdings include the big BDC American Capital Ltd. (NASDAQ:ACAS) and the diversified holding company Leucadia National (NYSE:LUK). The expense ratio is a very high 2.55%, I suppose partially due to some of its varied and diverse multicap global holdings. It sports a healthy 6.9% yield to ease that stinging expense ratio. When the global financial healing starts getting some real traction, this ETF may be a promising candidate to keep on your radar screen.
5. Elements Morningstar Wide Moat Focus ETN (NYSEARCA:WMW)
Last on the list is another long term-idea, the Buffettesque, relatively obscure WMW. Investopedia defines wide economic moat as having a "type of sustainable competitive advantage that a business possesses that make it difficult for rivals to wear down its market share and profit." This is a concentrated fund with only 20 blue-chip, wide-moat companies. The holdings include Amazon, Cisco, CME Group, GE, and Pfizer. It's constructed by Morningstar, with equal weights of companies that Morningstar determines to have the highest ratios of fair value.
This ETN, which started in October 2007, has been quietly beating the S&P 500 (NYSEARCA:SPY) in fine fashion. The fund has enjoyed a healthy 38% return since its inception vs. -0.3% for the SPY. This product, being an ETN, has the usual underwriting bank's credit-issuer risk. For this ETN, the underwriter is the healthy Deutsche Bank AG. The expense ratio is 0.75%. This ETN product appears to be a proven performer, and the folks at Elements evidently have a solid methodology from Morningstar that would likely make Warren Buffett smile.
Disclosure: I have no positions in any stocks mentioned, and no plans to initiate any positions within the next 72 hours.