With Pfizer's (NYSE:PFE) continued retreat from the research and development that made it the world's largest pharmaceutical company, I recently sold my position in Pfizer. As it cuts costs by reducing research and development expenses, management clearly places a premium on slightly higher profits now instead of investing in the future. Pfizer's growth strategy apparently has transformed into an acquisition model as it acquires smaller biotechnology companies in order to introduce new products. However, with no real competitive advantage in this area, I see no compelling reason to invest in Pfizer.
As Pfizer migrates to a post-Lipitor world in which it seeks to replace revenue lost from generic Lipitor and other drugs, Pfizer is pursuing exactly the wrong corporate strategy. With the threat of declining revenue, Pfizer has cut costs, most notably in research and development, in its efforts to maintain profits. Research, however, is the very source of Pfizer's profits and so this is a long-term losing strategy.
In 2011 alone Pfizer lost exclusivity on Vfend ($747 million in 2011 sales worldwide), Xalatan ($1.25 billion), Caduet ($528 million), Protonix, Aromasin ($361 million), and of course Lipitor ($9.6 billion). In 2012 Pfizer will lose exclusivity on Aricept (in Europe and Japan), Geodon ($1.0 billion), Revatio ($535 million), and Detrol IR ($883 million). Despite this patent cliff, Pfizer is actually cutting its efforts to develop future drugs. Just this year Pfizer closed its Sandwich facility in the United Kingdom, the site where blockbuster Viagra was developed, in addition to the non-steroidal anti-inflammatory drug piroxicam (trade name Feldene) and the antifungal drug fluconazole (marketed under trade names Diflucan and Trican). Pfizer also closed or research and development sites in Catania, Italy, Aberdeen, U.K., and Gosport, U.K. This is just the latest set of closures, a process that perhaps started with the 2007 closure of the Ann Arbor R&D site, its most productive R&D site and the birthplace of Lipitor.
These closures are emblematic of Pfizer's recent corporate strategy. Pfizer has spent a smaller percentage of sales on R&D for each of the last five years, and its 2011 annual report aims for a further 20% reduction in 2012 compared with 2011. Unsurprisingly, Pfizer's pipeline significantly shrank during this period.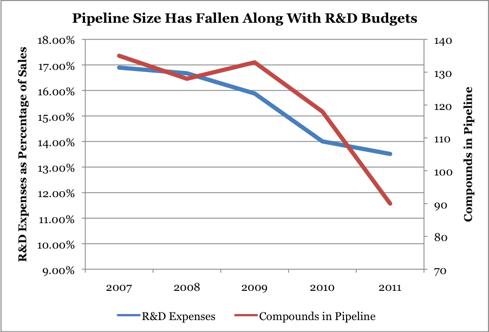 N.B. the 2007 and 2008 pipeline data include compounds in both Pfizer and Wyeth's pipeline before the merger. Unfortunately, the decline in the pipeline has not led to new drugs: Pfizer had just 3 new FDA approvals in 2011, 1 in 2010, and 2 each in 2009 and 2008 according to its annual reports and CenterWatch.
Pfizer's New Model: Corporate Acquisitions
If Pfizer is not producing its own drugs, and it seeks growth, it must acquire other companies. These could provide either current sales and profits, or future sales and profits if Pfizer acquires companies with strong drug candidates. While Pfizer has done an acceptable job on the first goal, it has done poorly on the second. New product introductions are low and the number of compounds in its pipeline are down.
In addition to the headline acquisitions of King Pharmaceuticals in 2011 and Wyeth in 2009, Pfizer has been active in acquiring smaller companies as well. In 2011 Pfizer acquired: Excaliard Pharmaceuticals, a private biopharmaceutical company developing drugs to treat skin fibrosis; the consumer healthcare business of Ferrosan Holding A/S; 70% of the shares of Icagen, a biopharmaceutical company working on drugs that modulate ion channels; and entered an agreement with GlycoMimetics, Inc. to receive worldwide licensing rights to a drug currently in Phase 2 trials to treat vaso-occlusive crisis associated with sickle cell disease. There was a similar level of acquisition in 2010 and looks to continue into 2012.
Despite Pfizer's drying pipeline, it has perplexedly sought to divest itself of non-pharmaceutical assets. About a year ago Pfizer announced plans to study the sale or spinoff of certain business segments. It subsequently sold Capsugel, its gelatin capsule manufacturing unit, to private equity firm Kohlberg Kravis Roberts & Co. (NYSE:KKR). And it just recently announced the sale of its Pfizer Nutrition business unit to Nestlé (OTCPK:NSRGY).
With the divestiture of several of Pfizer's non-core business units, Pfizer is doubling down on its research-based pharmaceutical business. At the same time, its continued withdrawal from its own research and development requires Pfizer to acquire other companies to fuel growth. This strategy may be self-defeating; as a recent President of Pfizer Research & Development wrote in Nature Reviews: Drug Discovery "after a major merger, the rate of progress in the development pipeline seems to decrease" and "R&D seems to be especially vulnerable to the negative impact of mergers and acquisitions." Pfizer's corporate history has not shown it to be a good allocator of capital, and there is little evidence to suggest that Pfizer will be better at finding undervalued biotechnology companies than the market or than other pharmaceutical companies.
In light of this, seeing no real competitive advantage or compelling strategic outlook, I recently sold Pfizer in favor of higher-growth companies. I think Pfizer is still a safe company for those who own the stock for dividends, and may be a good investment for those who invest in the stock as an effectively infinite maturity bond. But I took advantage of the 15% rise in Pfizer since I last wrote about it to invest in higher-growth companies trading at similar valuations. Consider whether you want more growth out of the pharmaceutical stocks in your portfolio.
Disclosure: I have no positions in any stocks mentioned, and no plans to initiate any positions within the next 72 hours.