"Goals allow you to control the direction of change in your favor." - Brian Tracey
It's been some time since I put one of these articles up, but I thought it would be interesting to address how April has played out based on a screen of over 1000 ETFs/ETNs I track. The screen essentially ranks the universe of funds based on which are furthest away from their respective 20 day (1 trading month) moving averages. The idea is to see if there is any kind of consistent message in terms of noticeable movers in recent price data. As I have been writing about the Spring Switch and the conditions which suggest a "mini-correction" remains likely, I never addressed Real Estate Investment Trusts (REITs). It turns out the list does that below.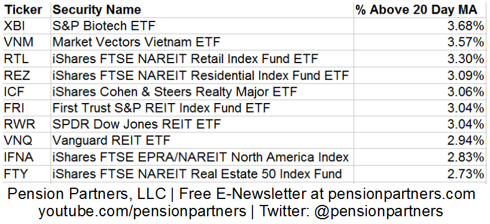 Other than Biotech (NYSEARCA:XBI) and Vietnam (NYSEARCA:VNM), REIT ETFs such as the Vanguard REIT ETF (NYSEARCA:VNQ), and the SPDR Dow Jones REIT ETF (NYSEARCA:RWR) completely dominate the list. While broader stock market averages have been oscillating above and below Dow 13,000, income-producing real estate stocks have pushed forward. Much of this is likely attributable to the poor jobs data of early April, which served as the catalyst for the most recent break down in Treasury yields as a safe-haven investment.
REITs generally grab investment dollars that are more focused on dividends rather than capital appreciation. The goal of REITs within an investment portfolio is to be more stable than non-dividend stocks. With market internals having a negative tilt for the bulk of the month, it does appear to make sense that such strength would express itself in the industry. However, within the context of the Spring Switch idea following the Summer Crash, Fall Melt-Up, and Winter Resolution writings out of bonds and into stocks, I suspect that REITs will have a hard time continuing their leadership as money is forced to take more risk and continues to favor capital appreciation in the 2012 reflation I keep writing about.
Disclosure: I have no positions in any stocks mentioned, and no plans to initiate any positions within the next 72 hours.
Additional disclosure: This writing is for informational purposes only and does not constitute an offer to sell, a solicitation to buy, or a recommendation regarding any securities transaction, or as an offer to provide advisory or other services by Pension Partners, LLC in any jurisdiction in which such offer, solicitation, purchase or sale would be unlawful under the securities laws of such jurisdiction. The information contained in this writing should not be construed as financial or investment advice on any subject matter. Pension Partners, LLC expressly disclaims all liability in respect to actions taken based on any or all of the information on this writing.