Leapfrog (NYSE:LF) is a educational toy company whose stock has skyrocketed to amazing heights thanks to its educational tablet for kids, the LeapPad. Currently, there are 3 analysts with an average of $10.50 price target.
As a response to the increasing price targets, the stock has hit its 52nd-week high today at 8.82. However, now is not the right time to enter the stock, as the tabulation displayed below shows very little upside. I foresee a significant pullback for better entry, which will be right after earnings are announced on May 3rd.
One should purchase stock in Leapfrog after earnings are announced for the following reasons:
1) By taking a look at LF's weekly chart (listed below), one can see that Leapfrog is at the high end of its bollinger band; there isn't much upside from there. Additionally, the RSI signals that LF is currently overbought.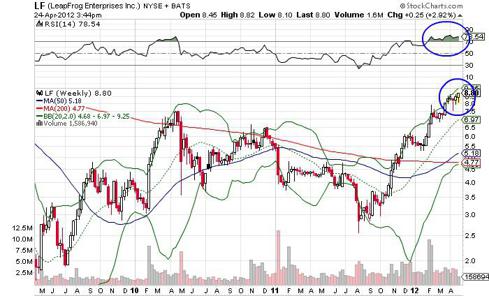 2) The day after earnings were announced last quarter, the stock fell from $6.80 to $6.00, even though Leapfrog had beaten targets in both revenue and EPS. Expect a repeat of last quarter, where weak longs attempt to flee.
3) Leapfrog LeapPads had a huge supply constraint this holiday, which carried onto this quarter. The LeapPad continually slipped out of the top 10 toy rankings on Amazon's bestseller list the first few months of the quarter due to low inventory. The toy was in short supply at Walmart, Target, and Toys 'R Us. The insufficient stock caused some consumers to switch to competitor tablet Vtech's Innotab, which managed to nab market share as well as customers. Supply finally caught up with demand, but that tardy occurrence just happened mid-quarter.
4) Insider Selling: The COO and President sold over 99% of his direct shares on Feb 15 at $7.25, and the President of Sales and Marketing sold over 40% of his shares on the same day. I interpret this as insiders thinking shares are being over-valued at the moment, mostly due to supply constraints through the end of March.
Overall, I think LF is a great long-term investment; however, it is currently over-valued. I would use the upcoming pull back after earnings to reevaluate a possible entry at a more reasonably-price level.
Disclosure: I have no positions in any stocks mentioned, and no plans to initiate any positions within the next 72 hours.