Today I have decided to position my portfolio into an even more bearish posture by selling off some defensive stock exposure and rotating that allocation into TLT. I continue to be short EEM and IWM.
First, the fundamentals:
The manufacturing PMI is by far my most used fundamental indicator. Based on my research, at certain break points, it has a very high correlation to the movement in bonds, and eventually stocks as well (remember, stocks are the "dumb money"). Below is a 5-year chart of U.S. Manufacturing PMI.
(click to enlarge)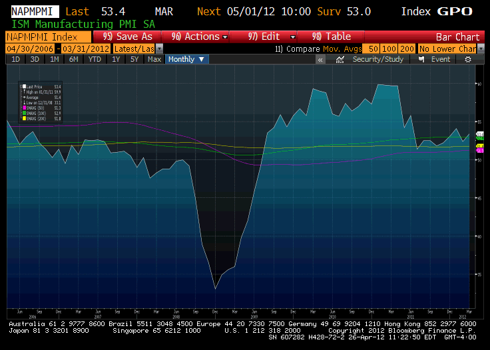 Source: Bloomberg
Historically, the U.S. has printed a median manufacturing PMI of 53.4. Periods where PMI has crossed above this figure have typically marked points where bond yields have risen (and prices have fallen). Likewise, periods where PMI has crossed below the historical median has marked periods where bonds have rallied. Last year, for example, U.S. bonds embarked on a massive rally beginning August 1st.
(click to enlarge)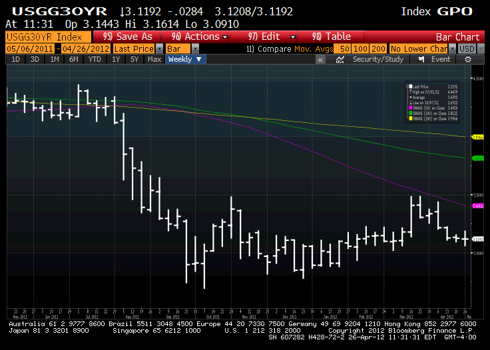 Source: Bloomberg
The bulk of the 2011 rally in U.S. Bonds coincided with a U.S. PMI crossing below its historical median. Likewise, the sell-off in bonds we saw earlier this year came after market participants became convinced the U.S. economy was on the path to a strong resurgence. Overall, however, yields have remained stubbornly low, baffling the "smart money." The data below hopefully gives a fundamental perspective as to why this has been the case.
| | | |
| --- | --- | --- |
| Date | US PMI | Median |
| 4/30/2011 | 59.7 | 53.40 |
| 5/31/2011 | 54.2 | 53.40 |
| 6/30/2011 | 55.8 | 53.40 |
| 7/31/2011 | 51.4 | 53.40 |
| 8/31/2011 | 52.5 | 53.40 |
| 9/30/2011 | 52.5 | 53.40 |
| 10/31/2011 | 51.8 | 53.40 |
| 11/30/2011 | 52.2 | 53.40 |
| 12/31/2011 | 53.1 | 53.40 |
| 1/31/2012 | 54.1 | 53.40 |
| 2/29/2012 | 52.4 | 53.40 |
| 3/31/2012 | 53.4 | 53.40 |
So this begs the question, where do we go from here? There can be no mistaking my ominous views that we are now at the precipice. Economic releases continue to show continued misses to forecasts. To be clear, I would not be as concerned over this fact had there been more momentum in the economy (i.e. last Spring), but there is not, and I think market participants have severely over-extrapolated the potential for further improvement. See below, the most recent Citigroup Economic Surprise Index (U.S.) which is now in free fall.
(click to enlarge)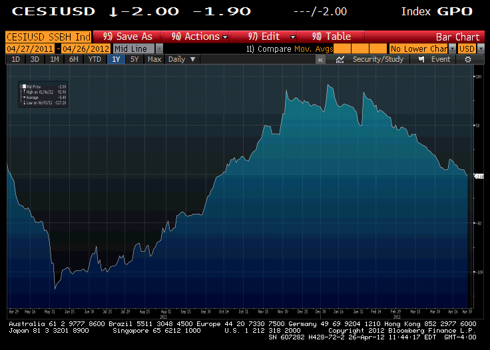 Source: Bloomberg
Finally, from a technical standpoint, it appears bonds are now bid against stocks. If I told you that U.S. treasuries have rallied more than the S&P500 (SPY) since early March, you would tell me I am crazy, but the chart doesn't lie...
(click to enlarge)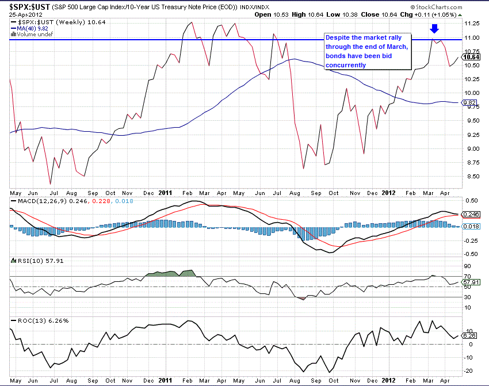 Source: Stockcharts
Conclusion
Bonds are currently one of the most hated asset classes. Based on my readings, market participants seem to be cautious at this stage, but do not appear overly concerned. I, on the other hand, am extremely concerned. Based on the deterioration of economic data throughout April, and the meltdown in Europe, I find it difficult to believe that the April U.S. Manufacturing PMI won't print substantially below the historical median of 53.4 when it is released next Tuesday. I believe this will surprise market participants and could result in some very volatile market action in May, not unlike last August. The best trades often come when there is a disconnect between fundamentals and market sentiment. "Who wants to buy bonds, right? They only yield you 3%," said the talking head from television who doesn't base his conclusions on any data whatsoever. This is why I have become even more bearish, reducing my defensive longs, in favor of TLT, for an overall net short position on the market.