Xinhua Finance Media Ltd. (XFML) scheduled its 3rd Quarter Earnings release for after the market close on November 13, 2007. XFML also boosts its 3rd Quarter outlook on strong business growth and contributions from acquisition.
Revenue outlook for Q3 2007 is now at US$38-40 million from the forecasted US$35-37 million. Net income per ADS basic is expected at 13-14 cents in Q3 2007. Continued growth in advertising services revenues are no doubt a key driver for the upward revision of the Company's forecasts. Certainly the positive feedback from the continuing ramp up in preparation for Beijing Olympics in 2008 will positively impact both the top/bottom line for XFML.
IMPROVING BUSINESS OUTLOOK
Since its listing in March 2007, XFML has continuously been raising forecasts based upon strong business outlook and no doubt the weakening dollar. In August the Company raised its full year outlook from US$110 million to US$128-133 million. In Q2 2007 the company swung to a profit. S&P noted in November:
Over the last year, XFML's revenue experienced higher growth than nearly any other company in the Advertising group. During fiscal year 2007, they recorded $59.0M as revenues which was a 926.7% improvement from the previous year.
ANALYSIS OF FRONT MONTH OPTIONS
Front month contracts for November show a large number of "in-the-money" Calls priced in at $7.50, as well as a build up of a large number of "out-of-the-money" Puts at US$ 7.50. I expect support for XFML at $7.50 based on the way the option players are hedged for the November expiration of options.
Front month contracts for December shows a large number of "out-the-money" puts priced in at $7.50, which will continue to generate support for the stock at this price. In the front month of December, the number of "in-the-money" Puts and "out-of-the-money" Calls at US$ 10.00 are about the same. I expect a trading band to localize for XFML at $10.00 based on the hedges defined by option players for the front month of December. Should XFML breach $10 it will define a glide path to higher stock price.
In the month of October XFML found support at its simple and exponential moving average. This provides protection from any downward movement in the stock price. The stock has been "in distribution" since the listing and has only come "under accumulation" last month. XFML is projected to rally once the current stage of consolidation is complete.
XFML 6 Month Chart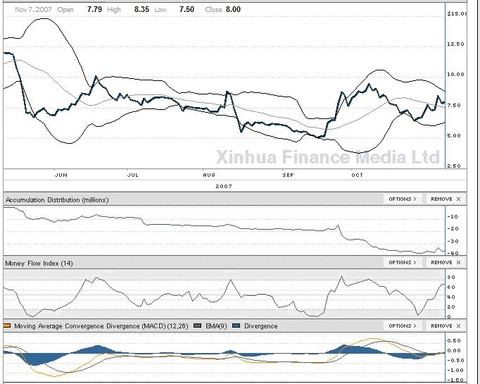 SHORT INTEREST
Average daily volume is building up in XFML and the short interest is declining.
August 15, 2007
Average Daily Volume: 505,257
Shares short current period: 3,941,464
Days-to-cover: 7.80
October 15, 2007
Average Daily Volume: 2,169,371
Shares short current period: 3,341,604
Days-to-cover: 1.54
INSTITUTIONAL OWNERSHIP
Institutions are net buyers in XFML. In March 2007, financial institutions held 19.5% of the 135.82 million common shares outstanding. In June 2007 that figure moved up to 24.2% and a total of 42 institutions now hold a position in XFML. Top institutional investors are accumulating a position in the company.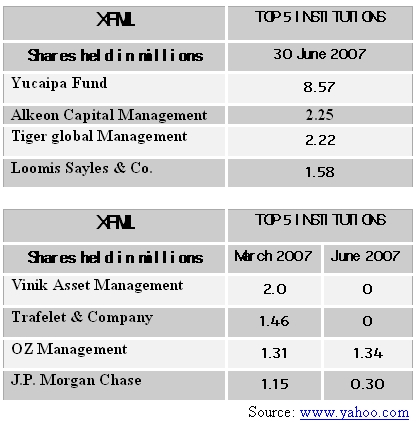 CONCLUSIONS
Closing Stock Price (6 Nov) = 8.00
Forecasted EPS, FY 2007 = $0.38
PE for FY 2007 = 21
Forecasted EPS, FY 2008 = $0.71
Forward EPS growth rate (5yrs Projected) = 43.00%
Forward PEG = 0.49
PEG ratio indicates XFML is grossly undervalued compared with peers such as Focus Media (NASDAQ:FMCN) with a forward PEG ratio of 1.40.
I expect XFML to breach $12 within the next 2 Quarters.
Disclosure: The author is long XFML.