One year ago in November, 2006 when Baidu (NASDAQ:BIDU) was just $75 per share, we posted an analysis of BIDU takeover rumors.
At the time, BIDU had a P/E of about 100, and a market cap of about $3B.
Today BIDU has a market cap of just under $14B with a P/E of about 200 and a stock price of just over $400 per share. Earnings for the company have steadily doubled in the last several years. BIDU has more than quadrupled in price yet we at StockRumors.com still think that the potential takeover of BIDU is still very probable.
China's Internet Market
Once again, let us reiterate: The market for internet usage in the United States and in most of Europe has very little growth left. Few people in these countries do not have access to the internet or to modern search engines like Google. China, in 2006, had 137 Million internet users, a growth of 23% since last year. Compare this to the 208 Million in the United States, which represents a growth of 4% in the last year. The population of the United States is 301 Million, leaving a possible growth of about 33%, many of whom are too young or old to use the internet. In China, however, the population is estimated as of July 2007 to be over 1.3 Billion people. Internet users in China, therefore, have a possible growth of 1,000%.
The question, then, becomes: where will these people go once they have the internet? What search engine will they use?
The Search Engine Battle in China
The battle for the search engine market is raging in China. Baidu makes fun of their competition, and their competition frequently makes fun of Baidu. (See here for a recent example).
The market share is always tipping in favor of Baidu.com.
In 2006 it is estimated that Baidu averaged 52.3% of the search engine market share in China while Yahoo controlled about 15.7% and Google controlled 15.6%.
In the second quarter of 2007, Baidu controlled about 58.1% of all revenues generated by Chinese searches, with Google controlling about 22.8% and Yahoo only 11.6%.
Google, therefore, is growing in China along with Baidu. Yahoo is clearly losing market share along with others like Sohu and Sina. Google, therefore, is the only real competition that Baidu.com needs to worry about.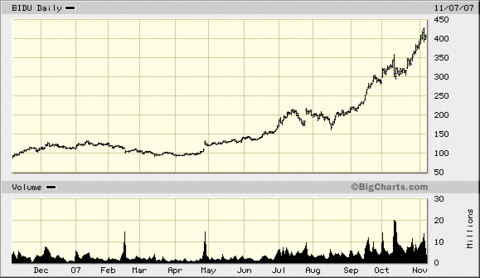 Google, Inc (NASDAQ:GOOG) as an Acquirer
During the past year GOOG has seen an incredible price increase, yet their P/E has remained constant at about 60 and a market cap of $232B. An acquisition of a company like BIDU would be a good move as they would immediately increase their market share to about 80% of all searches in China. Such an acquisition would also be easy financially for GOOG, although it would have been much, much easier just one year ago. GOOG has enough cash to do a straight out purchase of BIDU, making it an easy acquisition. However, a stock offering would be fairly simple and probably even more desirable.
GOOG previously had a stake in BIDU but sold it in June 2006. It has been rumored recently that GOOG may purchase an additional stake in BIDU, which several brokers and information analysts who we work with strongly doubt.
Google is probably thinking that they are doing well enough in China and will slowly take over market share as they have over the past year. Furthermore, Google recently registered the domain G.cn in an attempt to make it easier for users to reach their site and search.
However, even though Google is increasing their market share in China, it is mostly at the expense of Yahoo, not Baidu. Baidu is growing as well, and isn't letting up any heat whatsoever. Even though Google.com can compete, they don't dominate the market like Baidu.com does. By buying Baidu, Google would secure their position even further in the Chinese search market and firmly place themselves as number 1.
In addition, GOOG should still take over BIDU if only to keep Yahoo or other investors from grabbing BIDU.
Yahoo! Inc (NASDAQ:YHOO) as an Acquirer
Although now it would be a much greater stretch for YHOO to acquire BIDU as YHOO now has a market cap of just $38B. Had YHOO moved last year, they would have seen a significant earnings increase at the cost of around $5B. However, YHOO did not move and has almost lost their opportunity.
Yahoo.com is clearly losing market share in China, even with their witty ads against Baidu.com. In fact, humor is about all that YHOO has left of the search engine market in China. GOOG and BIDU are both taking YHOO market share and YHOO is suffering.
Yahoo is not a stranger when it comes to investment in China. In 2005 Yahoo acquired 40 percent of Alibaba.com which just recently went public. Yahoo certainly did well with Alibaba and has seen the possibilities for growth in China.
It would be a very positive long term investment for Yahoo to purchase Baidu.com and to own a growing Chinese search engine in addition to their dying one. It would be difficult financially to make such a purchase, but such a purchase would secure Yahoo's future in the Chinese market and the world.
It worked for Alibaba.com, and it would work for Baidu.com.
BIDU, Ripe for a Takeover
It is our opinion at StockRumors.com that BIDU would be a great investment for either GOOG or YHOO and would secure their future in China. While there is some skepticism that Google would be interested in such an acquisition and that Yahoo couldn't afford such an acquisition, we believe it would be in their best interest to make such an acquisition. BIDU isn't going away, and the market for Chinese searches will grow significantly over the coming years.
Disclosure: none