The market's warning signals, especially the lack of breadth (See "Lack of stock market breadth flashes red light" – October 11, 2007), have been around for a while, but few people have paid attention and reduced positions in overpriced stocks. Why not? It is simple: they did not expect Pacman to come surfacing in this manner to gulp chunks of their portfolios' market values away.
I have been alerting readers to the bearish language of the U.S. stock market for the last few months, and more recently in articles such as "Is Bernanke facing a death spiral?" (November 5, 2007), and "Where to now, Mr. Dow?" (October 22, 2007). The fundamental picture has become progressively worse with a deteriorating housing market causing increasingly more sub-prime corporate write-offs, a surging oil price, and a tanking U.S. dollar. And even as the economic situation is becoming more recessionary, and the corporate earnings outlook weakens, stocks are still trading at expensive valuation levels.
Wednesday's 360.9-point (2.6%) plunge in the Dow Jones Industrial Index – the 14th largest points decline on record – has reinforced my concern. Led by financials, housing and small caps, this is the third sharp decline in just 14 days, following hot on the heels of the 362-point drop of November 1 and the 367-point decline of October 19.
This calls for a fresh review of the stock market's temperature.
Firstly, a chart of the S&P 500 Index illustrating Wednesday's break below the 200-day moving average, which is often seen as an indicator of the primary trend. Also observe the series of declining tops since the October 9 high – not a good sign.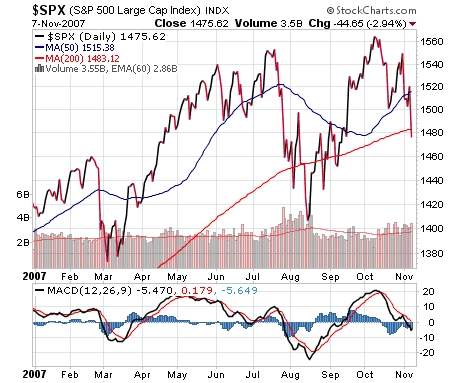 Source: StockCharts.com
An even more worrying graph is the NYSE Bullish Percent Index, indicating the percentage of stocks in uptrends. The graph has now fallen below the 50% level (i.e. half the stocks in downtrends), and looks decidedly bearish.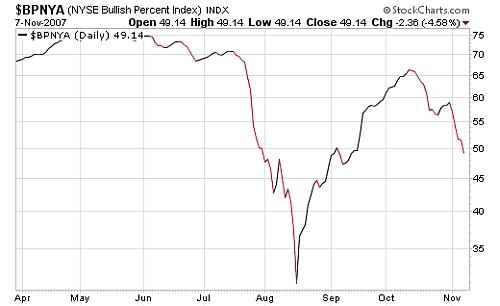 Source: StockCharts.com
The Bullish Percent Indices for the Dow Jones Industrial Index (66.7%), S&P 500 Index (51.8%) and NASDAQ 100 Index (53.0) are still above 50, but moving downwards in a worrying manner.
It is also worth noting what the Dow Theory is saying. In short, a bear market signal will be given when both the Dow Jones Industrial Index, and the Dow Jones Transportation Index break below their lows of August 16, being 12 845.78 and 4 671.88, respectively. The Transportation Index accomplished this on Wednesday, but the Industrial Index still has 454 points (3.4%) to go. Rest assured, I will be watching very attentively how this unfolds.
Now, let's get back to the issue of valuation levels. In order to get a feel for the numbers, let's consider the Plexus Valuation Calculator. The diagram is an easy way of determining the expected returns of the S&P 500 Index for different combinations of corporate earnings' growth and price-earnings ratios (PERs).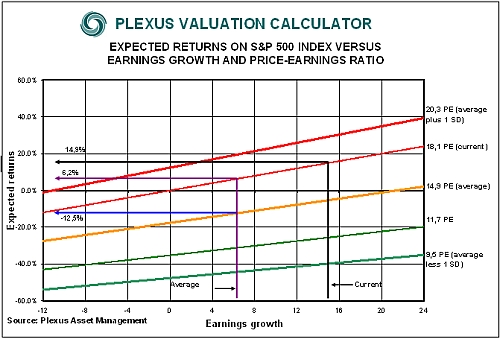 The diagram shows that if there is no growth in the S&P 500 companies' earnings over the next year and the PER remains unchanged at 18.1, investors could, quite obviously, expect a return of 0% on their investment over the year. But what happens when the PER falls to the historical average of 14.9 (still assuming 0% earnings growth)? This will result in a rather dismal return of -17.6% over the next year.
Playing around with various combinations of earnings growth and PERs makes for interesting reading. But, more so, it also makes it hard for me to find compelling value when considering the U.S. stock market as a whole.
My take of the market situation is that in order to clear out excessive leverage, and over-speculation we will probably be faced with more than a routine pull-back, and further downside is in store (obviously not precluding short-term relief rallies from time to time). Although the magnitude of further stock market declines is difficult to gauge, it may take a while before investors' appetite for risk is revived.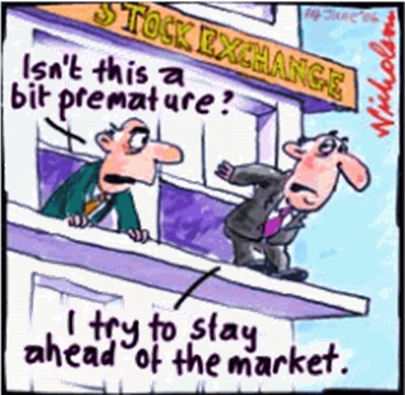 Source: Unknown