Wall Street enjoyed its third consecutive win despite a mixed bag of earnings on the day. The most notable report from today was from Exxon Mobil (NYSE:XOM), with a profit that was 11% off of original targets, prompting the stock to dip during the day. Traders also cheered on better-than-expected housing data, a rare win considering the dismal outlook for that sector. All in all, the Dow was able to tack on 113 points while the S&P 500 jumped by about 0.7%. Though all signs are pointing to a positive week for equities, tomorrow morning's GDP results will have the final word.
Moving to the commodity side of things, gold was able to make big strides today as the precious metal tacked on nearly 15 points while crude also saw a meager rise. In fact, precious metals were among today's best performing futures, as platinum, silver and palladium all jumped by more than 1%.
One of the biggest ETF winners on the day was the SPDR MidCap Trust Series I (NYSEARCA:MDY), which jumped by 1% for the session. MDY tracks mid cap stocks domiciled in the U.S. so it makes sense to see it outperform its large-cap counterparts. Mid cap stocks tend to have higher betas and will therefore (typically) outperform large caps on strong days. Note that this process also works in reverse as a market sell-off will hit MDY harder than a fund like SPY. With that, this ETF is able to boast more than $9.5 billion in assets and a YTD return topping 13%.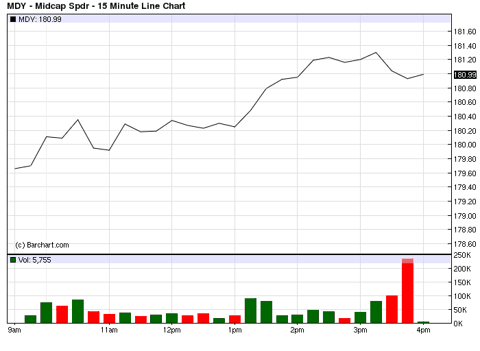 One of the worst ETF performances from the day came from the United States Natural Gas Fund LP (NYSEARCA:UNG), which sank by 2.3%. What is perhaps more frustrating is the fact that UNG opened quite high, leading many to believe that natural gas may finally be gaining some momentum, as that would have made for two consecutive strong days for the commodity. But alas, UNG finished over 4% down from its opening price, adding insult to what has already been an injury-prone year. 2012 has watched this ETF lose over 40% and all of this before hurricane season which tends to send UNG's volatility through the roof. Keep a close eye on this fund in the coming weeks.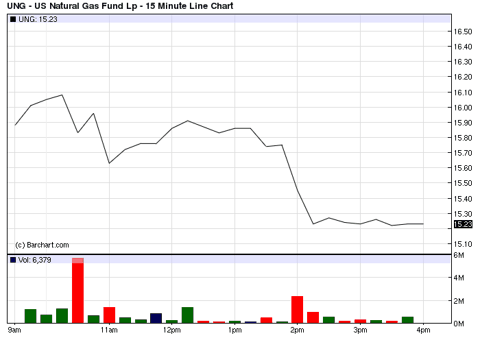 Disclosure: No positions at time of writing.
Disclaimer: ETF Database is not an investment advisor, and any content published by ETF Database does not constitute individual investment advice. The opinions offered herein are not personalized recommendations to buy, sell or hold securities. From time to time, issuers of exchange-traded products mentioned herein may place paid advertisements with ETF Database. All content on ETF Database is produced independently of any advertising relationships.