Time Warner Cable (TWC) has seen steady earnings over the last eight quarters while increasing net income on an average (year over year) of 29.4%. It continued to do well this first quarter of the year just as investors like to see. The company said it earned $382 million, or $1.20 a share, in the latest three months, compared with a profit of $325 million, or 93 cents, in the year-ago period. Revenue rose 6.4% to $5.13 billion as was expected on the street. (See earnings call transcript.) But it is how they grew that will keep the challenge for them in the near future.
How did they produce such good numbers? First quarter profits rose 18% on increased demand from its residential broadband services. This offset the loss in cable video customers. It appears we have a maturing Pay TV market and that Time Warner's strategy to counter slowing growth in its cable TV subscriber base by increasing its market share of the broadband web connection business is working.
The key for Time Warner is increased Broadband subscriptions. If they keep that up then there should be increased revenue, but at some point there will also be a maturing of that industry as well.
The Pay for TV market has matured, but will also evolve. In the next couple years, it will evolve into a type of visual Pandora (P). Pandora is the leader in internet radio in the United States, offering each listener personalized experience. It may not be able to offer the exact type of individualized service like Pandora does by radio, but it will be able to offer something a little more personalized and less bundled than it does today. But it will take the help of a Smart TV. A viewer could turn on the TV and see his or her favorite channels and shows first, without having to navigate. Or smart-TV could also allow a viewer to catch up on a regularly watched show that he or she may have forgotten to record by automatically presenting an on-demand menu. So there will be services that will bring a more personalized service to the Pay TV segment.
These things will be needed in time as companies wrestle for client base. But we wonder where Time Warner Cable will be going in the short term. If we look at the charts of how the stock has moved, it has moved 'slow and steady' in a gradual bullish pattern. But the RSI indicator is showing continued signs of weakness with a negative divergence taking place. This could very well mean the stock has reached its top (for now) and is about to turn direction. Of course it could also mean the stock is just consolidating from a move up. I am not sure what it could be consolidating from, the move has been so gradual.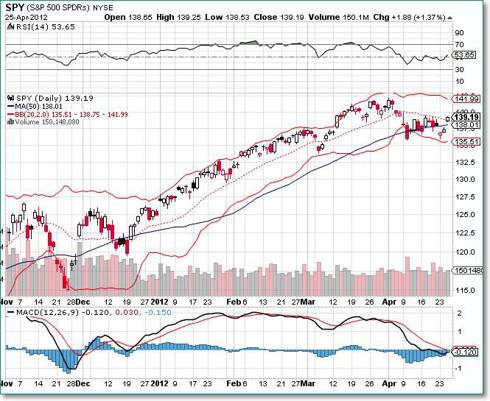 We are looking for the stock to continue up but it may level off first. But we like a Bull Call Spread on this will long term options.
The Option Play
Buy a January 2013 call with an 82.50 strike (priced at $5.00)
Sell a January 2013 call with an 85.00 strike (priced at $3.60)
Net Debit to Start: $1.40
Maximum profit: $0.90
Reasoning behind the Trade
We believe the stock will continue up and the likelihood of profiting from this spread is great.
Time Warner has a good marketing plan to continue increasing revenue.