Tongjitang Chinese Medicines Company (NYSE: TCM), a vertically integrated pharmaceutical company focusing on the development, manufacturing, marketing and selling of modernized traditional Chinese medicine in China, reported its unaudited financial results for the third quarter of 2007 yesterday. Net revenues for the quarter were US$16.9 million, up 28.6% from the same quarter last year. Net income to US$6.7 million for net margins of 39.6%; the company reported earnings per American Depository share of US$0.20. Gross profits increase 34% to US$10.8 million, with gross margins of 64%. For the quarter the company spent US$548 thousand on R&D or 3.2% of revenues, a 151% increase from the 2006 quarter. Operating margins were 23% with operating income of US$3.9 million. The bulk of the the company's revenues were derived from sales of its top osteoporosis product Xianling Gubao. Sales of Xianling Gubao increased 2% to US$10.9 million, with 60% of sales from hospitals. Sales of other products including the company's Moisturizing and Anti-itching Capsules rose 723% to US$3.4 million. Accounts receivable as of Sept. 30 were US$31 million, an increase of over 37% from year end 2006. Inventories increase 87% in that period to US$10.3 million.
Tongjitang reaffirmed its plan to acquire Guizhou Long-Life Pharmaceutical Co. Ltd. for US$5.63 million. Guizhou Long-Life produces and markets more than 10 over-the-counter and prescription traditional Chinese medicines as well as nutritional products in China. The company also made positive remarks regarding the progress of its Xianling Gubao Phase IV clinical trials, the results of which are expected by first quarter 2008.Looking forward the company reiterated revenue guidance for the full year in a range from RMB590 million to RMB620 million (US$78.7 to $82.7 million). Gross margins were forecast to remain in the mid 60% range. The company also reported a potential one time tax refund upcoming of up to RMB16.6 million (US$2.2 million).
The company plans to pursue revenue growth through product line expansion, with a potential for 11 new products in the pipeline. The company also plans to expand its sales and marketing network, and to continue to pursue acquisition candidates.
Analysts and investors were underwhelmed. A particular concern was the anemic 2% YOY growth in Xianling Gubao. Management attributed this in part to late summer flooding and hot weather reducing patient visits to physicians in some regions. Concerns were also raised regarding the recurring nature of US$1.4 million in income reported from government grants and disposal gain on listed shares. This income accounted for 21.2% of reported net income or US$0.04 per ADS. Balance sheet worries, including significant increases in accounts receivable and inventories were also apparent. The company also reported the expenditure of RMB41.4 million on the purchase of publicly traded stocks in the mainland and Hong Kong markets.
Before the market open yesterday, Tongjitang was downgraded by CIBC World Markets from Sector Outperform to Sector Perform. Shares were hammered on the report and downgrade, falling over 18% to US$9.41 as of this report.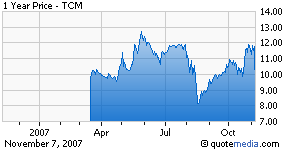 Disclosure: none