Whole Foods (WFMI) (46.56, $6.5 billion, S&P 500 member) will be reporting their fiscal year on 11/20, and I intend to remain short the stock in front of that report. I have written a couple of times why I believe that the stock is overvalued and believe that given the current economic environment and the sharp recent rally, it remains even more so today. I first wrote in mid-March, when the stock was 43.50 or so, that the stock would continue to suffer from falling estimates and a tempering of long-term growth expectations that would be reflected in a lower PE. I suggested that the within six months the stock would decline to 38. That of course did happen in July. More importantly than getting a 10% decline in a stock during a period where the S&P 500 actually rose 5% or so, estimates did come down as I had expected. I followed up with another article discussing both WFMI and Starbucks (NASDAQ:SBUX) in early July as having poor long-term prospects. I felt at the time, with WFMI having hit my 38 target, that it could rally short-term back up to 45 (missed that one!) and that SBUX could bottom near 23 and continue to tread water for a year. I believe that now is the time to consider selling WFMI, as they are likely to disappoint in their guidance.
The two articles do a fairly good job of detailing my concerns. The basic thesis is that there is a macro problem (becoming more evident today given how we are seeing the weakness move up the food chain to places like Coach (NYSE:COH) and every single restaurant that has sit-down service) and that competition is fierce and getting fiercer. Since those articles, we have learned more about the aggressive plans of British Tesco, which will be opening Fresh and Easy stores. I understand that many investors are excited about the Wild Oats transaction. I would argue that it is in the stock price and that a smooth integration isn't assured. One additional idea that I have pondered since the original article is the change in the residential real estate markets. WFMI has benefited over the past several years as new high-rise projects have wooed the company with attractive leases as part of a marketing plan. It would appear that the slowdown in new projects over the next several years will stall that favorable development.
Same-store sales for the company have been weaker than expected for some time, and that is what I expect we will learn again in two weeks. EBITDA margins have declined a point over the past year from 9% to 8%. Analysts have adjusted 2008 EPS estimates down about 15% over the past year. The numbers will include about a month of Wild Oats results, and we will learn about integration thus far. The stock trades at 30X the forward estimate. I believe that a more reasonable valuation is in the lower 20s. Combined with the potential for another hit to estimates, the stock could trade on a fair-value basis down to 31 or so. My technical read suggests that the next major support level below the 38 area is 30. If there is disappointment, the sell-off could be exacerbated by year-end tax-loss selling and window-dressing, as the stock is already down slightly year-to-date, down even more for those who owned it before they reported last November or earlier in 2006 and certainly lagging the S&P 500. On the flip-side, I think that the 49-50 area serves as strong overhead resistance. If one goes back to that horrible report a year ago, one can see that the stock traded 64 to the current price and then based between 48 and 50. The run in early September this year was one of the brief excursions above 50 subsequently, due to the merger close and totally lacking in volume.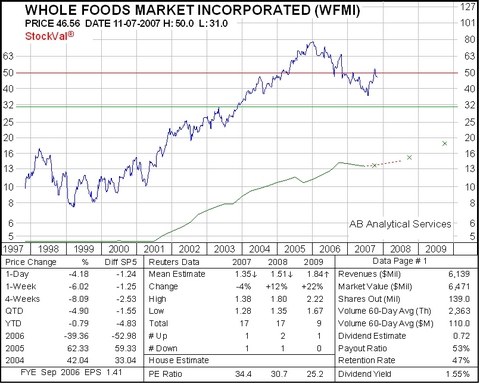 I have received a lot of negative commentary in the past when I have written about my outlook for the stock. I want to reiterate that I believe that this is a fine company, I shop there regularly, I wish them the best, but this is about valuing a stock. I believe that the rapidly deteriorating macroeconomic environment along with the increasing competition doesn't bode well for their ability to grow earnings in line with analyst forecasts of 17% (which is down from 19% when I wrote the first article). Investors are paying too much. Yes, the balance sheet is quite strong, though less so after the merger. Yes, they are a FCF machine. It's about the (lack of) growth!
Disclosure: Short WFMI