It's easy enough to shrug off one week of sharply higher jobless claims since this is a volatile data series in which analysts much prefer the smoother four-week moving average. Even two consecutive weeks of higher claims can be readily ignored as, that too, can be dismissed due to the erratic nature of the data.
But, three weeks in a row of markedly higher claims for unemployment insurance demand notice, and that's what happened this morning when the Labor Department reported that jobless claims fell from an upwardly revised 389,000 to 388,000 for the week ending April 21st as shown below.
(click to enlarge)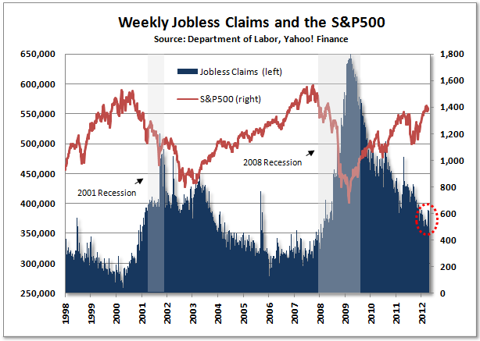 Claims have not been this high over a three-week period since last November and the four-week moving average has now risen to 381,750, jumping 6,250 over the last week alone. Of course, this is not a good sign for the April labor report to be released next Friday, May 4th and analysts are probably already revising their forecasts downward.
Combined with yesterday's dismal report on durable goods orders, Federal Reserve officials might already be rethinking the mostly rosy view of the U.S. economy expressed at their just concluded policy meeting.