By Robert Gordon
Each year, Forbes Magazine lists the world's 2,000 most valuable companies, taking into account sales, profits, market capitalization and assets. This year Exxon Mobil (NYSE:XOM) comes in number one. It had a hiccup in the first quarter of 2012, but that won't prevent me from concluding Exxon has an impressive long term-future ahead of it.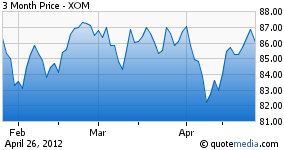 In the first quarter of 2012, Exxon reported profits of $9.45 billion, off 11% from the first quarter of 2011's 10.65 billion. The reported even $2 per share was a decline of 7%, owing to Exxon's enormous share buyback history. The profit number fell short of analysts' expectations of $2.08 per share. Revenues for the quarter of $124 billion were up by $10 billion, or 8% from the year ago quarter. The earnings slide was due to an $11 billion increase in overall costs, much of that related to exploration costs. (See earnings call transcript.)
Oil equivalent production was also down in the quarter, off roughly 5.5%. In a cruel irony, in a quarter where oil prices were markedly higher, and natural gas prices were at historic lows, Exxon's oil production fell 7.7% from the year ago quarter, while its natural gas production rose 0.7%. Historically, Exxon has produced roughly even amounts of oil and natural gas. The company is shifting assets toward oil, given the issues in the natural gas price market.
What makes me sanguine about Exxon's future? It is the most effective integrated producer at replacing reserves. As of the end of 2011, Exxon had proven reserves of 24.9 billion equivalent barrels of oil. That is enough for fifteen years if Exxon makes no further discoveries. Probable reserves add decades to that which is already proven. And much future oil discoveries will undoubtedly be either at remote sites, offshore, or both. Exxon's recent deal with major Russian oil company Rosneft (OTC:RNFTF) promises to provide Exxon with ample opportunities for new drilling sites. There are few places on earth more remote than Russia's arctic territory, so new technologies will be developed to exploit the area.
Exxon is commencing, or about to commence new projects in Angola, Nigeria and Iraq. Some were originally scheduled to be online by early in 2012, but in fact none of them as yet come to fruition. Getting these, along with Rosneft partnership projects online will stabilize production and reverse the current decline.
With all of the money and time being invested in Exxon's oil, and to a lesser extent, gas facilities, Exxon is not known as a substantial supporter of renewable energy. As much as we can try to replace and find and replace utilized fossil fuels, it will run out at some point. With Exxon's cash and engineering expertise, I wish it pursued clean, renewable energy with more commitment, vigor and creativity. As it is, in the political arena Exxon spends its considerable resources being a leading fundraising target of the Republican Party.
One commentator recently professed an investor's portfolio only needs two issues: Apple (NASDAQ:AAPL) and Exxon. The commentator's position toward Exxon is with a finite amount of oil on earth, Exxon, as the biggest producer, is in the best position to be the last player standing. Exxon has some $60 billion in cash on its balance sheet, and its $9.3 billion of long term-debt might sound like a lot, but it is only 6% of Exxon's capitalization.
Exxon treats its shareholders well. It has purchased some $25 billion of its stock in the past five years, and over the longer run the company's shares outstanding have fallen from nearly 7 billion shares outstanding in 1999 to about 4.7 billion shares outstanding today. Exxon also announced the day before its earnings release that it was raising its dividend by 21%, to $0.57 quarterly. This represents an annual dividend yield of 2.6%. At that rate, Exxon will pay its shareholders about $10.75 billion in dividends, making it the largest dividend paying stock of any domestic corporation.
Exxon looks attractive compared to its two largest integrated peers, BP (NYSE:BP) and Chevron (NYSE:CVX). Chevron is mired in litigation in South America, both for its well-known Ecuadorian headache and its Brazilian issues. Litigation is a fact of life for a big oil company, but Chevron faces potential losses of tens of billions of dollars from just one continent! Just this week, a three judge panel of Ecuadorian judges refused, for the fourth time, to set aside the $18 billion judgment. I am not sure if Chevron's Brazilian issues are anything more than an attempt by one or more administrative prosecutor to make names for him or herself. But what I do know is that local Brazilians will have no qualms sticking it to big American companies if it goes that far. Exxon on the other hand has had relative calm in legal matters of late. There has been no recent meaningful activity stemming from the Exxon Valdez disaster. The most intriguing recent matter has concerned Exxon's Venezuelan interests being nationalized by Hugo Chavez. Exxon sought $7 billion in damages, but an international tribunal issued a $908 million judgment earlier this year.
The problem I have with BP is that it just isn't very profitable. Exxon's and Chevron's gross and operating margins are very similar. Exxon's are 29.9% and 12.5%. Chevron's are 30.8% and 16.2%. BP's are far lower than either of the American companies, as its gross margin is 15.4% and operating margin is 8.3%.
The only other American integrated oil company at this time is ConocoPhillips (NYSE:COP). Conoco will soon be splitting itself into a separate production company and a refining / retail company. It is not competitive going forward with the likes of the other companies in this article.
Disclosure: I have no positions in any stocks mentioned, and no plans to initiate any positions within the next 72 hours.