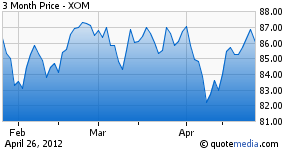 Exxon Mobil (NYSE:XOM) raised its dividend approximately 21% to $0.57 per quarter on April 25, 2012 (see press release). The annualized dividend of $2.28 per share represents a yield of 2.65% based on the closing stock price of $86.07 on April 26, 2012. One day later the Company reported first quarter diluted EPS of $2.00 per share (see press release). This equates to a pay-out ratio of 28.5%. This is a generous computation of the pay-out ratio because the Q1 dividend paid was $0.47 rather than the new $0.57 dividend. Meanwhile, the Company spent $5 billion during the first quarter to reduce outstanding shares through repurchases and the Company plans to spend another $5 billion during the second quarter. (See earnings call transcript.)
I am a dividend investor who seeks a balance between dividend income and capital gains. It is my opinion that Exxon's recent dividend increase is not enough. The dividend is not adequate enough to fulfill my expectations as a dividend investor. I view Exxon as a mature company with limited growth prospects, so they should be paying a more substantial dividend. If I wanted the sort of dividend paid by Exxon, then I might as well invest in Apple Computer (NASDAQ:AAPL) and at least have more upside.
Exxon's diluted EPS was $8.42 for 2011 and analysts estimate $8.43 for 2012 (per yahoo finance). The Company's 2011 dividend of $1.85 represented a pay-out ratio of 22% and the 2012 dividend (Q1 dividend of $0.47 plus three quarters of $0.57) will result in a pay-out ratio of approximately 26% for 2012 (provided there are no further dividend increases). I believe the Company should be paying cash dividends representing 40-50% of earnings. The funds are available because the Company repurchased $22 billion of shares during 2011 while paying dividends of only $9 billion (Per 10-K filing).
Exxon's puny dividend contrasts sharply with other major oil companies including Royal Dutch Shell (NYSE:RDS.A)(NYSE:RDS.B) and Total (NYSE:TOT). Shell's diluted EPS on ordinary shares (NOTE - each US ADR represents two ordinary shares) was $4.97 for 2011 with a dividend of $1.68 on class A and class B shares. This equates to a pay-out ratio of 33.8%. Total had diluted EPS of 5.44 Euros with a dividend of 2.28 Euros in 2011 for a pay-out ratio of 41.9%. I did not convert these numbers to US dollars because the point was to establish the pay-out ratio. I also did not compute the dividend yield per share on Shells' ADR because the point was the pay-out ratio. Both European oil majors pay substantially more of their earnings to investors than Exxon Mobil. Both ADRs (American depository receipts) also have higher yields than Exxon, however, the factors effecting the dividend yield can be debated by investors. It is a fact that Total and Shell are more generous with shareholders in terms of cash dividends. Shell implemented a dividend program in September 2010 where shareholders can elect to receive additional shares instead of cash dividends, however, the default option is still cash.
If Exxon Mobil matched Shell's pay-out ratio of 33.8% based on 2011 earnings, then the annual dividend would be $2.84 per share (33.8% of $8.42 diluted EPS). The dividend yield would be 3.3% based on the April 26 closing share price. A pay-out ratio of 50% would result in a dividend yield of 4.9% based on the same share price. These yields would qualify Exxon as a dividend stock for my portfolio. The current 2.65% yield isn't enough for me. Furthermore, I am disappointed that management continues to spend so much on share repurchases. Exxon can tout its many years of dividend increases, but I believe the pay-out ratio is inadequate for my dividend portfolio and the yield is below my current minimum yield requirement of 3.0%. For all these reasons, Exxon is not part of my dividend portfolio.
Disclosure: I am long TOT.