Despite beating EPS estimates, Baidu's (BIDU) recent earnings report (see earnings call transcript) was met with disappointment by the market. Of concern was quarterly revenue that came in $0.3 million less than expected and the company's somewhat weak guidance, including a forecasted 2Q12 revenue of $847.2M-$867M vs consensus of $860.2M.
As fellow Seeking Alpha contributor Jiang Zhang points out in his review of Baidu's earnings, "Baidu 1Q12 Earnings Recap: Additional Color On Mobile, But Story Is Changing," the mid-point of Baidu's revenue forecast represents a y/y increase of 58%, a formidable growth rate but one which is uncharacteristically low for Baidu. According to Zhang, this y/y revenue growth is more than 15% lower than the rates of the prior seven quarters. Zhang postulates that the days of Baidu's share price appreciating at the hands of blowout earnings beats are over. Baidu, it seems, is entering a different, more mature phase of growth.
(click to enlarge)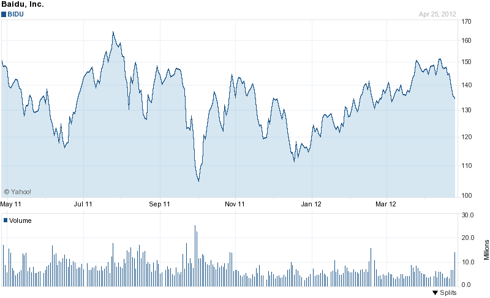 Chart from Yahoo Finance.
The Good
Baidu may grow less rapidly in the future, but growth is the key word. Baidu is still growing at a healthy rate - and at a rate that we believe supports its valuation. Trading at 20 times forward earnings, Baidu has a significantly cheaper price/earnings multiple than Amazon (AMZN), although a more expensive multiple than Google (GOOG). But Baidu's three-year annualized revenue growth of 66% far surpasses both them - Google's at 20% and Amazon's at 36%. So too does Baidu easily surpass Amazon and Google in net margin, return on equity, and three-year EPS growth.
As Zhang details in his article, research and development expenses have grown at a higher rate than revenue over the past two years as Baidu invests in mobile and cloud platforms. While this has meant less short-term profit for the company, it is a positive sign that Baidu has properly invested in its future and is prepared for the next frontier of search and web engagement. That mobile traffic accounts for 20% of search traffic on Baidu is a testament to that investment.
Valuation Concerns
While we are comfortable with Baidu's multiples, we also concede that valuation gets complicated for the company when comparing its price/book and price/sales ratios. It trades at a whopping 19 times book value, putting it closer to high-flyer LinkedIn (LNKD) at 17 times book than Amazon at 11 times book or especially Google at 3 times book. So too does Baidu's valuation look steep when comparing its price/sales ratio of 20 to Google's at 5 and Amazon's at 2. Again, Baidu's ratio is closer to LinkedIn's 21. Notably, however, Baidu's multiples are lower by a wide margin than their five-year averages, implying this may in fact be an opportune moment to purchase shares.
The Bottom Line
Despite the prospect of slowing future growth, Baidu is still a company growing at a healthy rate and remains one of the best ways to play China's growing and financially strengthening internet population. We detailed as much in a recent article, "3 Ways To Profit From China's Exploding Internet Population," in which we profiled Baidu alongside China E-Commerce Dangdang (DANG) and Renren (RENN) as ways to gain exposure to web growth in China. With the recent announcement of a merger between Chinese online video providers Yokou.com (YOKU) and Todou Holdings (TUDO), we would also add them to our list of investments to consider as means of gaining exposure to internet growth in China.
We believe Baidu's recent earnings letdown presents an opportunity for investors to accumulate shares while they trade at historically cheap multiples. We recommend buying into the weakness.