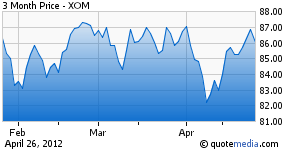 Oil giant Exxon Mobil (NYSE:XOM) opened its books for the first quarter today. Investors were slightly disappointed by the results and send shares 1% lower in a generally upbeat session.
First Quarter Results
Exxon Mobil reported a disappointing 11% decrease in its net earnings to $9.5 billion, or $2.00 per share, which missed analyst consensus of $2.09 per share. Total revenues increased 9% to $124.0 billion, just short of analyst expectations of $124.8 billion. (See earnings call transcript)
The company reported strong operational cash flows which came in at $21.8 billion in the first quarter. The company increased its capital expenditures by 13% to $8.8 billion and remains on track to invest over $37 billion for the full year of 2012. Furthermore the company spend $5 billion in repurchasing its shares.
Exploration and production
The company reported upstream earnings of $7.8 billion, down $873 million on the year as the company reported a 5% decrease in oil-equivalent production to 2.21 million barrels per day. The effect of higher oil prices was largely offset by higher operating expenses.
Marketing and distribution
Downstream earnings increased $487 million to $1.59 billion. The increase in profitability was driven by higher volumes and a favorable product mix as well as asset sales which boosted the bottom line by $320 million. Petroleum sales increased 1% to 6.31 million barrels per day.
Chemical
The chemical division had a difficult quarter as net earnings fell to $701 million, down from $1.5 billion last year. Weaker margins and higher than planned maintenance levels depressed profitability.
Valuation
Exxon Mobil ended the first quarter with $19.1 billion in cash. It did not provide a balance sheet at today's presentation which makes it hard to estimate the current net debt position. Ultimo 2011 the company ended with $17 billion in short and long term debt which leaves the company with a flat net debt position.
At today's close the company is valued at some 0.9 times annual revenues and 10 times 2011's annual earnings. This compares to a revenue multiple of 0.8 times for Chevron (NYSE:CVX), 0.5 times for Total (NYSE:TOT) and 0.5 times for Royal Dutch Shell (NYSE:RDS.A), respectively. These global integrated oil and gas rivals trade between 7 and 8 times annual earnings.
At today's press conference the company announced a 21% increase in its quarterly dividend to $0.57 per share, for an annual dividend yield of 2.6%

Investment Thesis
Today's results are largely disappointing and a larger sell-off has been prevented by the aggressive increase in quarterly dividends to $0.57 which is welcomed by investors. Shares have traded around the $85 level for most of 2012, remaining within sight of all time highs of $95 set in 2007. Although the company has increased its capital expenditure budget stepwise in recent years, the additional investments take time to translate into sustainable higher production growth.
Exxon Mobil has generated enormous amounts of operational cash flows over the recent years. These large cash flows were used to please shareholders as the company spend over $50 billion in share repurchases in the last four years alone. Alongside, it paid $25 billion in dividends. More importantly the company has steadily increased its capital expenditure budget to over $30 billion last year in an attempt to increase future production.
These investments are not yet paying off, but as soon as signs of production growth emerge, investors should be prepared to take out the all time highs and move towards the $100 mark.
Disclosure: I have no positions in any stocks mentioned, and no plans to initiate any positions within the next 72 hours.