With US auto industry sales just logging their best sales quarter in 4 years, and overall world sales expected to increase in 2012, we thought we'd take a look for some undervalued dividend paying stocks within this industry.
We found 2 auto parts dividend stocks, Magna International, (NYSE:MGA), a Canadian firm, and Standard Motor Products, (NYSE:SMP), a US firm. Magna sells its parts to Original Equipment Manufacturers, and Standard sells its parts in both the aftermarket segment and also to Original Equipment Manufacturers. (More detailed profiles are at the end of this article.)
Both stocks had strong growth in their most recent quarter, and have good growth forecasts for their next fiscal year. However, their P/Es are way below industry averages, making them look undervalued on a PEG ratio basis.
MGA's current 10.72 P/E is approximately in the middle of its historic P/E range of 7.93 - 14.03, while SMP's 5.44 is below its historic range of 7.24 - 27.97. Both stocks also look cheap on a Price/Book and Price/Sales basis:

Click to enlarge
Dividends: Both firms increased their quarterly dividends in 2011 and 2012 - MGA went from $.18 in 2009, to $.25 in 2011, and raised it again, to $.275, in 2012. SMP raised its dividend from $.05 to $.07 in 2011, and again to $.09 in 2012:

Click to enlarge
Selling Covered Calls: Both stocks have relatively high options yields which you can use to turn them into short term high dividend stocks. MGA has higher call options yields, which outpay its next 2 quarterly dividends by over 5 to 1:

Click to enlarge
(You can see more details for over 30 other high options yields trades in our Covered Calls Table.)
Cash Secured Puts: This is the strategy to use if you want to earn some option income now, with the potential of having a stock put/sold to you in the future. SMP has higher put options yields in the 2 trades listed below. SMP's August $15.00 put currently pays just over 10%, for a 4-month term, offering a high annualized yield of over 33%.
You're basically getting paid to wait, with the possiblity of having SMP put/sold to you at the $15.00 strike price, if SMP goes below $15.00 at or near expiration. However, your break-even cost would be $13.45, due to the $1.55 put premium you received when you made the put sale.
As with the calls, these put options pay a lot more than the dividends do over the next 4-5 months. (Note: Unlike covered call sellers, put sellers don't receive any dividends.)
There are more details on these and over 30 other high yield Cash Secured Puts trades in our Cash Secured Puts Table.)

Click to enlarge
Financials: Both firms have better management, debt, and margin metrics than industry averages, but SMP mostly looks to be the winner in these categories: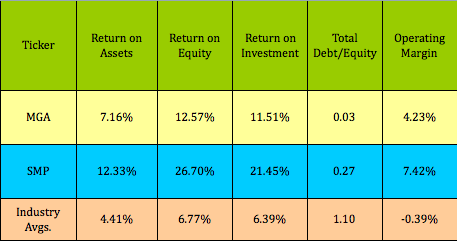 Profiles:
Magna International:
With 286 manufacturing operations and 88 product development, engineering and sales centers in 26 countries on five continents as of Q4 2011, Magna is the most diversified automotive supplier in the world. We design, develop and manufacture automotive systems, assemblies, modules and components, and engineer and assemble complete vehicles, primarily for sale to original equipment manufacturers (OEMs) of cars and light trucks in our three geographic segments - North America, Europe, and Rest of World (primarily Asia, South America and Africa).

Magna's capabilities include the design, engineering, testing and manufacture of automotive interior systems; seating systems; closure systems; metal body & chassis systems; mirror systems; exterior systems; roof systems; electronic systems; powertrain systems as well as complete vehicle engineering and assembly.

(Source: MGA website)
Standard Motor Products:
SMP is a leading independent manufacturer, distributor and marketer of replacement parts for motor vehicles in the automotive aftermarket industry, with an increasing focus on the original equipment and original equipment service markets. The company is organized into two major operating segments, each of which focuses on a specific line of replacement parts. The Engine Management Segment manufactures ignition and emission parts, ignition wires, battery cables and fuel system parts. The Temperature Control Segment manufactures and remanufactures air conditioning compressors, air conditioning and heating parts, engine cooling system parts, power window accessories, and windshield washer system parts. We also sell our products in Europe through our European Segment.

SMP sells primarily to warehouse distributors, large retail chains, original equipment manufacturers and original equipment service part operations in the United States, Canada and Latin America. Our customers consist of many of the leading auto parts retail chains, such as Advance Auto Parts, AutoZone, O'Reilly Automotive/CSK Auto and Pep Boys.

(Source: SMP website)
Disclosure: I have no positions in any stocks mentioned, and no plans to initiate any positions within the next 72 hours.