The Long-Term U.S. Treasury market does not represent an attractive buy-and-hold investment for the future. Following a three decade long bull market, 30-Year U.S. Treasury yields have fallen from a peak of 15.21% in October 1981 to a low of 2.55% in December 2008 and 3.13% as of Thursday's close. And at some point in the coming years, we are likely to see these same yields rise, perhaps substantially, either due to a sustained acceleration in economic growth or a explosion of inflationary pricing pressures. But these are risks that remain out on the horizon. In the meantime, the Long-Term U.S. Treasury market offers great appeal for investors. Why? It not only offers the potential for outsized returns - it gained over +30% in 2011 Q3 alone - it provides an ideal way to hedge against the stock market.
Two factors may have investors currently thinking about hedging their stock exposures. First, the stock market (NYSEARCA:SPY) has been showing signs of weakness thus far in the second quarter following what was a very strong advance in 2012 Q1. Second, the stock market environment has shown the pattern over the last two years of starting the year strong and struggling mightily throughout the spring and summer months.
Thus, it is reasonable to evaluate trading strategies for the Long-Term U.S. Treasury market. While this analysis will focus on the iShares 20+ Year U.S. Treasury Bond ETF (NYSEARCA:TLT), the same principles apply to the relatively more aggressive Vanguard Extended Duration Treasury ETF (NYSEARCA:EDV) and the PIMCO 25+ Year Zero Coupon U.S. Treasury ETF (NYSEARCA:ZROZ).
The key question becomes exactly when to establish positions in Long-Term U.S. Treasuries to hedge stock exposures. Given that Long-Term U.S. Treasuries have a -0.48 to stocks as measured by the S&P 500, these windows typically occur following a strong stock market rallies. For example, just as the stock market was peaking back in March, many in the market were declaring the demise of the U.S. Treasury market. This was exactly the time to establish or add new positions.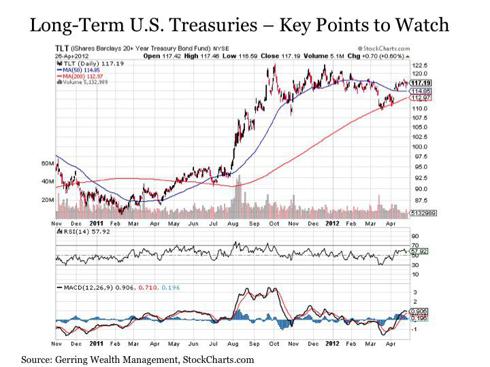 Click to enlarge
Over the last several weeks, the stock market has cooled and the Long-Term U.S. Treasury market has rallied. As a result, now is not necessarily the moment to buy into the Long-Term U.S. Treasury market. Instead, patience will likely be rewarded in waiting for upcoming opportunities. The following are some potential windows to watch for in the coming weeks.
To begin with, the Fed's latest stimulus program in Operation Twist is set to expire on June 2012. While many contend that this will be a negative for the U.S. Treasury market, if anything it is likely to serve as a positive. This is due to the fact that the loss of $400 billion in Fed purchases will likely be more than offset by the trillions of dollars in additional market capitalization that has poured into stocks in recent months and may suddenly be seeking a safe haven if stocks enter into another sharp correction as they did in the summers of 2010 and 2011 once previous Fed stimulus programs ended. Thus, seeking to establish these exposures on a pullback anytime between now and the end of June may be worthwhile.
Also, the stock market likely has one more rally in it before the current short-term bull cycle ends. Last year, stocks first peaked in mid February and retested these highs on three separate occasions before the end of QE2 in June 2011. This year, stocks hit their most recent peak at the beginning of April, a full quarter before the end of Operation Twist. Although the Fed's latest stimulus program does not appear to have the same profound effect on stocks, as much of the rally in recent months can instead be attributed to the European Central Bank LTRO program, it is still having an influece. As a result, it should be expected that stocks will retest if not exceed these recent April highs at least once more before the end of June. These short-term rallies should be watched for Long-Term U.S. Treasury sell offs to provide attractive buying points.
With regard to specific levels, the Long-Term U.S. Treasury market has repeatedly shown the propensity to respond to technical support both at its 50-day and 200-day moving averages. This would imply potentially attractive entry points currently at $114.85 and $112.97, respectively, on the TLT. The next stop beyond these two prices would be around the $110 level, athough any sustained breaks of the 50-day and 200-day M.A.s should be viewed with caution.
An additional intangible surrounding this Long-Term U.S. Treasury will be important to monitor in the coming months. In recent years, the Fed has allowed its stimulus programs expire and witnessed the stock market enter into freefall before beginning to suggest that a new stimulus program was on its way. And recent signals from the Fed suggest that they plan on letting Operation Twist expire and allowing the economy to try again on its own starting in July. However, if the Fed were to preemptively announce a new stimulus program before the end of June, this would immediately dampen the appeal of the Long-Term U.S. Treasury trade. Moreover, while it is more likely that the Fed will at some point announce a more Treasury neutral stimulus plan like Operation Twist 2, if the Fed happened to announce that QE3 would soon be on its way, this would be a signal to begin planning exit strategies for Treasury positions. Thus, the timing surrounding if and when the Fed might declare any new stimulus programs will be critical to watch in association with any Long-Term U.S. Treasury positions in the coming months.
The Long-Term U.S. Treasury is not an attractive long-term investment. Instead, it represents an attractive hedge against the stock market in the coming months. And demonstrating patience and acting tactically when managing these Long-Term U.S. Treasury positions can provide additional value for portfolios, particularly if the stock market happens to enter into another sharp correction in the coming months just as it has the last two years following the end of previous Fed stimulus programs.
Disclosure: I am long TLT.
Disclaimer: This post is for information purposes only. There are risks involved with investing including loss of principal. Gerring Wealth Management (GWM) makes no explicit or implicit guarantee with respect to performance or the outcome of any investment or projections made by GWM. There is no guarantee that the goals of the strategies discussed by GWM will be met.