Ahead of Apple's (AAPL) earnings on Tuesday, April 24, I wrote the following:
"If recent history has any relevance to the upcoming (and much anticipated) earnings announcement… odds favor a very positive reaction the following day…It almost seems obvious that a large segment of traders and investors are dreading Apple's coming earnings report and want to get out of the way ahead of time. Ironically, this same negativity is likely creating a buying opportunity and paving the way for a post-earnings rally."
I went on to demonstrate the strong relationship between Apple's average price change two weeks ahead of earnings, and the performance of the stock the day after earnings. This latest earnings report delivered in an astonishingly convincing fashion. Apple went into earnings with a -1.1% average price change over the prior two weeks of trading; it's worst such performance since at least 2007.
(click to enlarge)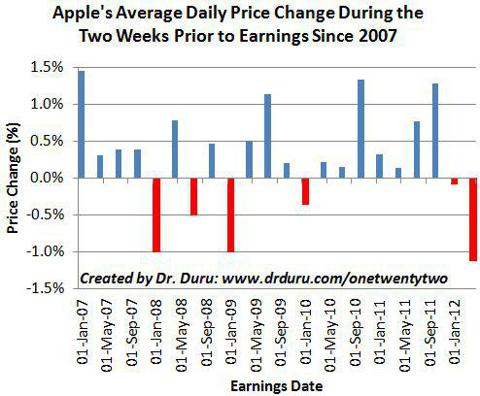 Apple's Average Daily Price Change During the Two Weeks Prior to Earnings Since 2007
The stock closed the day after earnings with an 8.9% gain, its largest one-day, post-earnings gain since at least 2007.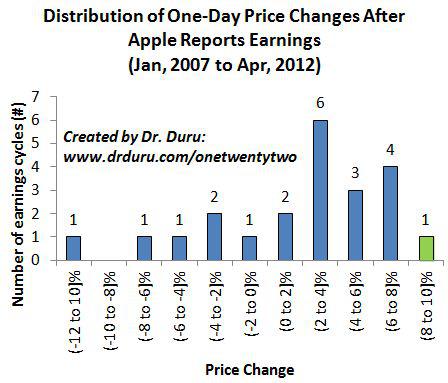 Distribution of One-Day Price Changes After Apple Reports Earnings (Jan, 2007 to Apr, 2012)
This performance further solidified the strong tendency for Apple to experience positive gains after earnings, including a perfect performance for April.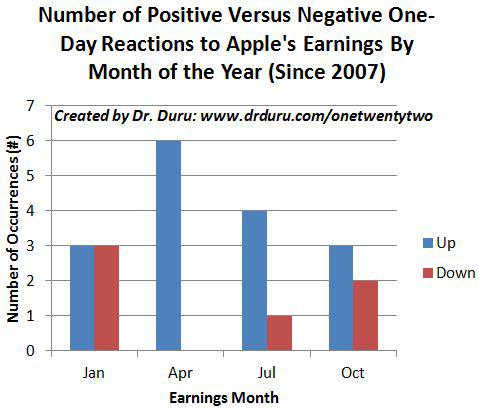 Number of Positive Versus Negative One-Day Reactions to Apple's Earnings By Month of the Year (Since 2007)
Apple's post-earnings performance is now even more strongly, negatively correlated with its 2-week average price performance over the last three years. The negative correlation is almost as perfect as one could expect!
(click to enlarge)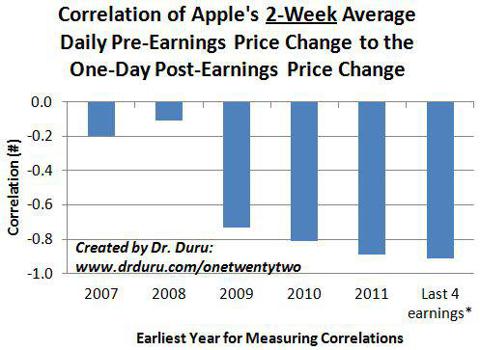 Correlation of Apple's 2-Week Average Daily Pre-Earnings Price Change to the One-Day Post-Earnings Price Change
In the last post, I failed to include a chart of the strong negative correlation for the April quarter even when including data for all years since 2007. This relationship provides yet more icing on top for the case of a strong April post-earnings performance following an exceptionally weak two weeks of trading.
(click to enlarge)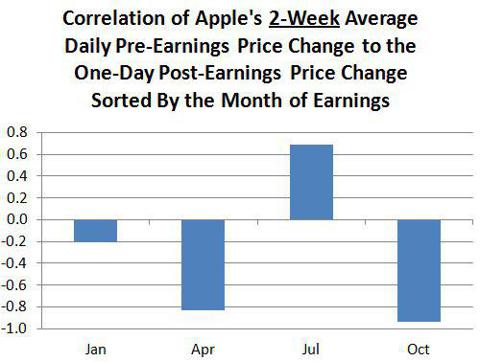 Correlation of Apple's 2-Week Average Daily Pre-Earnings Price Change to the One-Day Post-Earnings Price Change Sorted By the Month of Earnings
Note VERY well that the October earnings report delivers an even STRONGER negative correlation. You can be sure I will trot this chart out again in six months. The relatively strong POSITIVE correlation for the July report and the near lack of correlation for the January report explain why the correlation is so poor when calculating the correlation over all years and earnings reports since 2007.
Regardless, the data now point to a positive reaction to Apple's July report only if trading is relatively positive in the preceding two weeks. Without the segmentation by reporting month, we may have erroneously expected a negative correlation again. Given four of the last five July reports have delivered positive one-day, post-earnings performances, a trader could conclude that it should pay to be bullish at least two weeks ahead of the July report. As a contrarian by nature, I prefer the prospects for playing the October earnings over the July earnings.
Ahead of Apple's earnings, I closed out the short end of my Apple call spread to maximize my bullish exposure. I sold the long end soon after the stock opened, aware of the historic nature of the upside move. More importantly, I expected implied volatility to drop like a rock over the course of the day and provide a direct drag to options pricing. (As usual, I tweeted these trades using my #120trade hashtag). I am now back to scanning the horizon for dips to buy.
Given that Apple did not provide any sizzle to its guidance for the current quarter, I suspect Apple will meander for a while. I imagine traders, bulls and bears, are a bit exhausted from Apple's wild swings in the previous two to three weeks. Trading volume in the second day of trading post-earnings was the lowest in a month - it was actually "just" average (see chart below). In Apple's favor is a breakout above three key resistance levels: the 50-day moving average (DMA), the $600 psychological level, and the April downtrend. Moreover, the breakout line from March 13th also held as firm support.
(click to enlarge)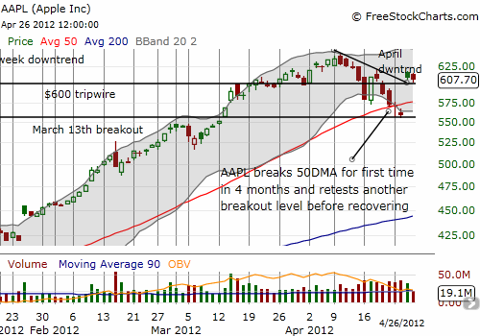 Apple breaks out above resistance but breaking to new all-time highs could be even tougher
It is hard to estimate just how long Apple's period of consolidation may last. Given a lot of sellers are likely experiencing pangs of regret and bulls are looking for any dip to buy, I do not think Apple will spend much time in the lower part of whatever range develops in the coming weeks. While the $600 psychological level may not provide firm support, I do think the 50DMA will deliver firmer support. More and more buyers should show up the closer Apple gets to filling its post-earnings gap up. The key to breaking to fresh all-time highs may rely on the health of the general market.
Until the next earnings report, be careful out there!
Disclosure: I have no positions in any stocks mentioned, but may initiate a long position in AAPL over the next 72 hours.