The EIA published the Weekly Natural Gas Storage Report and the Natural Gas Weekly Update, as usual on Thursday. It will be important to follow these to detect any deviation from my April 24 thesis that natural gas (UNG) will now be under a favorable environment, especially due to the huge dispatch switching that's occurring in the electricity generation sector (all charts and tables sourced from EIA).
Weekly Natural Gas Storage Report
In the Weekly Natural Gas Storage Report, the emphasis naturally goes towards the weekly build in inventories, given we're already in the injection cycle. This came in at +47 bcf. But this number was somewhat misleading, in that there were revisions to the previous storage reports that lowered the basis on which it is calculated by a full 11 bcf.
The next few weeks will be critical in terms of builds, we're at the very point where the injections accelerate and it will be interesting to see if the increased natural gas usage due to electricity generation demand can slow these down as predicted.
Click to enlarge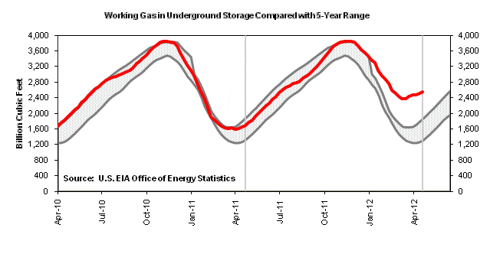 Natural Gas Weekly Update
Some of the most interesting data is found in this report, since we get estimates both on supply and on demand.
On the supply side, we still see gross production racing ahead of last year by 4.0%. This, however, is turning into a lower and lower year-over-year rate, for instance one month ago, growth stood at 5.8% and two months ago, at 7.6%. Also, since imports are crashing, total supply is now running at just +2.4% year-over-year.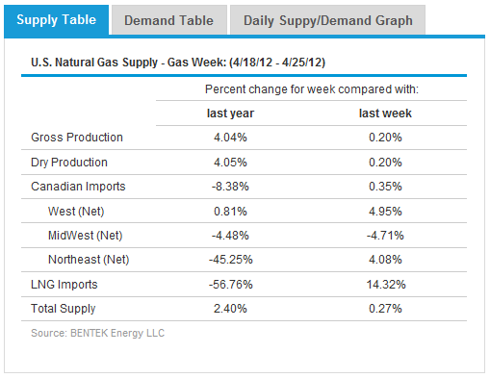 As for demand, not only is demand for electricity generation continuing at a fast pace, +25.1% in the latest week, but something else that was predictable now seems to be happening as well: industrial demand is also growing (+2.3% year-over-year in this particular week), and most importantly, the weather effect on residential is now going away, leading to a fall of just -3.6% year-over-year, whereas a few weeks ago we could easily be seeing -20% changes here. This all translates into demand that's growing at a 7.6% rate year-over-year.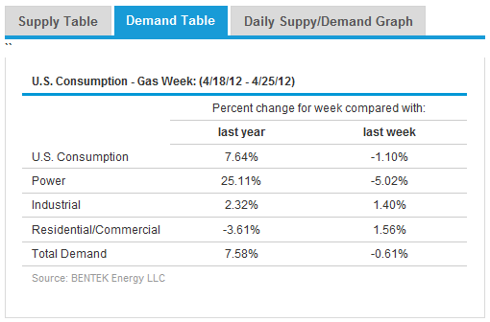 Conclusion
This week's updates seem broadly consistent with the assumptions we made when turning positive on natural gas, namely:
Production is starting to converge to the levels hit during 2011, instead of growing much faster;
Demand for electricity demand continues to race ahead at high growth rates;
Industrial demand shows some growth;
Residential demand is normalizing towards 2011's levels, instead of showing steep drops.

In short, everything is going according to plan, at this point. Yesterday's drop in futures seems to have been the result of May's contract expiration, being as it is that some speculators probably couldn't take physical delivery and had to sell at any price.
Additional disclosure: I am long Oct $2.5 call options on natural gas futures.