Following market close on Thursday, Amazon (NASDAQ:AMZN) delivered a big EPS beat, reporting 28 cents/share versus a Street estimate of 7 cents. Shares of the online mega-retailer soared after hours, gaining nearly 14%.
But Amazon's EPS surprise came only after management lowered guidance and analysts revised estimates downward. The headline beat masks what has otherwise been a forgettable several months for Amazon. Nonetheless, if after hour gains, which topped $223, hold through Friday morning, Amazon will be trading at six-month highs.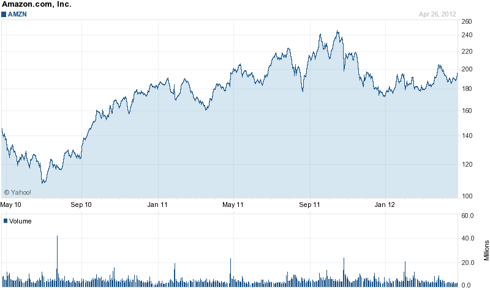 Chart from Yahoo Finance.
Does Amazon's growth justify its valuation and sky-high multiples? We'll examine both sides of the argument.
Why Amazon May Be Too Expensive
Prior to reporting on Thursday, Amazon traded at 143 times current earnings and 77 times projected 2013 earnings (source: Yahoo Finance). Those earnings multiples are significantly higher than industry peers. eBay (NASDAQ:EBAY) trades at 15 times forward earnings, Google (NASDAQ:GOOG) at 12 times, Apple (NASDAQ:AAPL) at 12 times, Baidu (NASDAQ:BIDU) at 20 times, and even Netflix (NASDAQ:NFLX) boasts a more attractive forward P/E multiple of 35. Amazon's P/E puts it in a group with recent IPO LinkedIn (NYSE:LNKD), which trades at 89 times forward earnings.
Amazon also trades at a high multiple relative to its book value. With a price/book of 11.5, it is priced significantly higher relative to book than Apple at 5.5 times, eBay at 2.9 times, Google at 3.5 times, Yahoo! (YAHOO) at 1.5 times, and Netflix at 7.2 times. Only Baidu, with a price/book ratio of 19 and LinkedIn with a ratio of 17.7 are priced at higher multiples to book than Amazon.
But high multiples can be justified by extraordinary growth. The problem with Amazon is that its growth has been mixed. While net sales jumped an impressive 34% Y/Y, operating income of $192 million represented a 40% decline Y/Y, and the company forecasts operating income of $40 million in 2Q2012, or -$260 million Y/Y. Further cause for concern is Amazon's trend of declining margins. ALthough it boasts a 5-year average margin is 3%, Amazon's TTM margin prior to earnings was 1.3%.
Why Amazon May Be Underpriced
Despite high multiples relative to other major online companies, an argument can be made that these comparisons are misleading because Amazon really doesn't have any comparable peers. The closest true competitor may be Ebay, but its model of e-commerce substantially differs. Since Amazon has few, if any, rivals outside niche or regional players, its high valuation may appropriately reflect its seemingly unthreatened position atop the industry.
Additionally, the growth possibilities are massive for Amazon. Its role as the major e-commerce hub - across a limitless array of categories - for a sizable chunk of the world's internet population provides the company unmatched exposure to the global internet consumer base. Amazon's model offers both the seamlessness and flexibility required to seize opportunities that arise within this base, notably those of high growth in novel sectors and media. Amazon's successful foray into digital readers, music, and e-books stands as a pointed example. Its recent entry into the local deals space is another.
Finally, Amazon has invested heavily in research and development over the years. Although this has meant lower profits in the short-run, the investments are likely to yield long-term benefits to the company and to shareholders. With very little debt and a sizable cash position, Amazon's R&D expenses would appear justifiable.
Bottom Line
With Amazon, fundamental analysis seems to fall short. It is a business that stands atop the rest in its industry, and without comparable peers, we are challenged to make a value judgment.
We do, however, note several companies that are similarly dominant in their respective industries - among them, Google and Apple - that trade at far cheaper multiples than Amazon. But Amazon's growth seems different in a way. Its boundaries seem less defined, its business somehow less mortal.
In the end, however, we pass on Amazon at these levels given the high relative multiples. For value, we prefer eBay. For growth and upside in the online retail sphere, we prefer E-Commerce China Dangdang (NYSE:DANG). For broad internet growth, we prefer Google or Baidu or even upcoming Facebook (NASDAQ:FB). But we also can't recommend against Amazon, particularly given its recent earnings beat, as it remains one of the great corporate growth stories in the market today.
Disclosure: I have no positions in any stocks mentioned, and no plans to initiate any positions within the next 72 hours.