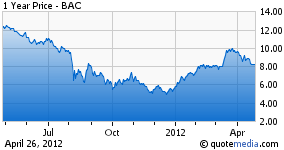 Investors of Bank of America (NYSE:BAC) are surely riding a roller coaster as we speak. The stock is one of the most volatile components of Dow Index. Last year, the stock was trading at as high as $15.25. Then the stock's price started to plunge, and downward movement did not stop until the stock price retreated to $4.90 per share. While many people thought Bank of America was on its way to become a penny stock, it started a massive rally and nearly doubled by this March. Those who bought the stock at around $5 were lucky. Just about time people started to think that the company's stock price would rally back to $15 a share, the rally came to a halt. Since March 18, Bank of America lost 11% in market value and the latest trend is downwards. Where is Bank of America headed from here?
Many analysts agree that the bank's value went up too fast in the first quarter of 2012 and a correction was overdue. Currently, it looks like the correction is underway. I believe that once this correction is over, the stock price will continue its rally, however the rally will most likely not be as aggressive as it was in the first three months of the year. Last year, many people thought that Bank of America was going bankrupt like Lehmann Brothers in 2008; however those worries are gone for now. At the moment, no one questions solvency of Bank of America. Furthermore, the bank got rid of many of its rather risky assets in Asia and elsewhere. Some of the bank's assets in USA, particularly real estate, may still be a liability for it due to weak market conditions, however this is a temporary situation. At the end of the day, Bank of America is now in much better shape than it was a year ago. Compared to a couple years ago, the company is now leaner and more effective. In the last year, the company got rid of excess employees and many large and expensive buildings used by its branches.
Valuation of Bank of America
Because banks engage in many accounting tricks, it is really difficult to estimate value of a bank. Banks usually buy and sell large quantities of assets, and one-time charges influence earnings of these banks significantly. Also, banks can usually leverage the assets they own, inflating their book value. This is why it is very complicated to calculate true earnings or true value of a bank.
Currently Bank of America doesn't have a P/E because it has negative earnings in the last 12 months. This is due to second quarter of 2011 which resulted with a loss of 90 cents per share for the bank. In the second quarter of 2012, the bank is expected to earn 18 cents per share. If the bank is able to meet this expectation, its EPS in the last 4 quarters will be 88 cents. This will give the company a P/E ratio below 10. Considering the average P/E of 16 in the financial sector, this looks good; however, keep in mind that earnings and P/E ratios have less meaning when we are talking about banks.
If the worries of last year related to eurozone comeback -- which they may -- the bank's stock price may suffer along with many other financial companies. If this happens, it is likely to be temporary as Bank of America isn't known to have that much exposure to European debt crisis. The new regulations in the banking history will bring uncertainties in the 3-5 year timeline, however I don't expect these regulations to hurt Bank of America in any way. I believe that Bank of America is doing the right things and it's on the right path. As the U.S. economy improves, this will reflect positively on Bank of America. I would look for signs of improvements in the housing sector to see where Bank of America is headed in the near future.
I would suggest taking advantage of the latest correction and get some shares of Bank of America. The stock still has plenty of upside as the company continues to improve the way it does business.
Disclosure: I am long BAC.