Oh, dear.
That seems to be the general sentiment amongst the retailers. U.S. October retail sales probably increased 2%, according to the International Council of Shopping Centers [ICSC] and UBS. The estimate has declined from as high as 2.5% last month.
Thomson Financial reports that two-third of retailers' October sales missed analysts' expectations.
The excuse making was in full flower, as numerous reasons were proffered: ongoing housing market problem, the credit crunch, high oil, warm weather, etc. Also occurring at the same time: Consumer confidence fell to the lowest level in two years, and sales of new homes declined 45 percent in September from a peak in July 2005.
Gee, ya think either of those elements might have had an impact on Retail Sales?
The big winners were Target (NYSE:TGT) at +4.1% and Costco Wholesale (NASDAQ:COST), which posted a 9% gain.
Largest Gainers and Decliners, Retail Sales, October 2007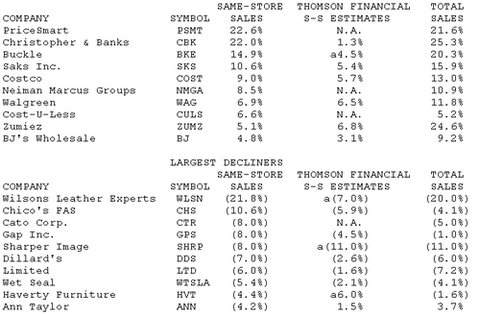 Sources:
October retail sales spooked
Parija B. Kavilanz
CNNMoney.com, November 8 2007: 7:50 AM EST
http://money.cnn.com/2007/11/08/news/economy/oct_retailsales/index.htm?postversion=2007110807
October Retail Sales: Largest Percentage Gainers/Decliners
Dow Jones
November 08, 2007: 10:08 AM EST
http://tinyurl.com/yprkgx
U.S. Retail Sales in October Trail Analyst Estimates
Heather Burke
Bloomberg, Nov. 8 2007
http://www.bloomberg.com/apps/news?pid=20601087&sid=alkX5kNi3kSE&
Slow Sales of Cold-Weather Items Continue to Hurt Clothing Chains
KEVIN KINGSBURY
November 8, 2007 10:42 a.m.
http://online.wsj.com/article/SB119452397863386405.html