Dow Chemical (DOW) shot up Wednesday on a good profit report. It earned $0.61 per share, even as analysts had projected $0.59. But Thursday, the stock was back down to where it was two days ago.
Let's try and take a look at why this happened. Dow had announced it will take charges totaling approximately $350 million for asset impairments and write-offs, severance and other costs related to these measures. And it did this.
Earnings as a whole fell 50% first quarter from the total pre-tax charge of $357 million. Dow ended up reporting an income of $412 million and $0.35 per share (January- March) compared to last year when it reported $625 million and $0.54. With the write-down, it is understandable the way the stock looked good, even though it came in lower than last year.
Revenues, however, did not come out as well. Revenue was flat at $14.7 million, while expectations were at $14.96 billion - close but not on target. The slight slowdown in sales is understandable. Dow has plans for cost-reduction plans, as there is continued weakening in the European economy that is affecting the company's sales. Take, for example, one of the new turns in Europe, Britain's economy declined for the second straight quarter, the U.K. government said Wednesday, in a sign that the U.K. has entered a recession for the second time in four years.
For this reason, the company plans to reduce costs like other companies have done in the past. Last year, it saved $500 million and this year it is on track to save another $250 million through a number of plant closings. For example, it will be closing three plants that produce STYROFOAM™ Brand Insulation products located in Estarreja, Portugal; Balatonfuzfo, Hungary; and Charleston, Illinois; apart from an idle plant in Terneuzen.
Often, Styrofoam is used as insulation for construction. As we mentioned earlier in Europe with regard to Great Britain, a sharp decrease in construction activity led to the overall decline in the first quarter. Construction dropped by 3% during the three-month period, following a 0.2% dip in the prior quarter. So it makes sense that these types of plants should be closed.
At the same time, Dow is expanding and focusing on areas in which it can find profits. It is building a new ethylene production facility at Dow Texas Operations, which will employ up to 2,000 workers at its construction peak. Taking advantage of the low cost and local feedstock for its high performance plastics, materials, and advanced material business is a good move by the chemical company.
Will Dow Chemical continue to move up while it is in its cost-cutting phase? Well, every company has to cut costs when the economy demands it. As of now, if we look at the chart, we see the company is in what we call a Broadening Ascending Wedge Pattern. This is a pattern that tends to rarely appears in a bear market. Most often, you'll find it in a bull market with a downward breakout 73% of the time. Although these are generally seen as reversal patterns, that's not guaranteed and in fact some wedges prove to be continuation patterns. One can only wait for the breakout or hedge one's entries.
Click to enlarge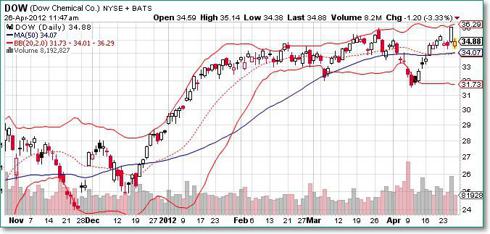 We believe there is enough evidence to conclude that Dow Chemical may not be headed up in the short term and this may give us an opportunity to create a short-term income strategy. It is presently trading at 34.90.
The Options Play
Buy a July 2012 put with a '35' strike (prices at $1.39)
Sell a July 2012 put with a '34' strike (priced at $0.99)
Net Debit to Start: $0.40
Maximum Profit: $0.60
Reasoning behind the trade:
Dow is in a cost-cutting stage.
It missed revenue projections last quarter, so there is nothing to get excited about.
The Broadening Ascending Wedge is a fairly accurate reversal pattern.