Qiagen (NASDAQ:QGEN), the Dutch diagnostic testing company, announced that its FastHPV Test, an affordable test for HPV designed for use in low-resource areas of the world, passed a clinical trial conducted in China. The trial enrolled 2,500 women, aged 30 to 54, most of whom live in rural areas of China. Once finalized, the results from the test will be used to support a request for market approval of the FastHPV test. The request will initially be submitted in China and India in 2008.
Qiagen said FastHPV is a version of an HPV test kit that has been on the market since 2003. Diagene developed the test; Qiagen gained control of the kit when it acquired Diagene earlier this year. FastHPV is being developed with help from PATH, the worldwide health organization that seeks to bring healthcare to economically deprived areas of the world.
Besides being cost-efficient, the FastHPV version of Qiagen's sophisticated molecular diagnostic test is reconstructed to be robust and easy to use. The kit even contains its own water supply, and is designed to be used by workers with only minimal training. When introduced to the marketplace, the test equipment will be portable, with the option of battery power. Kits have proved stable when stored in non-refrigerated environments for up to eight months, and they can withstand temperatures of 40 degrees C for up to a month. Results are available in just two and one-half hours.
The test was able to correctly diagnose between 86% and 90% of all cases of HPV, if cervical cells were collected by a trained worker. When women collected their own cells, the diagnosis rate dropped to 72%-81%. But that number was still far ahead of the numbers for the method used in most rural areas of low-resource countries, which do not have the facilities for conducting a pap smear (cytology). In these cases, healthcare workers paint the cervix with vinegar to identify abnormal areas. They are then visually examined by a professional. The method correctly identifies only 41% of the cases of HPV.
HPV (human papillomavirus) is the main cause of cervical cancer. Correctly identified at an early stage, it can be treated and prevent the cervical cancer that otherwise can follow. Worldwide, 500,000 cases of cervical cancer are diagnosed each year, and the disease causes 250,000 deaths. 80% of these are in rural areas.
In a separate modeling test, it was estimated that just three tests in a woman's lifetime – each test separated by five years and beginning after the age of 35 – would reduce the incidence of cervical cancer by 56%, if the diagnosis was followed by appropriate treatment.
The body is able to defuse most cases of HPV. In developed areas of the world, a case of HPV is usually left alone for six months to see whether the immune system can eradicate the virus by itself. Only persistent cases of HPV are treated medically. In rural areas, because return visits are often not made, the "wait and see" option is not viable.
The trial of the FastHPV diagnostic device was led by Professor Youlin Qiao, Chief of the Department of Cancer Epidemiology at the Chinese Academy of Medical Sciences.
QGEN 1-yr chart: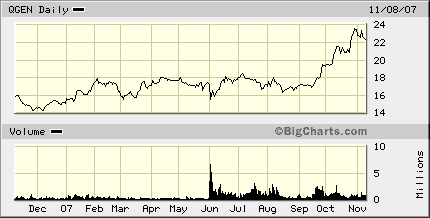 Disclosure: none.