Plains All American Pipeline's (NYSE:PAA) stock has a very nice 5.2% annualized dividend yield and with Plains All American Pipeline's business exposure to the price of oil and natural gas, an investor might consider entering a protected covered call to not only receive the company's dividend payments, but also to hedge or protect the position in case the company's stock price takes a significant hit.
A protective covered call may be entered by selling a call option against a purchased or existing stock and using some of the proceeds from selling the call option to purchase put option for protection. Plains' stock price went ballistic about six months ago, but has recently been in trading in the range of $77 to $81 as shown below: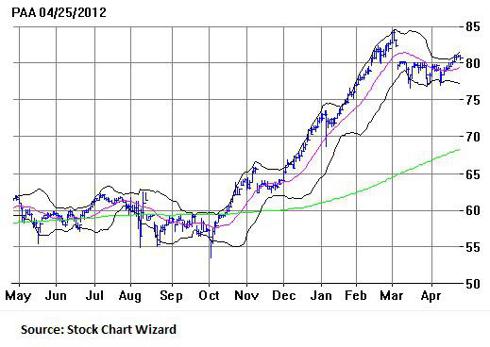 Using PowerOptions tools, a protective covered call was found for Plains with a potential return of 5.2% (9.3% annualized) and a maximum potential loss of 7.9%. Even if the price of the stock drops to zero, the maximum potential loss for the protective covered call is 7.9%. The potential return and the maximum potential loss assume receiving about $3 in dividends during the holding time for the protective covered call. The specific call option to sell is the 2012 Nov 80 at $3.20 and the put option to purchase is the 2012 Nov 70 at $1.65. A profit/loss graph for one contract of the Plains' protective covered call is shown below: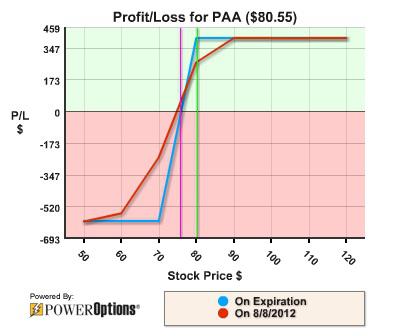 The protective covered call enables receiving a return comparable to the annualized dividend yield, yet in less time and with downside protection. For a stock price less than the $70 put option strike price the value of the protected covered call remains unchanged (at expiration).
Plains All American Pipeline has been busy recently. In the space of just two weeks, Plains All American Pipeline has added one acquisition to its shopping basket and tossed out another. On April 2, 2012, it closed a $1.67 billion deal to purchase the Canadian natural gas liquids business of BP, but on April 17 it dropped its bid to buy Oklahoma pipeline company SemGroup (NYSE:SEMG) for approximately $1 billion. (News) The acquisition from BP will complement the group's existing LPG and Canadian crude oil businesses.
Plains All American, a publicly traded master limited partnership, is currently distributing to unit holders an annualized $4.18 per unit. Its business is the transportation, storage, marketing and delivery of crude oil and refined oil products, as well as the processing, transportation, fractionation, storage and marketing of natural gas liquids. As its name implies, operations are confined to the North American continent. Also, through its general partner interest and majority equity ownership position in PAA Natural Gas Storage (NYSE:PNG), Plains owns and operates natural gas storage facilities. It has ownership or lease access to 16,000 miles of pipeline and over 100 million barrels of liquid storage capacity, 86 billion cubic feet of natural gas storage, two fractionation plants, four natural gas processing plants and a huge fleet of trucks, trailers, railcars, barges and tugs. Revenue is generated through tariffs, third party leases of capacity, and fees for transportation, delivery, terminal facilities, storage and associated services. In addition, Plains is involved in the purchase, seasonal storage and resale of crude oil, refined products and LPG as a hedging strategy designed to stabilize the potentially volatile market conditions. (Company Overview)
Plains is exposed to significant business risks as a result of the volatile nature of the oil and natural gas market. Price fluctuations occur as a result of geopolitical activities over which it has no control, in areas of the world far removed from its own sphere of operations. Interruptions to American offshore oil production as a result of severe weather conditions or an unexpected environmental calamity are also a possibility. Product purchasing and hedging operations serve to mitigate these risks to some extent. Marathon Petroleum (NYSE:MPC) and Conoco Phillips (NYSE:COP) each account for a substantial part of the partnership's revenue (16% and 10% respectively in 2011) and reliance on two customers for a quarter of revenue could present a problem if either of their businesses were to suffer significant disruption.
Major competition for the partnership comes from organizations with business models similar to its own: Houston-based Enterprise Products Partners (NYSE:EPD) and Buckeye Partners (NYSE:BPL), Philadelphia's Sunoco Logistics Partners (NYSE:SXL), and Canada's Enbridge Inc (NYSE:ENB). In a rapidly-expanding market, particularly following the escalation in shale plays, everyone wants to be a leader, hence the competitive search for acquisitions.
Total revenue for the year ended December 31, 2011, was $34 billion, a substantial 32% increase on 2010's $26 billion. Net income attributable to Plains was $966 million ($4.88 per diluted partner unit) with a declared distribution of $3.91 per unit. Net income was 91% higher than in 2010. Operating activities produced $2.4 billion in net cash. Volume increases were recorded in all three business segments (Transportation, Facilities and Supply & Logistics). EBITDA is reported by segment: Transportation contributes 36%, Facilities 23%, and Supply & Logistics 41%. (Form 10-K 2011 (pdf))
The following guidance for full year 2012 was released during the Q4 2011 earnings call: EBITDA in the range $1.575 billion to $1.725 billion, with adjusted net income ranging from $887 million to $1.069 billion ($3.79 to $4.91 per diluted unit). This includes the effect of Plains' four most recent acquisitions, including the BP Canadian business in Q2-Q4. Chairman and CEO Greg Armstrong reminded participants that the record 2011 results had exceeded all public guidance given. "As we look forward" he commented, "we believe industry fundamentals are favorable for PAA's business model and asset base… As a result, we're enjoying a strong demand for our assets and services, which not only increases the utilization of our existing assets but also provides multiple opportunities to expand and extend our existing asset base on attractive economic terms."
Plains All American Pipeline and PAA Natural Gas Storage made a joint presentation to investors in March 2012. The company strategy was explained as leveraging a thorough understanding of the market (volatility, seasonality, cyclic nature, supply and demand drivers, regulatory environment) in order to build or acquire access to favorably located and interconnected logistical assets. Around $850 million of organic investment expenditure is anticipated for 2012, followed by $500-$700 million each year for the three subsequent years. The Eagle Ford pipeline alone will be responsible for $160 million of the 2012 expenditure. Acquisitions are also a major factor in the organization's long-term growth strategy, as evidenced by recent activity. Plains intends to fund growth capital with at least 55% equity plus excess cash flow, while maintaining significant liquidity. Over the last seven years around $950 million in excess cash flow has been reinvested. Attention was drawn to the strong growth of EBITDA and distributions over 12 years, and the 40 consecutive quarters of performance in line with, or ahead of, guidance.
Plains All American Pipeline has demonstrated that it has a disciplined financial strategy and a strong track record of profitable growth. Its management has the future carefully mapped out and appears confident that the outlook for unit holders is a continuation of the upward trajectory. However, Plains' management cannot control the price of oil and gas, but a savvy investor can manage an investment in Plains All American Pipeline using a protective covered call to receive dividend payments and protect from a downward plunge in the price of the stock.
Disclosure: I have no positions in any stocks mentioned, and no plans to initiate any positions within the next 72 hours.