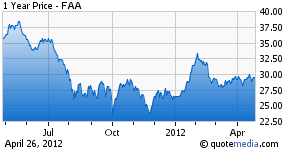 A much maligned sector with plenty of permanent headwinds to deal with, the airline group deserves this much credit: In an environment of triple-digit oil prices and escalating concerns regarding the veracity of the global economic recovery, airline stocks have been solid performers in 2012. The Guggenheim Airline ETF (NYSEARCA:FAA), the lone ETF devoted to the airline sector, has jumped 12.5% year-to-date.
It should be noted that FAA is well off its February peak of just over $33 and the fund is now found at a critical technical juncture, looked in a tight trading range between $29-$30. One look at the chart indicates FAA could fly either way. As hard as it may be to believe for critics of airline stocks, of which there are many, FAA could break to the upside.
Delta Airlines (NYSE:DAL), the second-largest U.S. carrier and FAA's number two holding with a weight of 16%, reported a first-quarter profit after posting a year-earlier loss. And the same goes for US Airways (LCC), which is FAA's fourth largest holding with an allocation of almost 4.2%.
United Continental Holdings (NYSE:UAL), the largest U.S. carrier and FAA's largest holding with a weight of 16.4%, is expected to report a loss when it delivers first-quarter numbers on Thursday, but February and March traffic figures were up 3.4% and 1%, indicating that United might be on its way back to profitability sometime this year.
The other side of the coin and it reiterates the view that airlines and FAA are trades, not investments is that it's not necessarily increased traffic that's helping airlines' bottom lines. It's certainly not lower fuel prices. It's lots of fees, to check bags, for more legroom, and fees for "priority check in" whatever that is.
What that speaks to is that airline management take their passengers for granted and assume that travelers will not at some point scream "enough is enough" regarding fees just for the privilege of flying, an experience that is often mediocre at best.
Here's the cold harsh reality when it comes to FAA and airline stocks: Yes, most travelers will opt for a plane trip over train or car because of efficiency, but that does not mean airlines have a good business model. In fact, the business model is deeply flawed if for no other reason than that the price of oil can rise much faster than airlines can hike their fees.
Fees could easily make FAA look good for a few days and that scenario has played out in the past, but this is an ETF to date, not to marry.
Disclosure: I have no positions in any stocks mentioned, and no plans to initiate any positions within the next 72 hours.