Regular readers of mine are well attuned to the fact that I am bearish on the market. I am not apocalyptically bearish as some are, but my guess - and I emphasize the word "guess" - is that a 20%-25% correction lies in wait for the market.
But first, however, let's look at the good news. Despite the volatility, over the intermediate term, the Dow is holding up pretty well. In fact, until proven otherwise, it is in an uptrend. On Thursday, it went through, then bounced and closed on the 200-day moving average, as it did in August. If Thursday was a near-term low, and it may very well have been, the market is still one of higher lows and higher highs.
click to enlarge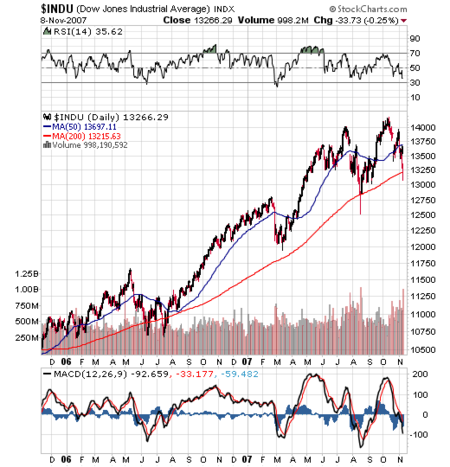 Otherwise, there is not very much good news.
One big change on Thursday was that they sold the winners. After Cisco's (NASDAQ:CSCO) earnings announcement, the high-flying tech leaders got whacked:
Google (NASDAQ:GOOG)
click to enlarge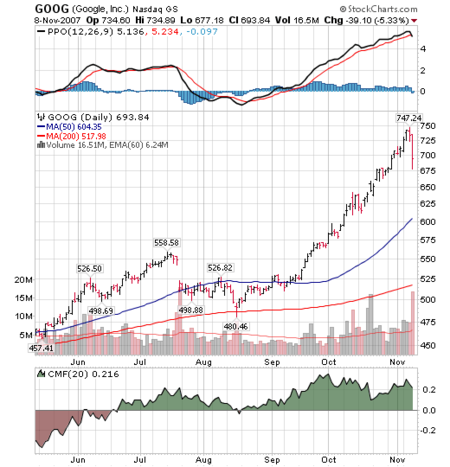 Apple (NASDAQ:AAPL)
click to enlarge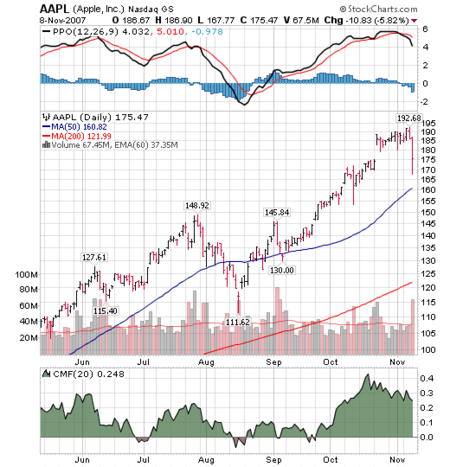 Research in Motion (RIMM)
click to enlarge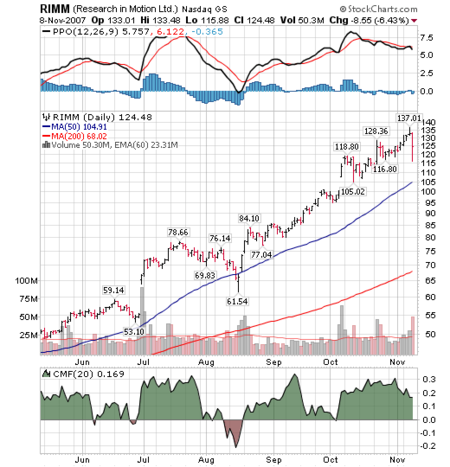 The Canadian dollar, a MoMo favourite, cracked:
click to enlarge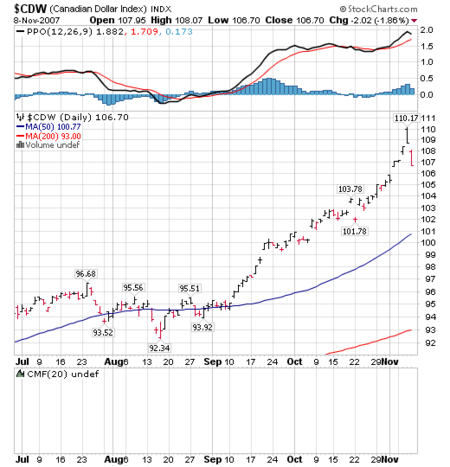 The China 25 ETF(NYSEARCA:FXI), has been rolling over:
click to enlarge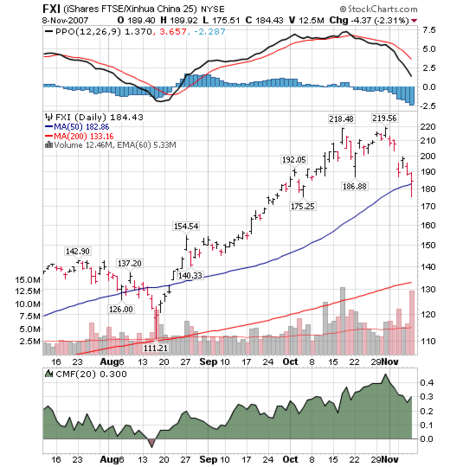 Look at Coach (NYSE:COH):
click to enlarge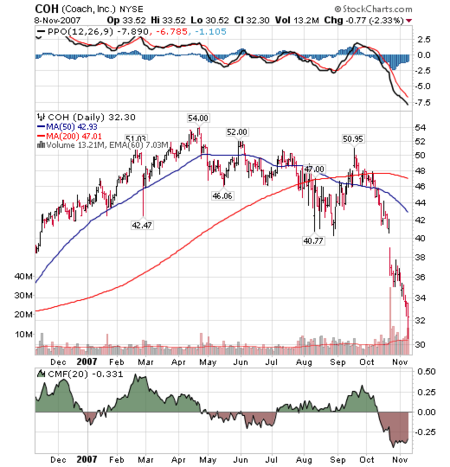 So much for the wealthy consumer keeping us afloat.
And, the banks are a mess.
click to enlarge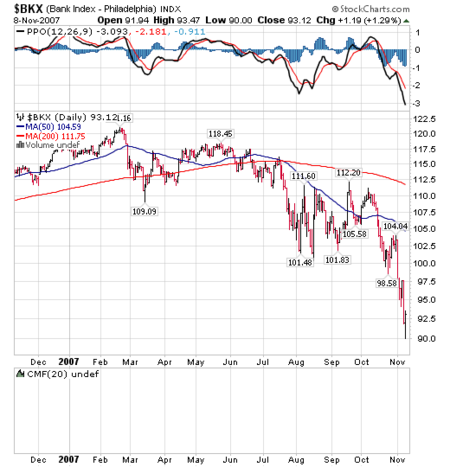 I have never been able to understand the bull's argument that even if the financials were in trouble, the market could still move higher. I cannot see it. The financial industry supplies credit, the lifeblood of commerce. If the financials are in pain, credit will be less available and business and financial assets will be under pressure, as we are seeing.
I was going to write a post about why I sold Citigroup (NYSE:C) last week. However, if it keeps going down as fast as it has, I may be writing a post on why I'm buying it back.
click to enlarge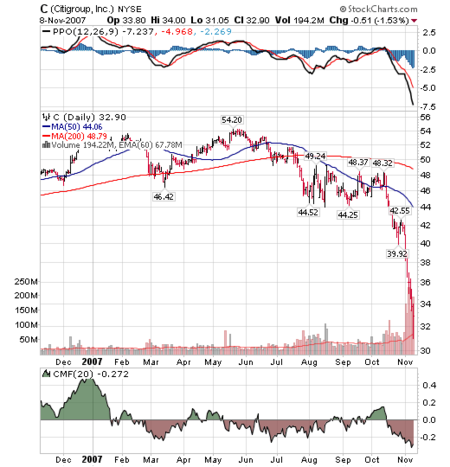 I think it is still too early to buy Citi. Clearly, the market does not believe the dividend is safe, with the stock currently yielding 6.7%, especially when compared to JP Morgan's (NYSE:JPM) 3.7%. However, another week of so of $2 down days, and it may be time to buy Citigroup.
I sold Citigroup because whenever a financial company has found itself in trouble this year - be it an Accredited Home Lenders (LEND), or a Countrywide Financial (CFC), or a Washington Mutual (NYSE:WM) - they take the stock down and hard, very hard. There is a giant hole in the balance sheets of these financials, and some will not survive. I believe Citi will be a survivor, but I think it is foolhardy to catch a falling knife when the tangible equity represents a mere 3% of the entire capital base of the company. Financial institutions are highly leveraged and this can cut their heads off when things go wrong.
Given the history of Citi, it is best to wait for a bounce before diving in. At the moment, I think that point will be $10-$15 lower, which is where one would expect Citi to fall given the price behavior of the stock during past crises.
I do believe a generational opportunity to buy will arise in the banks. However, we are not there yet.
In a world of turmoil, agriculture stocks are still flying.
Potash Corporation of Saskatchewan (NYSE:POT), of which I am long.
click to enlarge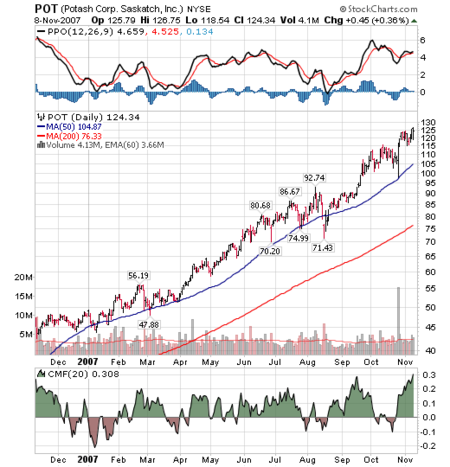 click to enlarge
Agco (NYSE:AG):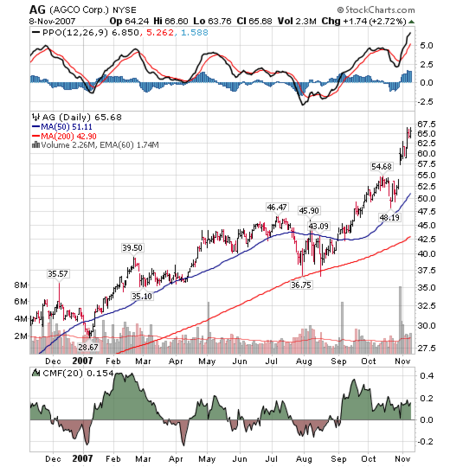 Deere (NYSE:DE):
click to enlarge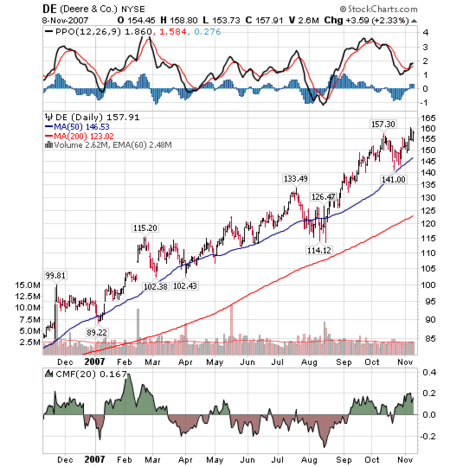 At some point, though, the agriculture stocks will be taken out and shot.
Finally, amidst all of this gloom and doom, we must remember that such events create opportunity. The second and third (and fourth and fifth and sixth - ed.) tier semiconductor names I have owned during past cycles (one of which I unfortunately still own) have gotten pounded as of late, and are either buys now or will soon be.
There are more of these types of opportunities that await in the not-too-distant future.