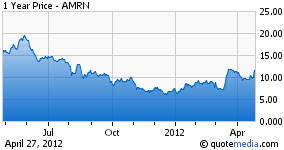 Recent favorable patent progress led to a reduction of potential generic threat for Amarin's (NASDAQ:AMRN) one and only drug candidate, AMR-101. A USPTO granting of patent 598 in late March protects them against generic competitors through at least 2020. In addition, several other key patents are progressing forward with potential to secure exclusivity through at least 2030.
However, more recently, Phase III data from peer Epanova now suggests that there is much less threat from direct peer competitors with new drugs, and a major reduction of threat from potential "me-too" drugs/OTCs. Omthera's Epanova reported horrid results in terms of commercial potential for Epanova. The triglyceride levels showed similar reduction benefits to Lovaza (if not worse), only at certain low doses. Drug companies typically weigh the most weight on high doses during initial trials for two main reasons: these higher doses should show more efficacy and therefore indicate future potential, and related to that idea, it indicates possible commercial strategy for the drug's future.
The very important non-HDL-C levels only showed benefit at low dose, with no additional benefit at high dose ... ouch. Furthermore, top-line results did not speak about HDL/LDL levels, suggesting no LDL benefit and possible HDL side effects. Amarin's trials are superior in all areas. This tells me that not only is the Epanova threat removed, but "me-too's" based on Omega 3 EPA/DHA just are not going to be effective - AMRN clearly has a special compound. In addition, the story behind Epanova was all about bioavailability. Guess that did not work to well for them. I believe the same issue faces Neptune (NASDAQ:NEPT), who claims phospholipid delivery means you don't need as much Omega 3 DHA/EPA. Either way, krill oil is 3-5 years away from even being able to suggest benefit in this area - promising stuff don't get me wrong, but lots of spin, no real data.
To that point, potential suitors for an acquisition of Amarin should expect to pay a hefty premium, the 75-100% consensus from analysts has now gone up to 150-200% (from current $11.50+ level) in my view.