AT&T (NYSE:T), Apple (NASDAQ:AAPL), and LG (NYSE:LPL) released financial statements earlier this week. Analysis and valuation of portions of the financial statements suggests AT&T is fairly-valued, LG and Apple are undervalued.
AT&T: Fairly-valued (Sell)
Strong competitive position in the US wireless phone industry.
Revenue is not strongly correlated with US economic growth.
The US wireless phone industry is mature and the growth rate is low to negative; industry barriers to entry are high.
Relative to the risk-free rate of interest bearing US Treasury securities, the dividend yield is high and stable.
Historically, the telecommunications industry hasn't created significant value for investors.
There are few substitutes for wireless telephone service and few competitors in the industry.
A significant portion of the employees are union members.
Revenue-per-share remained stable at 16.5% to 16.9% of the total during the period examined (revenue-per-share didn't grow).
Operating income-per-share declined during the quarters examined.
Valuation are near peaks and could decline on macro or micro economic headwinds.
Common equity shares are trading above the rising 50-day simple moving average.
(click to enlarge)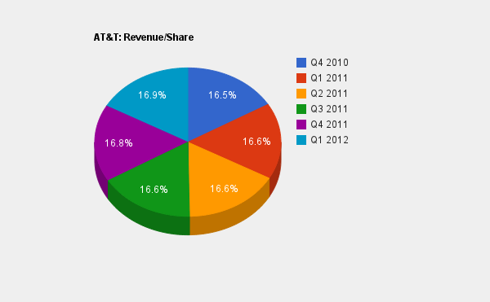 (click to enlarge)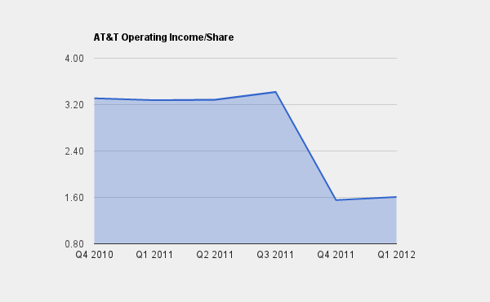 (click to enlarge)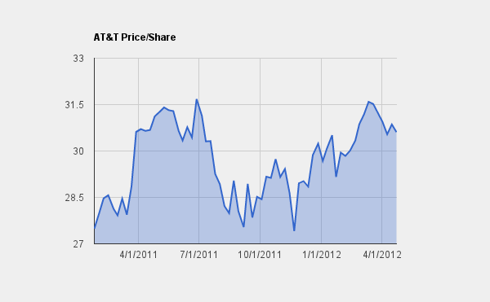 (click to enlarge)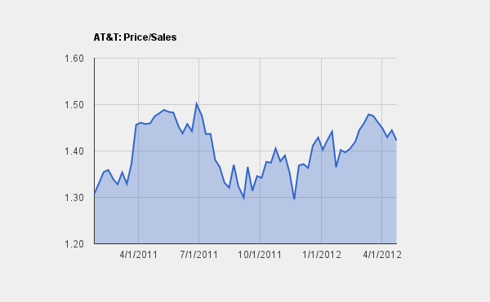 (click to enlarge)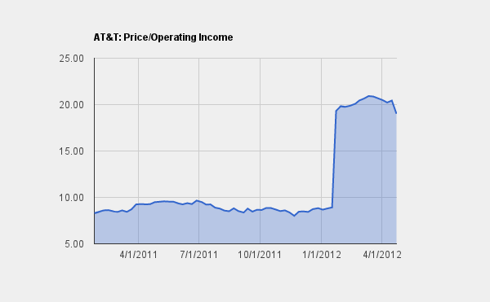 LG: Undervalued (Buy)
Consumer electronics is a concentrated industry with weak pricing power.
Barriers to entering the industry are high as some products of the industry are in a mature phase and others are experiencing a growth phase.
Smart phone sales are growing quickly while high-definition televisions aren't growing as fast.
LG sales growth is lagging competitors Apple and Samsung.
Technology will play an increasing role in economic and productivity growth.
Sales-per-share has been flat (revenue isn't growing), cash flow from operations-per-share declined, price-to-sales is near a trough and price-to-cash flow from operations is near a peak.
Given the recent pull-back, downside to valuation is limited.
(click to enlarge)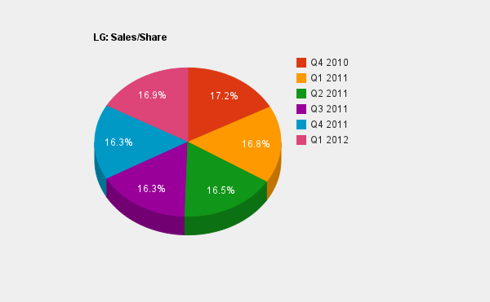 No significant revenue growth during the quarters examined.
(click to enlarge)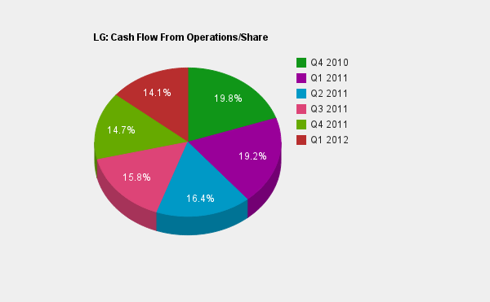 Cash flow from operations-per-share declined; the firm is generating less cash flow from operations-per-share of common equity outstanding.
(click to enlarge)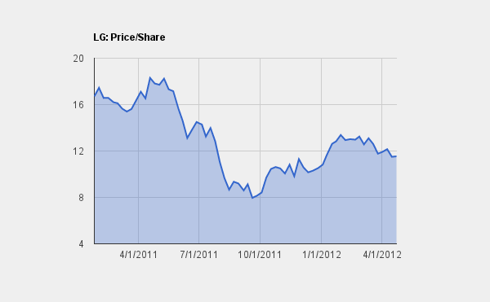 (click to enlarge)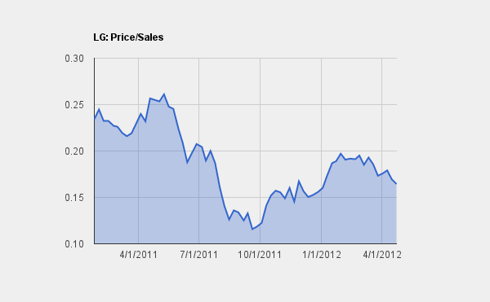 (click to enlarge)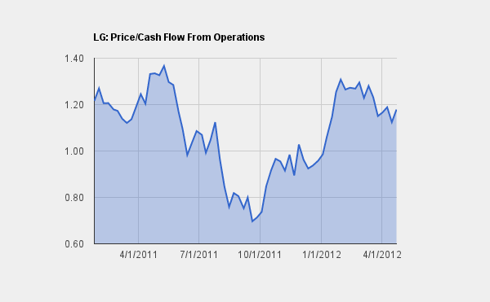 Apple: Undervalued (Buy)
Expanding global sales, particularly in high growth regions.
High growth rate risks growth slowdown and valuation ratio contraction.
Product supply constrained by production capacity and pace of production.
Product quality, innovation and consumer loyalty are enterprise hallmarks.
Revenue-per-share and book value-per-share expanded in every quarter.
Recent quarterly financial statements report provides scope for further increases in valuation.
(click to enlarge)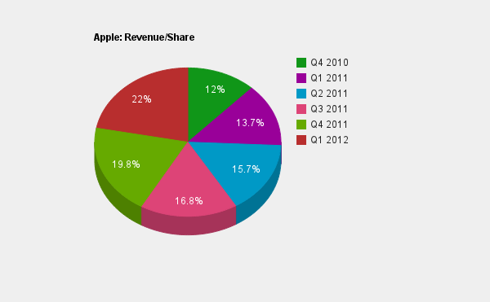 Revenue increased faster than shares outstanding in every quarter. Investors are getting more revenue for their equity stake, almost double Q4 2010 levels.
(click to enlarge)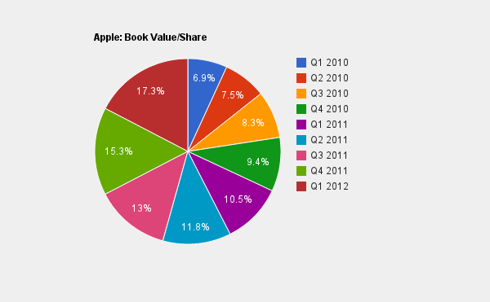 Assets have grown more than liabilities and share-holder equity-per-share has more than doubled between Q1 2010 & Q1 2012.
(click to enlarge)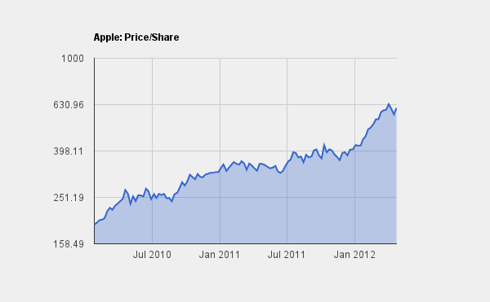 (click to enlarge)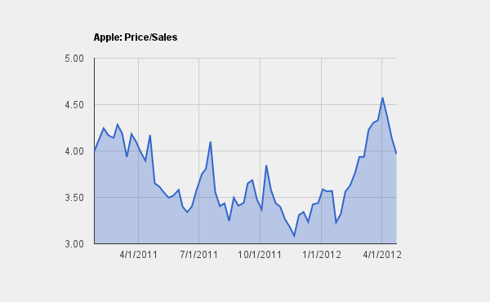 (click to enlarge)